In the modern world, mobile applications have become an integral part of our lives. They simplify many aspects of our daily routines, providing access to various services, information, and entertainment. But what if we told you that mobile apps can also be a source of income for you? Yes, affiliate marketing in the realm of mobile apps offers a unique earning opportunity.
First and foremost, let's understand what affiliate marketing is. It is a form of marketing in which you, as a marketer, promote products or services of other companies and earn a commission for each successful transaction or action taken by a user based on your recommendation. In the context of mobile apps, this means that you can promote apps developed by others and earn income based on their success.
We can see that the field of affiliate marketing continues to grow. According to Statista, there is a constant increase in spending on traffic arbitrage in the United States each year. This confirms the presence of significant earning and growth opportunities. The key is to choose the right niche wisely.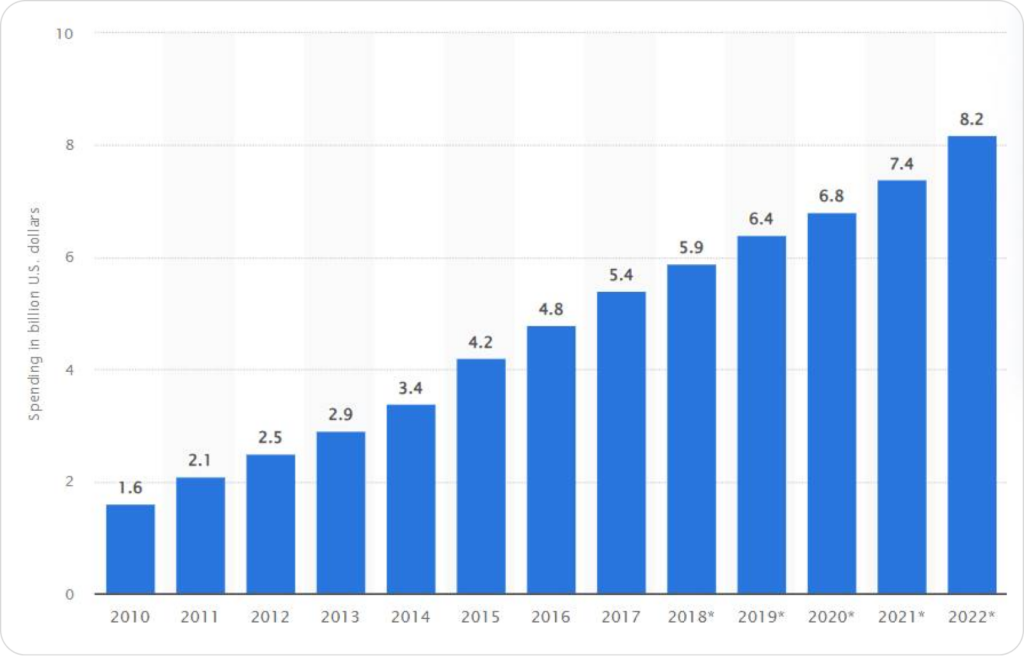 Where to Begin?
Choosing the right niche and apps is a pivotal aspect of successful affiliate marketing. The market today presents various niches, and you should select those that align with your interests and competencies.
I will highlight three niches in which you can earn the most money:
Gambling Apps: A Winning Choice for Affiliate Marketing
Users frequently gravitate towards apps within genres like match-three, wheel of fortune, jackpots, treasure chests—essentially, anything associated with gambling and the allure of winning prizes and bonuses.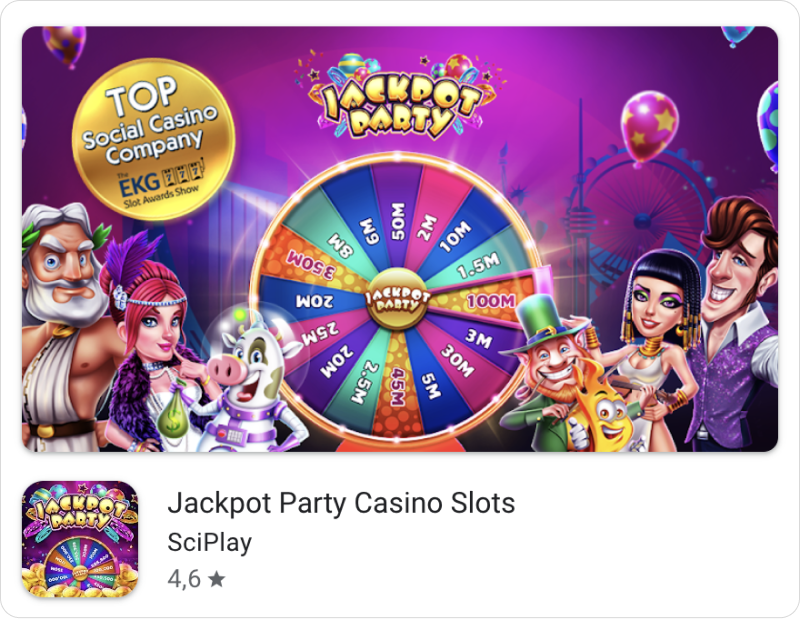 Benefits for affiliate marketers in gambling:
High Earnings: Gambling apps offer some of the highest rates and commissions among all affiliate programs. This can lead to significant income if you have successful campaigns.
Consistent Demand: The gambling industry typically experiences consistent demand, as people are always seeking opportunities for gambling entertainment and betting.
Product Variety: Gambling apps offer a variety of products, from slots and poker to sports betting and virtual games. This allows affiliate marketers to choose products that align with their interests and target audience.
Marketing Resources: Many gambling apps provide marketers with marketing resources such as banners, text ads, research materials, and other promotional materials to aid in their marketing efforts.
Drawbacks for affiliate marketers in gambling:
Strict Rules and Regulations: Gambling is subject to strict regulation and may be prohibited in certain regions. Affiliate marketers need to exercise caution and comply with the laws and regulations in their country and region.
High Competition: The gambling niche typically experiences high competition, and marketers must compete for player attention and conversions.
Reputation Risks: Gambling apps may have a questionable reputation, and collaborating with them can impact the marketer's reputation.
Financial Risks: Since affiliate marketers usually earn commissions based on player actions, there is a risk that marketers may not receive their commissions if players do not make deposits or incur losses.
Market Dependency: Gambling apps can be subject to fluctuations in demand and market changes, which can affect the profitability of affiliate marketers.
Dating Apps: Flourishing Grounds for Affiliate Marketing
The dating niche is another arena where apps thrive. Dating apps facilitate the discovery of potential partners for relationships, dating, and communication. These apps furnish users with profiles of other individuals and the means to establish connections with those who pique their interest. Notable features may encompass search filters based on specific criteria, chat functionality, photo sharing capabilities, and compatibility analysis tools.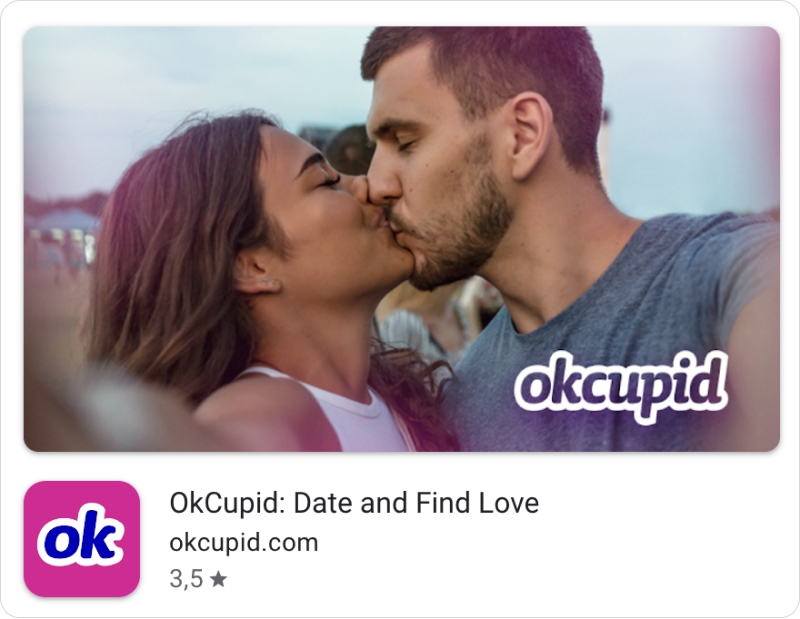 Benefits for affiliate marketers in dating:
Steady Demand: In the dating industry, there is always a demand for dating services and dating apps. People are constantly seeking partners and opportunities to meet others.
High Commissions: Dating apps can offer high commission payouts for each new registered user or paying customer, especially if it leads to long-term user activity.
Wide Audience: Dating apps cater to diverse audiences, allowing affiliate marketers to choose niches and geographic regions that align with their interests and expertise.
Diverse Products: The dating industry offers various products and platforms, including dating websites, mobile apps, chats, and other dating tools, giving marketers more options for promotion.
Drawbacks for affiliate marketers in dating:
High Competition: The dating niche typically experiences high competition among affiliate marketers, making it challenging to attract traffic and conversions.
Rules and Restrictions: Some dating apps and platforms may have strict rules and restrictions for affiliate marketers, including prohibitions on certain marketing methods.
Content and Creativity: Appealing and effective marketing campaigns in the dating industry often require creative solutions and high-quality content, which may demand additional efforts.
Finance Apps: An Underrated Gem in Affiliate Marketing
I emphasize this niche as it often remains underappreciated. Financial apps are tailored for money management, banking transactions, and investments. These applications enable users to review account balances, initiate payments, delve into stock and fund investments, and monitor financial transactions. Furthermore, they often offer tools for budget planning and expense tracking.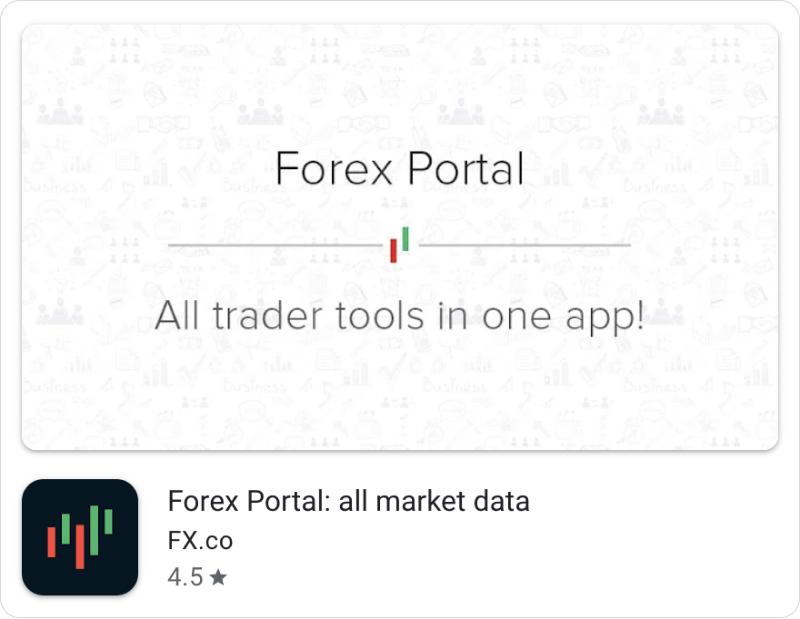 Benefits for affiliate marketers in financial apps:
Steady Demand: The financial industry is always relevant because people are constantly interested in investments, savings, loans, and other financial products.
Long-Term Potential: If you attract quality clients to financial apps, they can remain active users for an extended period, contributing to stable income.
High Commissions: Financial apps, such as investment platforms, often offer high commission payouts for attracting new clients or investors.
Educational Resources: Many financial companies provide educational resources and materials for marketers and their clients, helping with user acquisition and retention.
Drawbacks for affiliate marketers in financial apps:
Strict Rules and Regulation: The financial sector is subject to strict regulations, and marketers must comply with many rules and laws, which can limit marketing methods.
High Competition: The financial niche often has high competition, and marketers need to compete for user attention and trust.
Demanding Audience: Users of financial apps may be more demanding and cautious when choosing financial products, which can make conversions more challenging.
Updates and Changes: Financial companies can make changes to their products and partnership terms, which can impact the marketer's profitability.
These niches are closely related to mobile apps, and many businesses are looking for affiliates to promote their products or services in exchange for rewards. Typically, companies incentivize partners to promote their products by providing them with a percentage of sales generated through their personal affiliate links, as in other affiliate reward programs.
Rewards can vary in affiliate marketing for mobile apps:
Install Commission: Some programs offer a commission for each app installation that a user completes through your unique link. This commission can be fixed or vary based on the user's country.
Registration Commission: You can earn a commission when a user registers in the app through your link. This method is especially suitable for apps that require registration.
Purchase Commission: If the app offers paid services or products, you can earn a commission for each successful purchase made by users who came through your link.
Affiliate Programs: Some apps have more complex affiliate programs that provide a commission for various user actions, such as watching videos, making in-app purchases, and other activities.
Referral Bonuses: Some apps offer bonuses for both you and your referrals. This means that not only do you earn a commission for your referrals' actions, but the referrals themselves can also receive bonuses for installing and using the app.
Crafting High-Quality Content for Mobile App Affiliate Marketing
The next critical step in mobile app affiliate marketing involves the creation of top-notch content that not only captivates your audience but also persuades them to install and use the app. The pivotal elements here are the content's informativeness and its distinctive nature.
App Reviews: Detailed app reviews are an excellent way to convey to users how an app can solve their problems or enhance their lives. Reviews should include a description of the key features, user-friendliness, and the benefits of the app.
Articles on Benefits: Writing articles dedicated to the advantages of a specific app allows you to thoroughly explain how it can meet users' needs. Specify the problems the app solves and the unique features it offers.
Video Reviews: Video content, such as video reviews, has significant potential for grabbing attention. Create informative videos that showcase how the app works, its interface, and practical usage. Videos allow users to visually understand the app.
Content Uniqueness: It's crucial to make your content unique and original. Avoid copying material from other sources and strive to bring something new and valuable to your users. Content uniqueness will enhance your credibility and attract more attention.Visual Presentation: Don't forget about the visual presentation of your content. High-quality images and an attractive design will make your content more appealing and professional.
Optimizing ASO (App Store Optimization) for Affiliate Marketing Success
Analyzing Results: A Key Element in Affiliate Marketing
Leverage analytical tools to assess the performance of your apps and refine your strategies using data-driven insights. This approach will empower you to boost your earnings and attain higher levels of achievement.For further insights on achieving top rankings for mobile apps through ASO, delve into our comprehensive guide here.
Conclusion
Mobile apps offer a unique earning opportunity for affiliate marketers. However, success requires hard work, diligence, and a strategic approach. By following the steps outlined above and promoting high-quality apps, you can earn from mobile apps and increase your income.