One of our clients used too many installs for the main keyword, promoting his VPN application. His goal was to push the application up for the "vpn" and be at least at the top 10th position in France. But after 5 weeks of promotion on his own, he contacted us for suggestions and promotion strategy.
The client was not ready to improve or ASO his iOS application and wanted a rapid promotion with the results he expected from the "vpn".
Collect the information about the application
We firstly analyzed the keyword cloud. It consisted of 64 keywords spread the following way:

Client promoted only one keyword, that is "vpn". The dynamic of the promotion for the last two weeks you can see on this chart: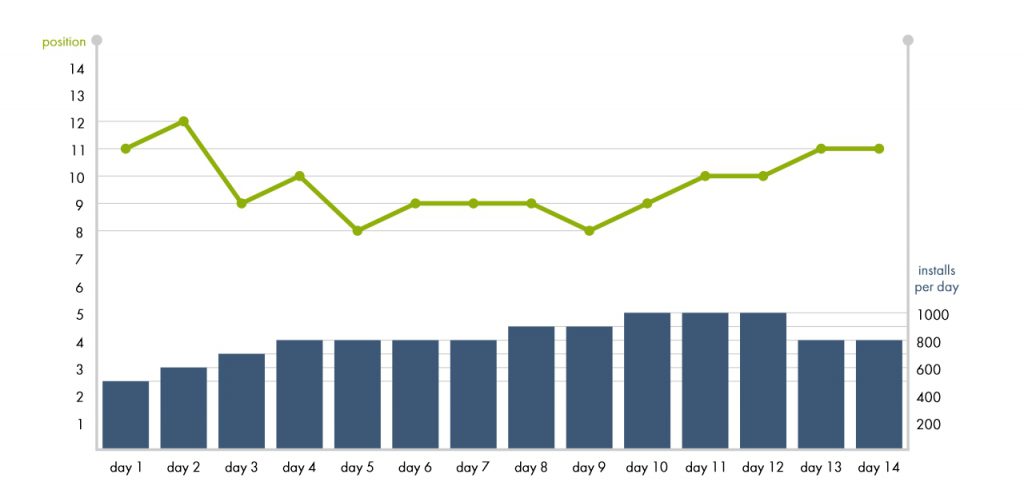 The competition in the top 10 for this keyword is so high, that a relatively big amount of installs per day did not give any promotional results. In two weeks of promotion, the client has ordered 11,400 of installs. With his Bronze (-5% discount) Price Plan, he has spent 2058$.
However, we can replace the traffic by "vpn" with cheaper and more relevant keywords. In two weeks we will get +150% more users at app page twice cheaper. Read down below how it was done.
Keyword cloud analysis. Plan the troubleshooting
"Vpn" is a very competitive keyword, it is hard to promote for it and when your app position is not in the top-5 ranks, you get a small number of impressions and installs from search.
We decided to replace the traffic from the "vpn" keyword with the promotion by less competitive, but more precise phrases with the same core. They are less popular, but more specific and have little competition to promote them up to the top. Previously, our client did not do keyword research and cloud collection. He refused to do it this time too, so we had to work with the list he already had.
But if you can read another article about how to collect the keywords.
We firstly analyzed what words and phrases this app is indexed for.
We first looked into the keywords rated top 2-5, but these 3 words and phrases had only 7,4% conversion rate. We came to the conclusion that users who search for these keywords are looking for other applications or have another intention. We decided not to push those keywords right now.
At the 6-10th position, VPN app had different keywords. 4 of them had a core with "vpn" in them: "vpn browser", "vpn proxy" and "best vpn", "fast vpn". The conversion rate for "vpn browser" was 6%, while "vpn proxy" gave 16% of intalls from impressions, "fast vpn" had 14% CR, and "best vpn" gave 35%. For us this is the signal that we have to promote the most convertible keyword at first. Because it is cheaper and safer (app will stay ranked high after promotion) and we will get more organic installs after promotion.
At 11-20th positions we had 23 words and phrases, but only "app vpn" had a 12% the conversion rate and the same core.
So, from the keyword analysis in the app console, we got the keywords that can replace traffic lost after promotion and give a high conversion rate.
Launch app promotion with keyword installs for iOS
With 4 keywords ready for promotion, we need to start a solid campaign. First, we have to understand an approximate amount of installs each keyword will acquire per promotion.
We created a 2-days campaign for these 4 keywords with 30 installs per each word. This will not be enough to reach certain positions but will help you to understand if the keyword is sensitive for promotion.

Look at the screen. "vpn proxy" is the only keyword that did not move +2-3 positions in 2 days. That means, we will need +50% more installs per day for this keyword in a future marketing campaign.
Warning! Do not forget to stop App Store Search Ads when you promote by the same keyword with incentive installs!
5-7 days campaign for positions growth
When screening is done, we create a campaign for this group of keywords. Our experience proves that campaigns with 5-7 days long show the most reliable tendency for the App Store algorithm and give maximum growth for the keyword.


During promotion with installs by these keywords
On the first two days we had ranks drop down on 2-3 positions. It is natural, as the App Store algorithm makes the correction of the app positions in the search.
On the third day of the promotion, new growth has compensated the previous fall down by ranks.
By the end of the campaign the VPN application had drowned in ranks by all 4 keywords.
Promotion Results

We needed 43$ for screening, 731$ for the promotion campaign to get more real traffic in 10 days of app marketing. The application is still on promotion for higher results. With position growth, it is getting overall +174% more app page views from the market search.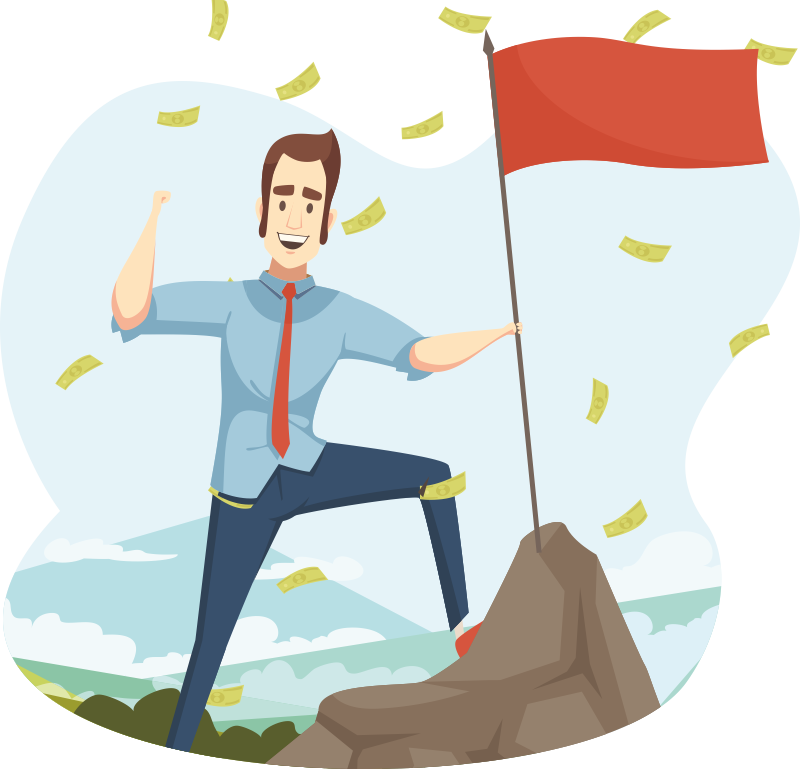 Try keyword installs to get the same results for your app!
What did we recommend after promotion?
For this application we recommended creating another campaign for the same keywords. We also helped the app owner with a grouping of the next bunch of promising words and phrases he can get to the top.
In 2 weeks' time, we also suggested to A/B test a new variant of his icon. The results show that it has added +3% more to the overall conversion rate of his product.