How to find keywords for your iOS or Android app
This article will take up to 5 minutes to read. We cover all the available sources for keyword collection to know exactly what keywords your app should be ranked in the future. To collect the keywords you should understand what the keyword is first. If you hesitate you know the basics of keywords and their classification, check our article on how to choose keywords. Get back then and follow our guide to find all the keywords for your app!
Start asking yourself about the product you have created
The first bunch of keywords and phrases is all about your product. Think about the keywords your application can be searched for. Write them down on paper. You need no special keyword research tool for this part of you task.
At the same time, you can structure possible keywords and phrases connecting them to these questions:
How will people find me by my brand name?
Unfortunately, not many people know about outlander rally or any other game option. I will write down the keywords "offroad race", "offroad rally", "outlander chase"
What functions can I be searched for?
Our racing game can be played with friends and it has pretty the same functionality as common racing games. So I can write down such words as "Drag racing", "lap racing", "desert racing", "animal rides", "driving cars, "racing multiplayer" etc.
Will this app relate to any category people look for?
Yes, it is racing app, so it will fit "racing car", "racing game"
What tech specifications fit my app in search?
My application is offline, it is 40 mb size, it has 3D graphics and free. So, I will write down the keywords "offline racing games", "3d racing games", "free car racing", "small size driving games".
Are there general evaluation search phrases?
There are also many other phrases that I know people use to search for a game like ours and choose among the best, the newest, created in 2020.
How to make sure I found correct keywords
Great! Now we have our first list of words for the app. Let us analyse these keywords and find out which of them are relevant for my application. I open Play Store or App Store search and type in keywords from my list one by one. I look through the applications of my future competitors in the niche of racing, driving cars. I notice that all keywords are relevant, however, icons for "outlander chase" and "desert racing" differ. I think our users will not search for "outlanger rides" and same keywords as search results are obviously not relevant: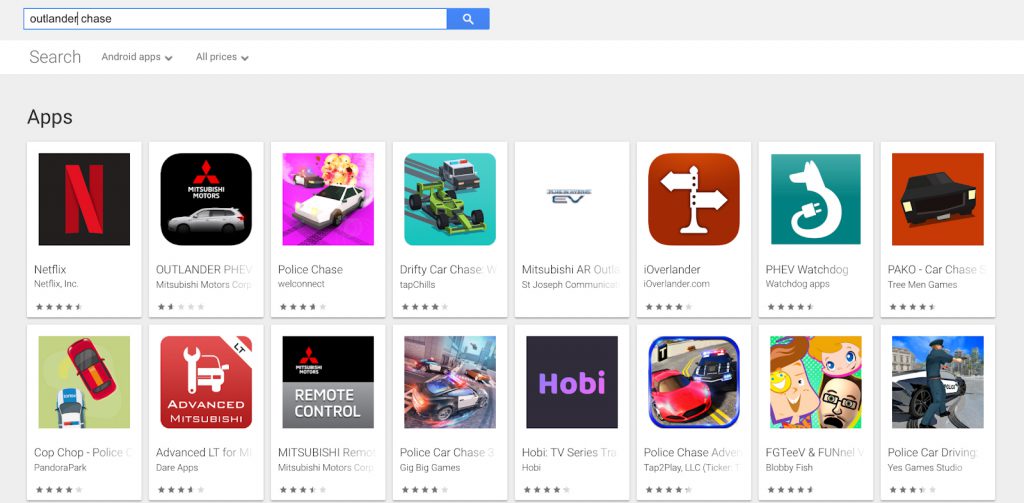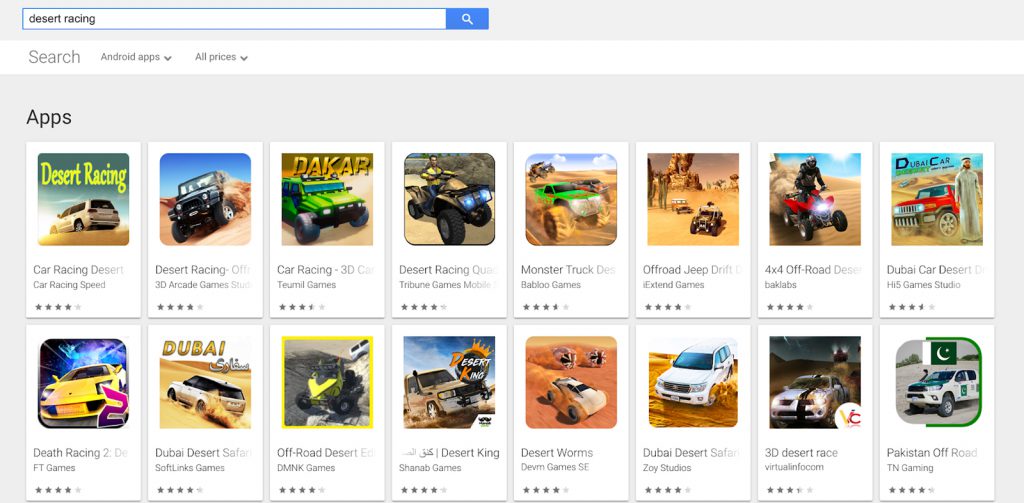 Expand the list even more
When you collect all ideas about your application, get the phrases that are relevant and connected with our future product. But there are more variants of them with additional words than you can imagine. I can expand the list with more related words just writing down all the autosuggestions in the search:

The core part of this keyword remains the same, but more extensions to them will enlarge your future application cloud.
Find more keywords in competitors apps
When you work through your own product, its positioning in search, you can use others apps to your advantage. Follow this algorithm if you want to take maximum of keywords:
Take your most important app keyword. Let's suppose it is "racing game. Open pages of 15-20 applications in the search.
Read their titles. Well optimized apps have main phrases in the title after their brand keywords. For example "Asphalt 9: Legends – Epic Car Action Racing Game", has a competitive phrase "car action racing game". Let's write it down into our record.
Analyse the description. Read through the text and pick other words and phrases that you missed. You should also note how other people write their descriptions, what is their layout and main information.
Read through the reviews. Experienced ASO specialists use motivated reviews with brand names of their competitors to get higher ranks by others' keywords. Analyse if one of these applications has the same approach in keyword promotion. In fact, Google Play has rather strict rules and it is dangerous to use brand keywords directly in the description. However, you can bypass this restriction, making motivated reviews where you state that your app is better than.. Well, you know them.
Use keyword analysis tools to get more words to your cloud. There are many free analysys platforms to get all the info about sbs' app.
How to validate and expand competitors' keyword clouds
When the record of words is ready, let's check them. This will be a time consuming process, as you need to check manually all the keywords you have additionally found. Imagine you are the target audience, search for one of the phrases in your keyword cloud and decide whether the search results contain your niche apps.

If one of the keywords does not fit my search intention, I will delete it. However, some keywords give results I am not sure with. For example, it is a "racing rush" phrase.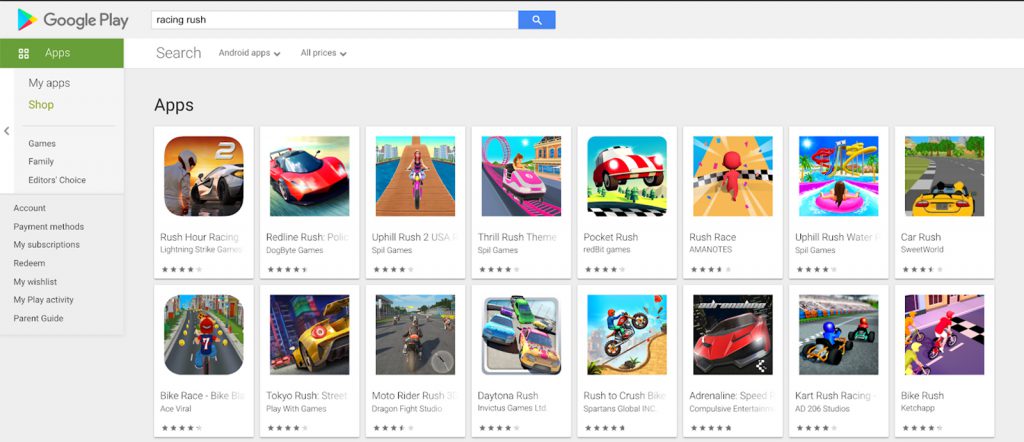 Some racing apps rank for it, but I can not see our main competitors. Also, "rush" part is confusing. It corresponds with all "rush"-type games. I will not delete this phrase from the list. But I will mark it as a less relevant one: I will not use it for promotion in the first 2-2,5 month, but then I can add it to the keyword cloud and promote with installs. The conversion rate will be low, but still add some new users.
How to organize the keywords you found?
You collect the keywords for one of the next options: either promotion with keyword installs or ASO (writing descriptions, captures or titles). Before you start any of this, you need to note your current positions for all the words and phrases (up to 250 for a common app). You can do this with a free keyapp.top functionality.

Login or sign up at keyapp.top and add your app in the cabinet.

Do not forget to add the region your application will be promoted in and move to "My Keywords" section then.
Now go to the "My Keywords", choose your app and add keywords.

Add new keywords through this menu:

When you have added all the keywords (I added a couple of them only), you can work with their list directly in our cabinet: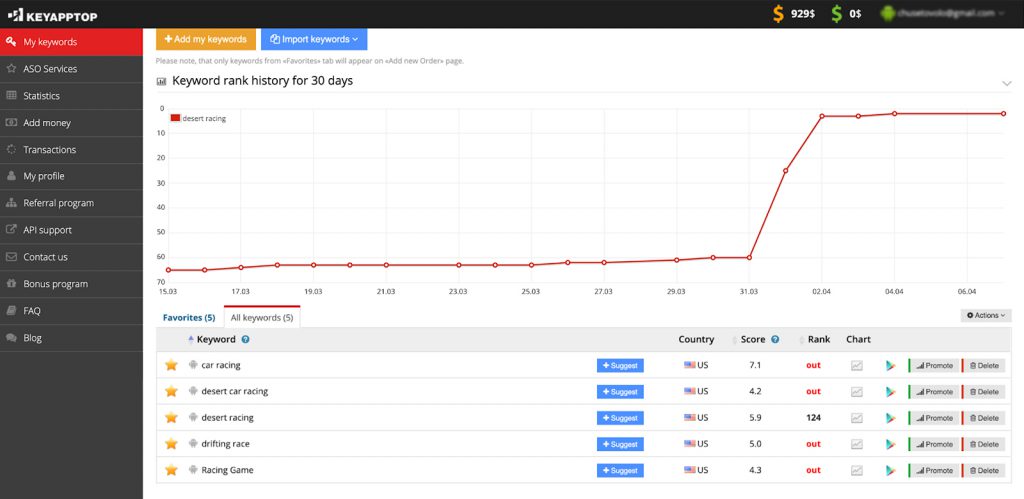 The section with the words and phrases your app should rank for has this info:
Favourites: click the star to mark the keyword as an important;
Keyword name;
Country you promote this keyword for (people search for the same app differently in various regions, so experienced ASO managers make separate keyword lists for each region);
Score – shows the estimated completion for this keyword at the app market;
Rank – your current position in search for this keyword;
Chart – click it to see the chart of your positions for this keyword;
Play Store button – click to go to Play Store search and check the search request relevance;
Promote – you can put the order for app promotion by installs for this keyword.
When you work daily with your application, you see how the ranks grow and drop. And having our cabinet with your keyword cloud in it allows you to plan promotion and track the changes throughout all your cloud. Combite the data from here with that you get from Google Play Console to know what search requests give you conventions and what is your current position in search.
But how to get a bit more keywords?
When you add all words and phrases you have to the "My keywords" at your cabinet, use the "Suggest" button to add the keywords our system suggests for promotion. You should also manually check them for relevance and target audience intentions.
That is a final touch!
Now you have your keyword cloud. Go on with promotion by installs or write a new description for your application.
Were these the last keywords you found?
Sure, not. You find, check, promote and delete keywords regularly. Track the conversion rate of each keyword at Google Play console and decide on adding them to your promotion with installs plan or into your description or title.

If you want to get more information about keyword collection and description ASO, consult our support team and ASO managers.