Keyapp.top focuses on keyword promotion. We work with keywords, search optimization, and application promotion in the App Store and Play Store. So, our expertise is in keyword installs and their effective configurations. We can not promote your applications with keyword installs only, as we need a source of in-app active traffic to balance it with our installs.
When we promote with keyword installs, we balance them with CPI traffic. We do it to make our promotion look organic for the Android algorithm.
We also need CPI installs to get the first keywords into the index. In this case, we explain how the dating app with only 5 relevant keywords gets 140 new words and phrases in the index in 15 days.
Quick dating app analysis before any promotion
We took three dating applications with some keywords in the index for a test. Keyapp.top managers had to index the application and promote the keywords from the index to the top of the search. They start with a Smart Campaign analysis for the target USA region. As they have found out, these Android apps have almost the same 16 keywords in the rank with no word or phrase in the top 10th.

Keywords with "better+" core are targeting the "better me" brand keyword. As the applications are not in the index for the main keywords that should be relevant to the dating category, brand keywords will not be our first priority. 6 remaining keywords are all about the "singles+" core. We analyzed the descriptions, titles, and subtitles for these applications. They had no words and phrases related to the cores "meet+", "find+", "chat+", "date+", "dating+" before ASO. So, we optimized the texts and screenshots and made dating apps ready for promotion.
If you want to get into how we collect keywords for the Android application, read more in our article on this topic. If you follow this article the way we do, you may get the same list of keywords for your Android dating app: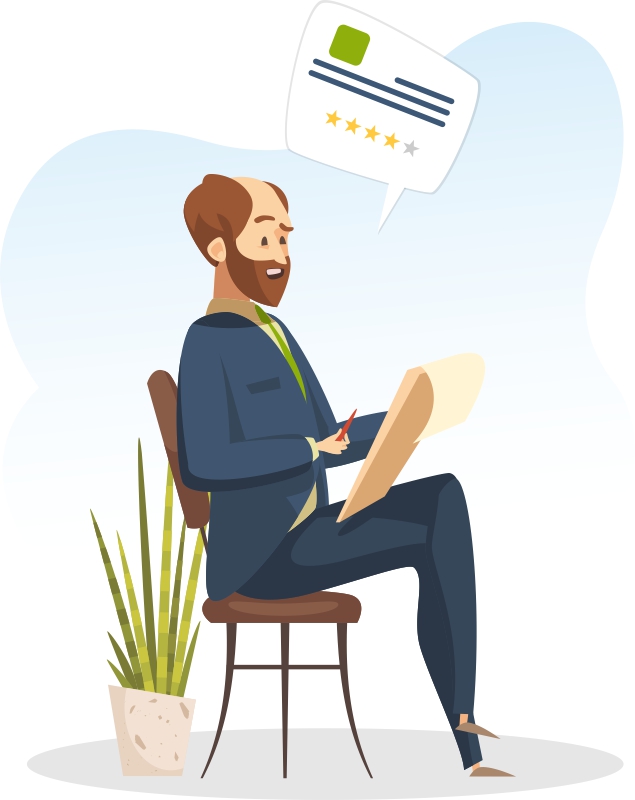 Ask your personal manager to prepare one
What traffic should we buy for indexation?
Our target regions for these applications will be the USA and Europe (Tier 1). For the indexation in the USA, we have to use originally the USA traffic from our CPA network. At first, we thought that 0,50$ per click would be enough for our category of apps and we will get some 1,000 installs per day for indexation.
However, for 0,50$ per day, we have got only 240 installs in 3 first days. After that, we have done the CPA correction and increased the CPI up to 0,90$ per install. At that rate, we got 1,000-1,100 installs per day as planned.
See the traffic flow before and after CPA (cost per action) correction for our CPI traffic: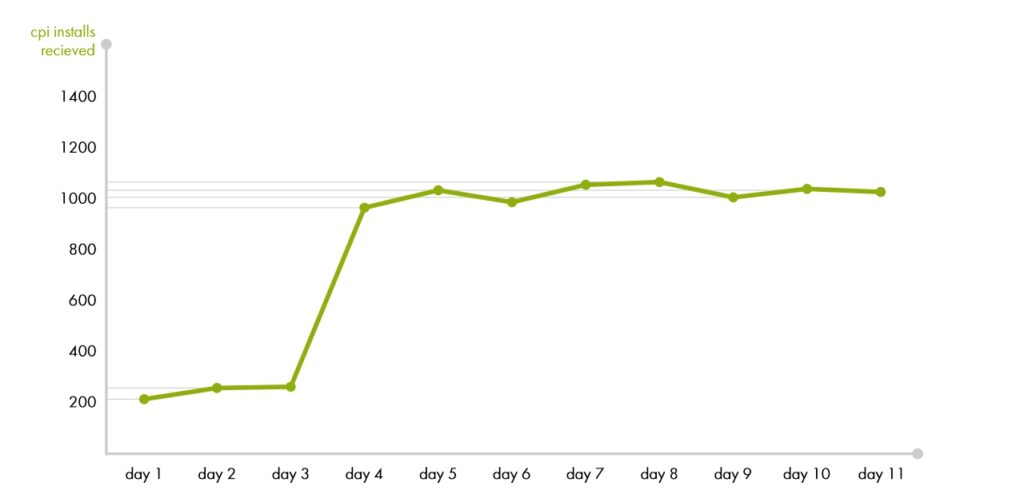 We have two options for Europe to go with. We want our applications to be in the index for core keywords in France, UK, and Germany. We can either buy CPI installs from the target regions or try the Tier 2 regions (like Poland, Romania, Czech Republic). When we need 1,5-2,500 installs for overall indexation, we can save up to 50% of spendings using cheaper regions. However, there is no guarantee that such promotion will give you the indexation in France, Germany, and the UK. We have 3 Android apps to test it out in 3 different strategies.
If buying traffic from the Tier 1 for indexation overextends your budget, you may mix Tier 1 and Tier 2 traffic in 1:2 proportion. So, hypothetically, you may have one of the next three scenarios:
Scenario 1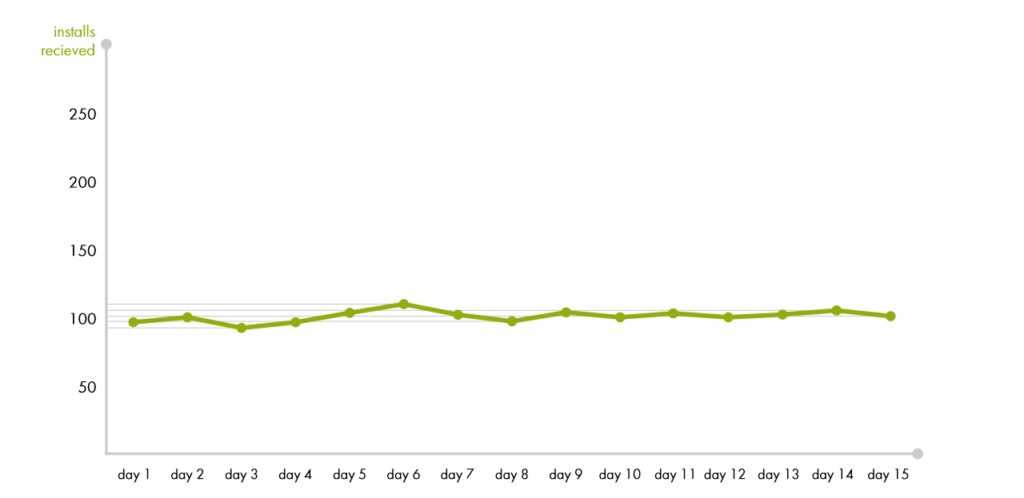 We got 1514 installs in total from Germany, France, and the UK. Altogether, we spent 1136$ with CPA 0,75$ for each install. Within 15 days of promotion, we got 55% of the keyword in the index. All the keywords with core words in them got indexed. So we can promote these words and phrases with keyword installs for Android now in each of these regions.
Indexation with CPIs in this scenario is successful.
Scenario 2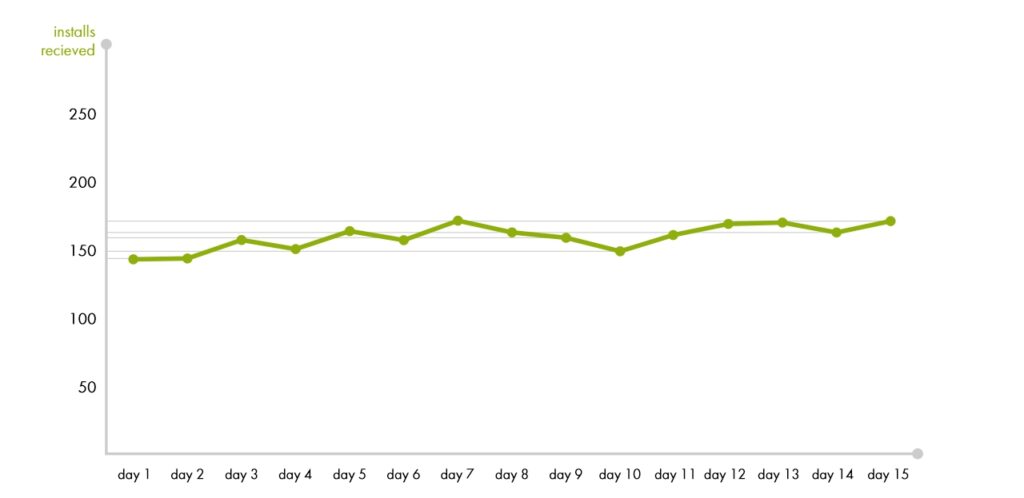 In this scenario, we decided to use cheaper Tier 2 Europe traffic instead. We needed 830$ to get 150-170 installs from Poland, Romania, Checz Republic. Though we got more installs overall, the number of keywords indexed is less than with the previous strategy. We got 41 keywords in search instead of 75.
Note!
After indexation in the 1st case, keywords get 190-210 positions, while the 2nd scenario is 230-240.
Scenario 2
We mixed installs from the Tier 1 and Tier 2. Here is how we spread them: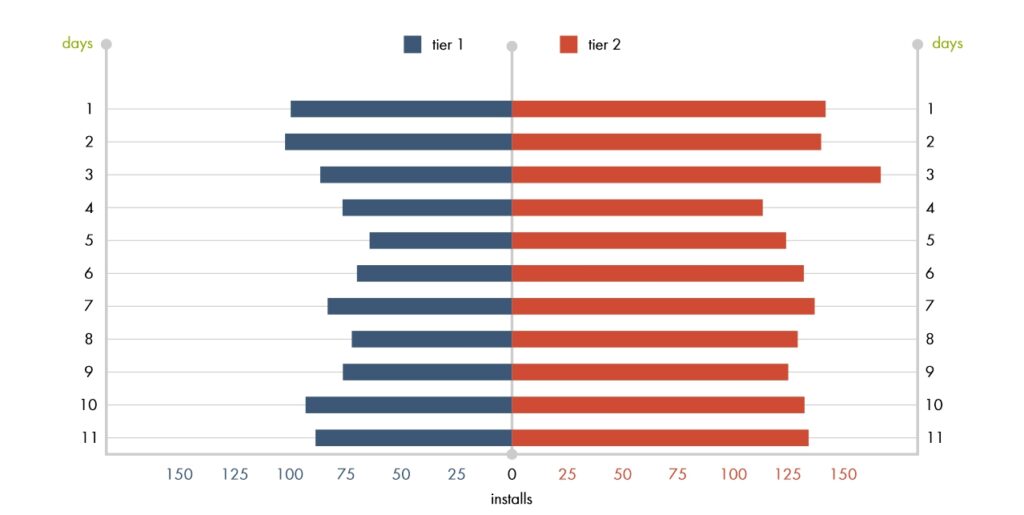 Overall traffic flow was the following: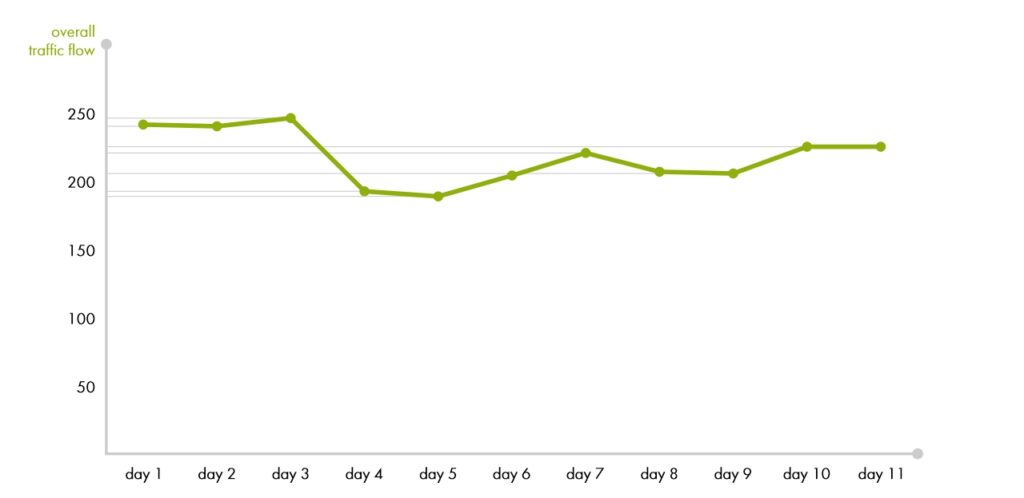 The price for CPI in Tier 1 was 0,75$ and 0,35$ for Tier 2. We have spent 1,201$ in total and only 25 keywords out of 137 words and phrases. It is 18% of all keywords.
Outcome:
So, we tested 3 ways to promote our Android dating apps with CPI installs.
Here is the outcome:

In the 1st Scenario, we get more keywords into Google Play search.
How much CPI traffic you need for app indexation?

Let our manager help you calculate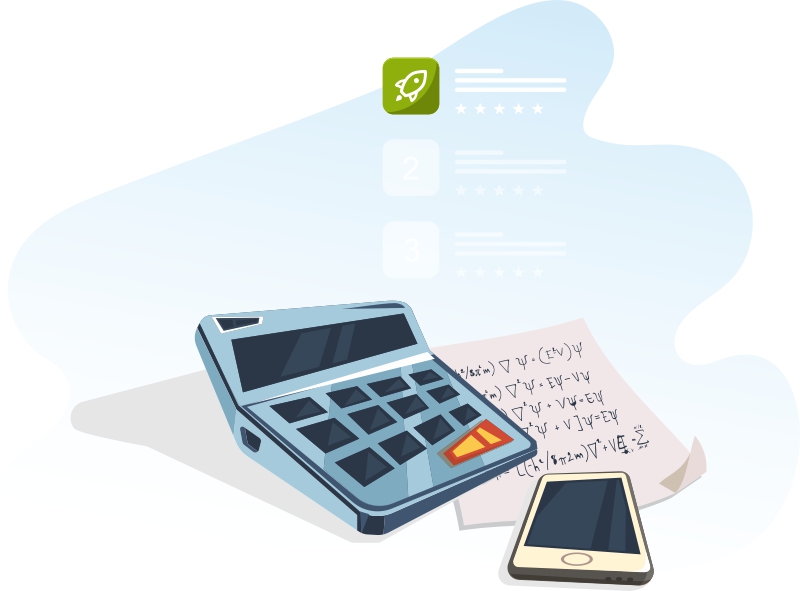 Defining cost per install and first 2 days of the campaign
When you buy traffic with keyapp.top CPA tool, our system needs 2 days to optimize the campaign, giving you the best ads placement for the lowest price possible. For this time we freeze the 2 days budget equivalent you expected to spend (when you have 100$ for all 5-days campaign, we will freeze 40$ for the first 2 days). If we spend all of it and get even more installs per day, it means that your expected price per install is lower. However, when you get fewer installs per day than you have expected, your daily budget is way too low for your target regions and app category. You need to get it up at 25-50% per day.
CPI campaign with 10 to 14 days of promotion is enough to get your keyword indexed.
Summing up on how to get the results you want with CPIs
You should use CPA traffic from keyapp.top for indexation, more installs on the listing page, and in-app activity. To promote keywords that are already in search, you need specific installs. Check our keyword installs prices and regions for iOS and Android. To make your app running for Google Play, follow these steps:
ASO your texts to get the right words indexed;
Define the core region for ranking and promotion;
Run the campaign and analyze the CPA for the first two days of the active campaign;
Increase or decrease CPA to get more are less installs for your app.
Put the campaign on "Always Active" if you want to have a constant flow of new uses for your application with a fixed price per install.
Let's make your first CPI campaign run!