Your application reputation is an important metrics and ranking factor. Your rating influences your apps' promotion by the keywords and category. App reviews for iOS & Android products influence traffic conversion from app page visits into downloads.
This article explains how to order reviews, pick the right texts for your application and manage your reputation without any risks for your ranking. Our strategy is most common and secure for your application if you do not want to risk your app positions in search.
Why app reviews are important in ASO and marketing?
When you promote your Android or iOS application, you form a funnel to acquire traffic through it. App reviews affect several stages. With them, you help your clients decide about the product and use it for a long time.
Firstly, app reviews are effective for app promotion (we explain how it works 3 paragraphs below) and are a meta for promotion by brand keywords. So, when your potential user searches for any app of your niche and sees your product in the top 5 positions, that is the result you can achieve with motivated reviews.
Secondly, when the user clicks the icon and is on your app page, he or she analyses the quality of the potential pick by the screenshots, info in the app description, and clients' feedback. Reviews help you to control reputation, give positive feedback and improve your app page conversion into installs that way.
Thirdly, reviews are a reliable way to show that a) you hear and answer to your clients b) again, you hear them and update your products for them.
So, it is an instrument for app promotion and a means of communication with your visitors and clients. Reviews give you the reputation and image of the product.
Finally, when you order reviews, you get installs+ratings in one promotion campaign. If you mix them with your keyword installs promotion, it makes a large impact on your app positions in search, organic traffic flow, and overall conversion into downloads.
What is the difference between iOS and Android reviews?
iOS and Android reviews have different requirements to stay longer on the app page. The thing is that market algorithms work differently for them. iOS reviews require these actions to be done:
IP of the install should be the same for the device, App Store and device (for example, you should not order reviews that start with the install from China with device from China and App Store)
Text should be original with no spam words, caps and brand keywords;
Texts length do not matter, you can buy reviews with 3-5 words in them. It will not effect the probability of the review to stay at the app page;
You can order keyword install + rate and review in one session.
Algorithm is sensitive for the number of daily reviews, but does not count the rate of reviews that are removed or still alive.
Android reviews are removed more often. Google Play analyzes more metrics concerning the account of the user and the review itself. Currently, Google Play requires these steps to make a review with a high probability to stay at the app page:
Google Play account should be created and have some actions in it for the last 10 days at least;
To make the review stay, we do not do keyword search + install + review + rate, we do only install + review + rate + user retention + app deleted from the device in 5 days after that.
Key actions to make a review: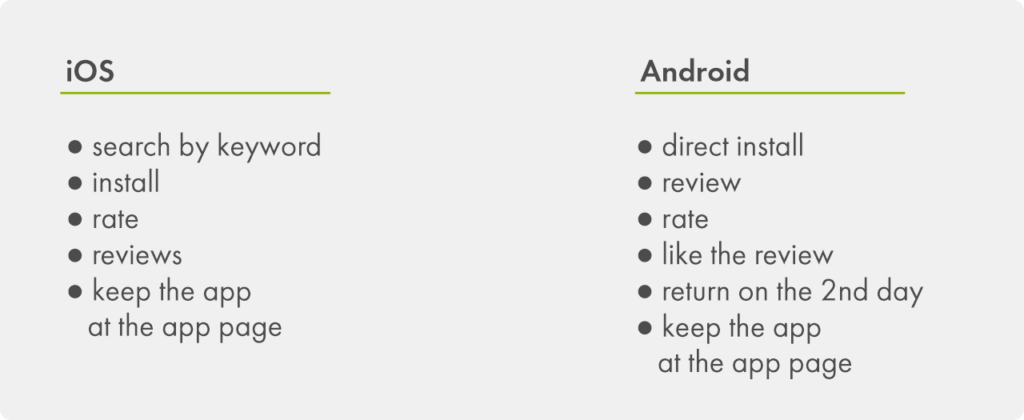 We make Android reviews with a 30 days guarantee!
Worried that your reviews will not stay on the app page? Buy mobile app reviews that will stay for 30 days and more at the market.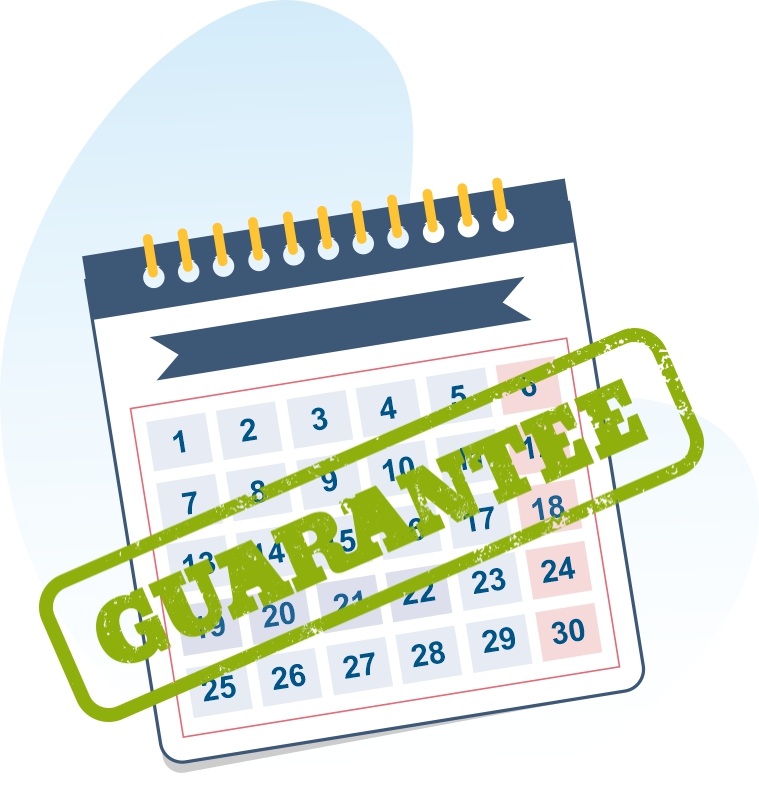 How to make your reviews stay forever?
We try to make the highest percent of reviews stay on the app page as long as possible. It depends on various factors but those nail to three aspects: how to place a review, what is the quality of the review, how many reviews do you place a day.
For Google Play
Place 3-4 reviews a day;
Cover the same regions you are now promoting either with keyword installs or any kind of CPA traffic
If you order keyword installs from keyapp.top, you are more familiar with ours 10-10-10-15-15-15 installs/day strategy for promotion in search. We do it a bit different for high-quality reviews beginning with a bigger number of reviews on the first day.
For App Store
Place from 5 to 10 reviews per day;
Wherever the region you use does not matter. Order iOS reviews where you need them.
It is not compulsory to increase or decrease the daily number of reviews. You can go straight with a 10-10-10-10 scheme.
Do not order 100 reviews in a day, spread them in a 10-days campaign. While Google Play will simply remove such kinds of reviews with no harm, the App Store may sanction you for such a promotion.
How would your perfect app reviews campaign look like for Android (compare it with a typical campaign for keyword promotion to the right)?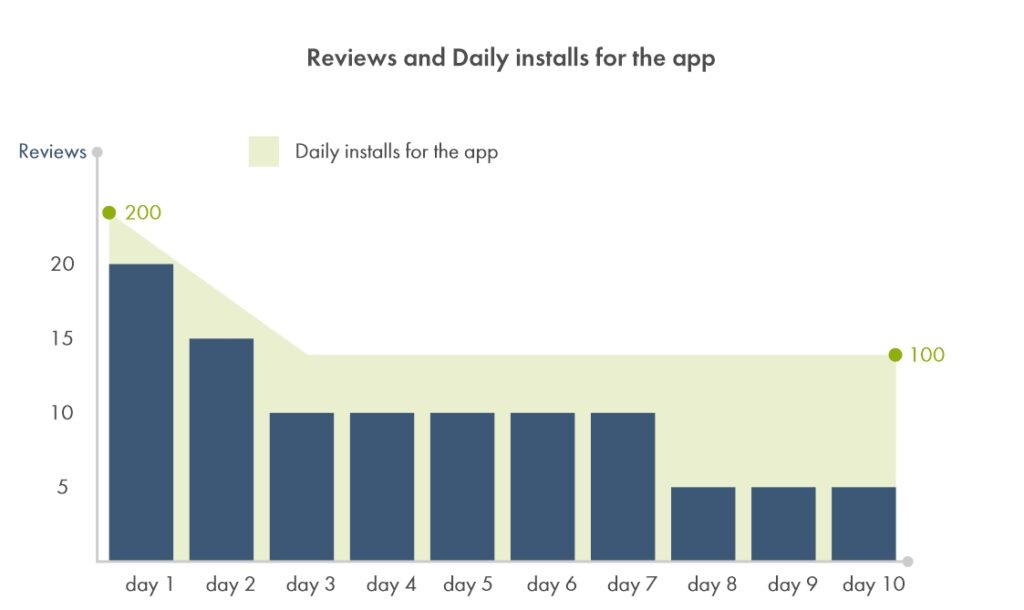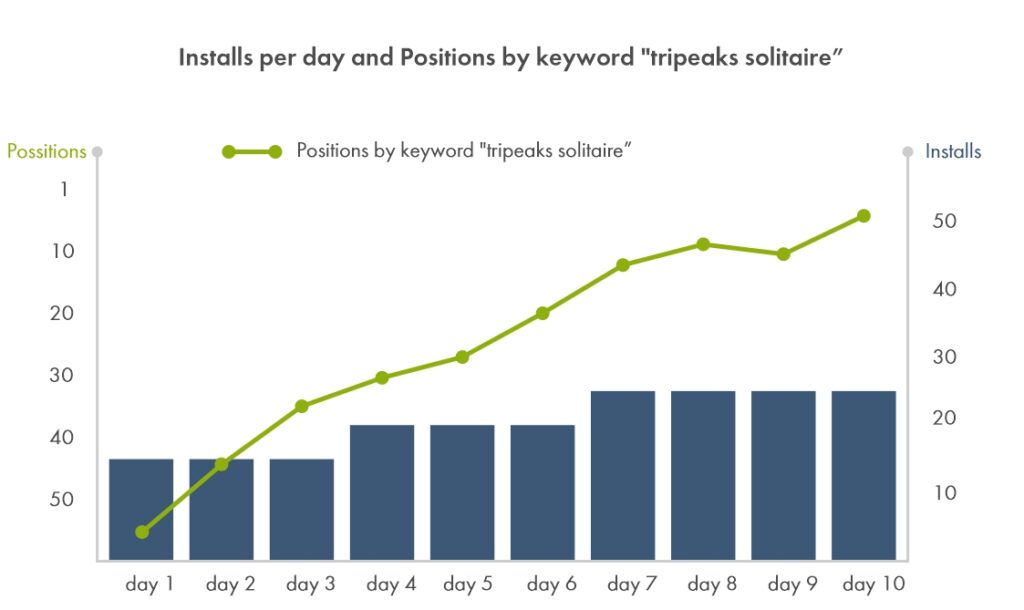 So, for your reviews to stay longer or even forever, the quality of the text, the way you place the feedback matter. And what matters, even more, you order the right number of Android reviews per day.
Campaigns for iOS apps are like this: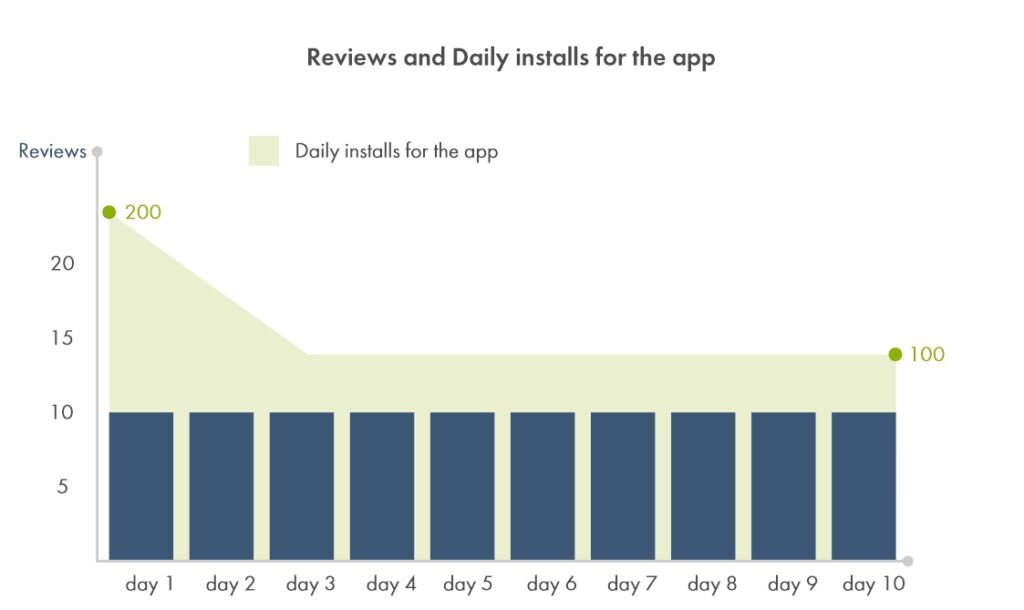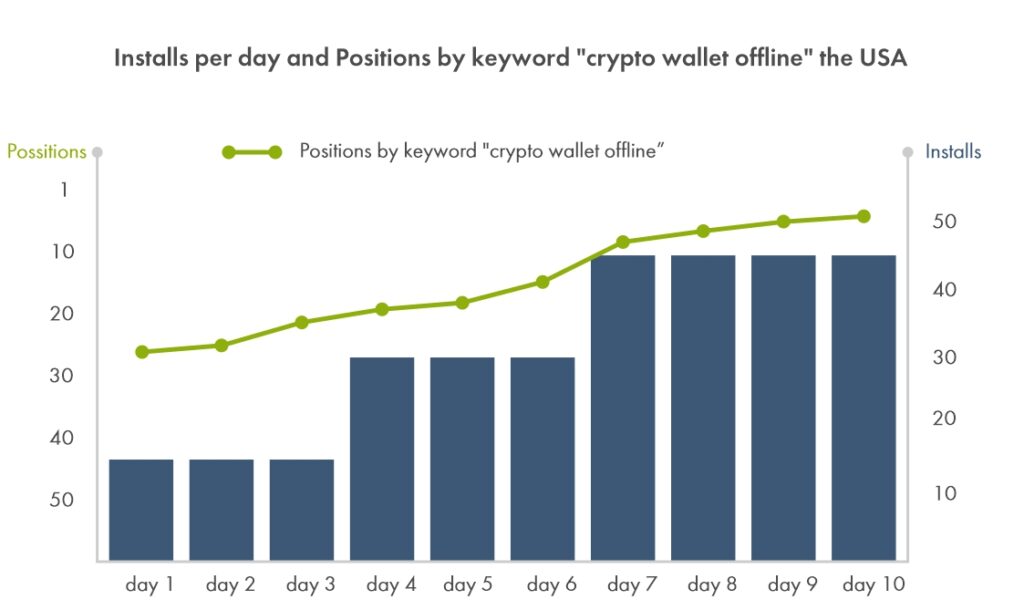 Prepare your texts to make high-quality reviews
Texts are a core thing in the quality of your reviews. Google Play pays more attention to it than the App Store does, but there are still some general tips for both markets and each of them in particular.
General tips:
No grammar mistakes and swear words;
Text is original, no spamming;
Write reviews in full sentences, limit most popular phrases "Cool!", "Great!", "Like this app so much!" etc;
The name of the user publishing your review should match the region and the language of the feedback. Do not make "Сергей Смирнов" write about "Christian dating in India";
You add no hypertexts;
Do not use the same text even for your app twice.
Google Play tends to remove app reviews far often than App Store. So, when we do high-quality reviews for your application, it is a common practice to republish the motivated feedback again and again. To make it as natural as possible we rewrite or modify the texts of the removed review and publish it again. However, we do not publish them the same or the next day. We better leave them for the last days of the campaign.
The percent of the reviews that stay alive will change during the campaign. While App Store has no such issues, the Android market does remove the reviews with different frequency at the begging and at the end of the campaign. Here is an example: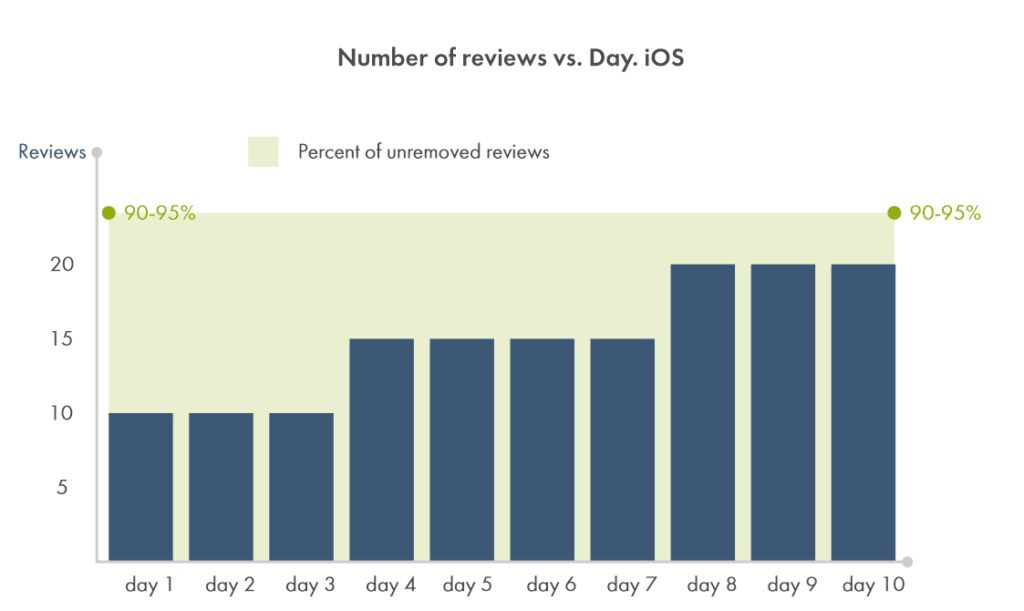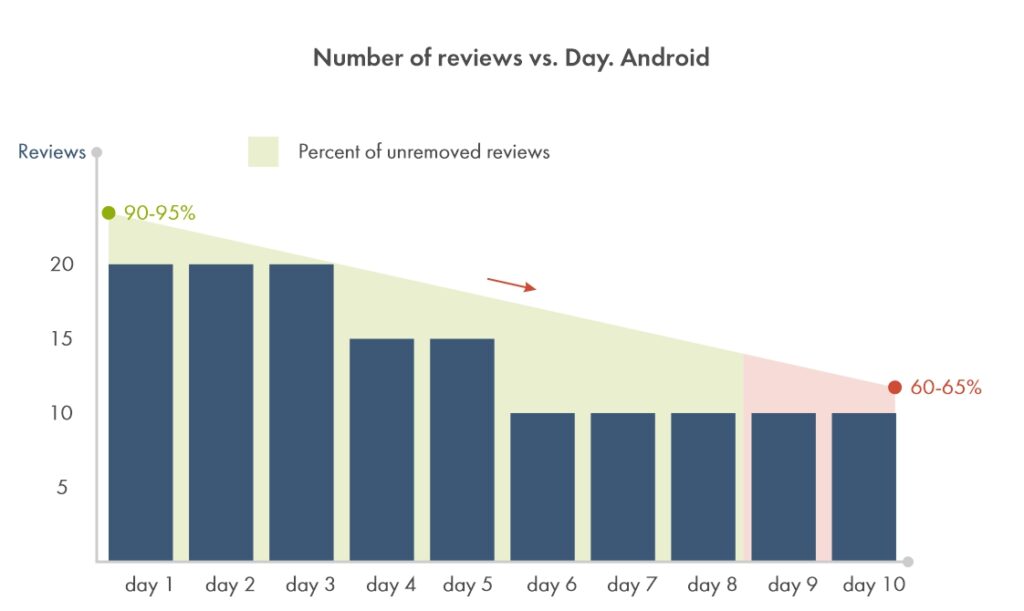 Combine your ASO and reputation management
High-quality reviews are a tool to solve a couple of problems at the same time. Yes, you can order them for reputation and feedback management. But do not limit yourself by this.
You can not order a rate without review now, and you need a positive mark above 4.5 to promote by category our be shown in the recommendation charts.
Search ads + rates&reviews are now a new meta for white app promotion at App Store. You can target your search campaigns by the specific keywords (that you also have in your keyword field) and guarantee your product will be up in the search when your reviews' texts are also with the keywords and phrases you rank for. The same thing works for Google Play. You add more positions to your rank when your reviews have relevant search terms that are written in.
Reviews are your pick for a brand fight. Both markets are strict in their rules. You can not write someone's brand name in your meta or adopt visuals. App Store and Google Play will either ban the app or pessimize you in search. Think about the reviews as an opportunity here. Technically and practically, people can place reviews and comment, discuss, compare you with other brands. Let them show your strong sides on the app page. Sure, do not go for "Great new tinder, thanks!". Write texts more like "I tried this app and it is more interesting than Tinder. Yes, there are many dating apps but this one has fewer ads and in-app purchases. Seems almost free!"