Right now you can view data regarding app store keywords which users use to find and download your application in your Google Play dashboard. Here's the thing: you can split all organic traffic into separate «search» and «explore» sections.
That means that you can view where your app looks better: on the store's main page, categories, tops, related apps and so on. From now Google analyzes and shows app store keywords ranking with traffic. Note this: this traffic should be above 20-30 installs per month to be displayed in the console.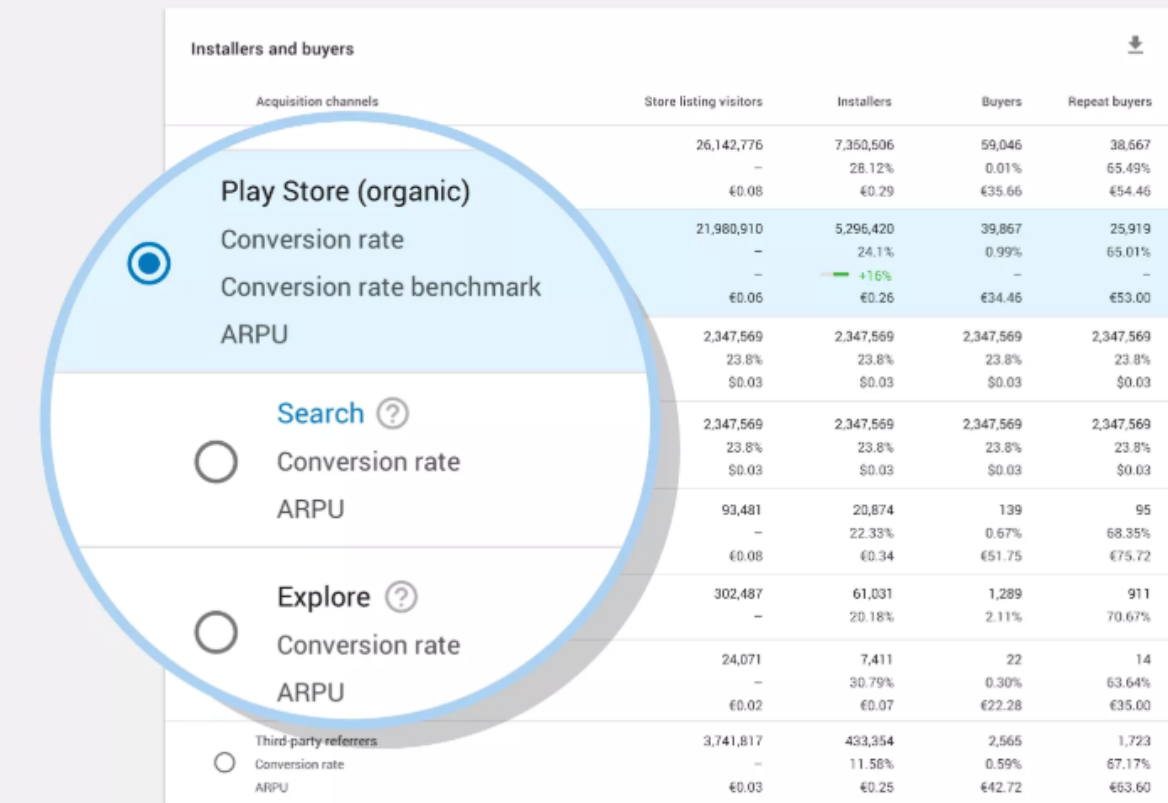 To see app store keyword search information you should use this algorithm inside your Developer Console:
go to «Acquisitions reports» section → «All acquisitions channels» → «Play Store (organic)» → «Search» → «All search terms».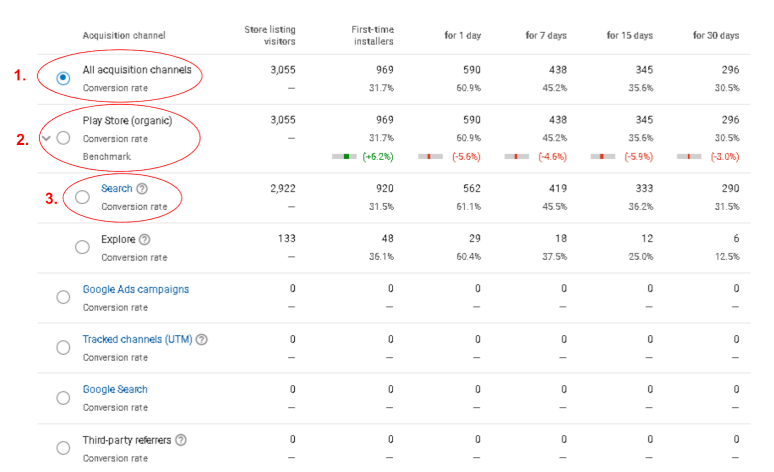 Let's take a look at the search section a little closer. Literally, you can understand it like this: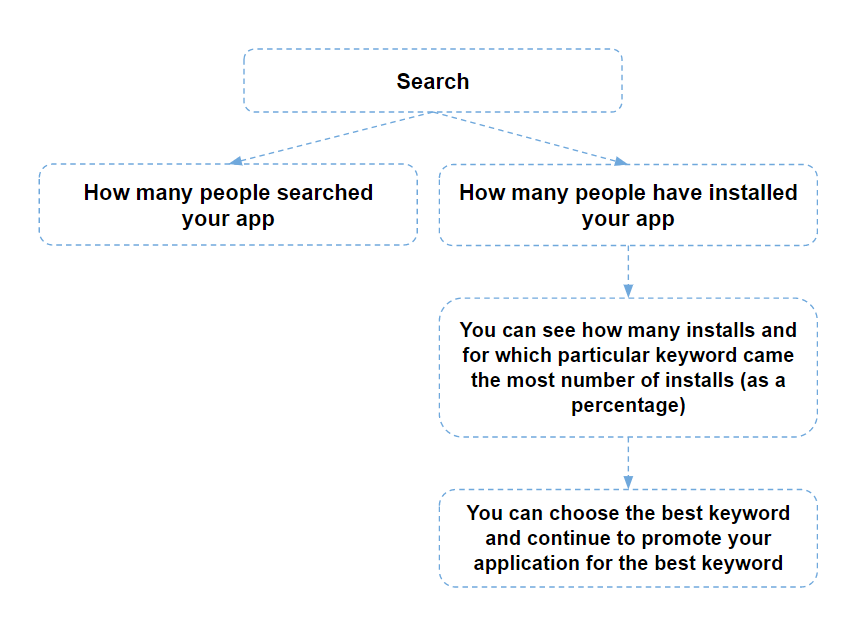 And you can already see the keyword search queries with data on the conversion in the install and ARPU (Average Revenue Per User) for this keyword.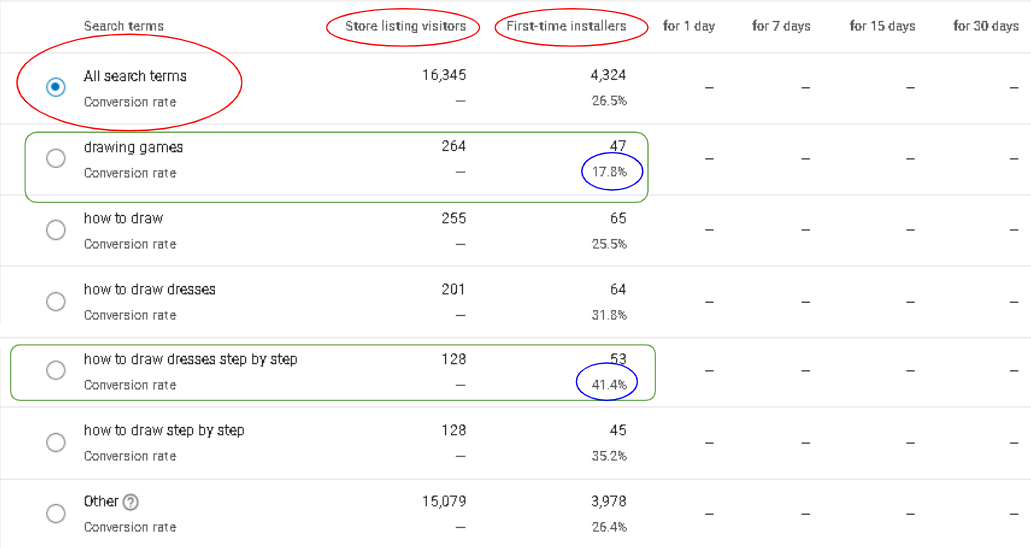 After conducting this analysis, you will be able to choose the right app's keywords to be promoted. Note: rely on «First-time installers» indicators more than on «Store listing visitors». It is important to see by which Google Play keywords people install your app better. Don't hesitate to take a look on conversion rate (written below in percentages), it will show you which keyword helps your target client to find what they wanted.
In other words, our app was searched for the keywords «drawing games» and «how to draw dresses step by step». The «drawing games» keyword had 264 views and 47 installs, which means 17.8% conversion. Well, «how to draw dresses step by step» keyword had 128 views and 35 installs, which means that it is 41.4%. As we see, the second keyword is more relevant for our app by users opinion.
Don't worry if your application is low in rank by chosen Google Play keyword! The most effective way to increase your application rank is to use incentive installs via keywords. That will help your app to become more visible for users eye in GP search.
HOW KEYAPP.TOP RELATES TO THIS CHANGES?
Keyapp.top provide a unique service – keyword incentive installs. This option helps Google Play customers to find searchable applications much easier, especially when you do it with right Google Play keyword. Let's take a look at Keyapp.top strategy example.  
For example, we took an app «File Manager» and create a campaign with the most relevant keywords.

We started to promote it with 2 medium competitive keywords «file» and «total commander», which have a good rank and received a lot installs during the month.

After 5 days the application has been promoting, it grew up in the ranks. For example:
By the word «file», the application was on the 51 place. After promotion had finished application grew for 31 positions.

So, updated Google Developer Console is important for understanding:
What keywords bring the installs;

What keywords are better converted into installs?

From which keywords are more purchases?
We work for our customers and are always ready to help you. If you want to promote your app – be sure that nobody will do it better than us!
As a conclusion, we want to say that Google always makes our lives easier. From now bringing an app to the TOP takes only 4 easy steps:
Pick keywords needed from your Google Play console

Use chosen keywords to set a campaign at keyapp.top

Start to get organic installs, as now your application is well seen in clients searches.

Keep promoting the chosen keyword and watch how your application goes up on the position straight to Google Play TOP.
As a result, your ranks and visibility for app keywords will definitely increase and much more users will be able to find and install your app – you will start getting more and more organic installs from your TOP positions and making more profit from your app promotion!
Good luck and contact us if you have any questions! We are here to help you!