NEW case study is here!
Just 100 keyword installs and what a great result!
The keyword of this particular order was a word 'climbers'. Before the promotion, this game was on the 40th place in rank. The order was set for 1 day and don't forget that we need a few days to wait to see the result.
Our client got what he wanted – a fast rank increase for the keyword and more visibility on the market!
Please check the chart: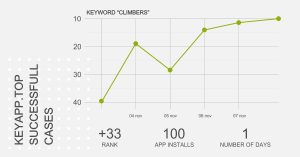 As you can see the app jumped +33 positions higher in rank reaching 7th place!
Do you want to have the same effective app promotion for your android app? At Keyapp.top it's possible! If you are new, just register on our website and you will be able to create your personalized boost campaigns!