Hello, guys! Today we would like to share with you our recent case study. This is a short promotion with a small volume but the result is still visible! Incentive installs can be an amazing and effective tool to improve your app promotion. Over the past few years, we've seen a lot of successful cases so these words are totally proven in practice.
So let's take a look at this particular case study!
The keyword which our client chose for his app to promote in Germany is 'emoji quiz'.  This is not a high-competition keyword so it's much easier to boost than a popular one.
You should always keep it in mind before starting your promotion! A small number of keyword installs won't boost your app much for a 'strong' keyword!
For this particular promotion, we have 200 installs which were divided in 4 days, 50 installs each day.  Before the campaign, the app was on the 10th position in rank for  'emoji quiz' in Germany.  Please look at the chart, after the installs were delivered the app went up in rank and is now on the 4th position!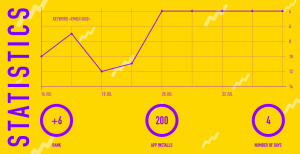 Do you want to boost your ranks to TOP in Google Play like a lot of other successful developers? We can help you with that!  Here at Keyapp.top we promote a lot of apps every day, run our own promo tests, check and track our clients' success!
If you have any questions or business propositions, please contact us at sales@keyapp.top and we will be glad to help you out!