What are RPG apps?
Role-playing games (RPGs) are a genre of games that have been popular for decades, and their appeal has only increased with the rise of mobile gaming. These games allow players to immerse themselves in a fantasy world and take on the role of a character with a unique set of abilities and attributes. RPGs have a loyal fanbase that appreciates the genre's depth, complexity, and storytelling.
There are several types of RPG mobile apps, each with its own unique gameplay style and mechanics. Here are some of the main types of RPG mobile apps:
Action RPGs: These RPGs feature real-time combat and fast-paced gameplay. Players control their characters and engage in battles against enemies. Examples of action RPGs include Diablo Immortal and Honkai Impact 3rd.

Turn-based RPGs: These RPGs feature a turn-based combat system, where players take turns attacking and defending. Turn-based RPGs often require strategic planning and resource management. Examples of turn-based RPGs include Final Fantasy Tactics and Fire Emblem Heroes.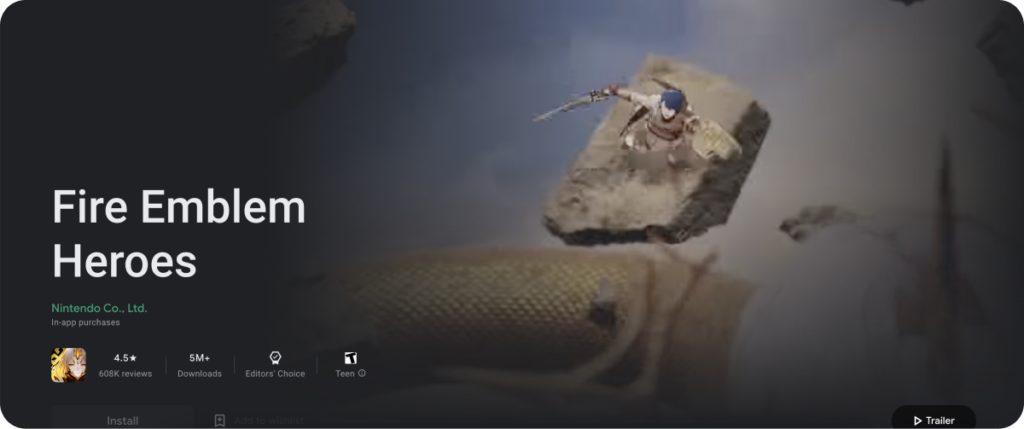 Massively Multiplayer Online RPGs (MMORPGs): These RPGs allow players to interact with one another in a shared game world. Players can team up to complete quests and battle against enemies. Examples of MMORPGs include World of Warcraft and Black Desert Mobile.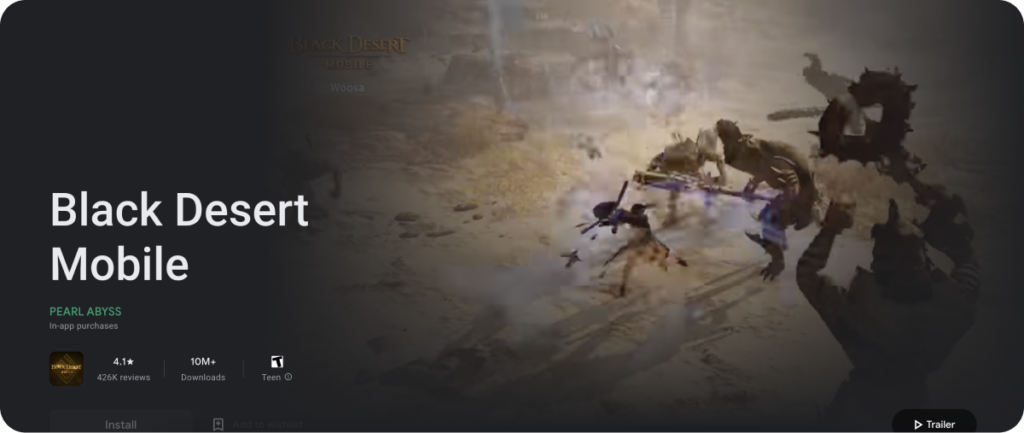 Idle RPGs: These RPGs feature automated gameplay, where players set up their characters to perform actions automatically. Players can upgrade their characters and equipment to progress through the game. Examples of idle RPGs include AFK Arena and Raid: Shadow Legends.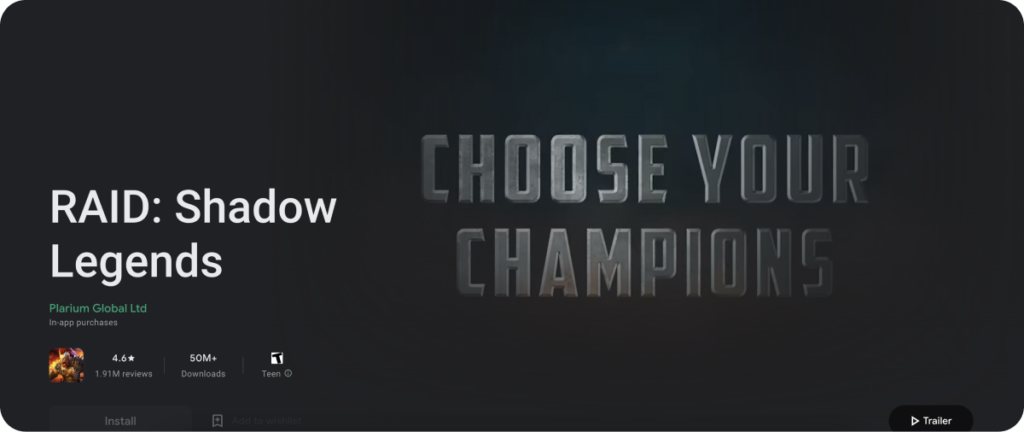 However, with millions of apps available in app stores, it can be challenging for developers to create an RPG app that stands out from the crowd. In a market that is highly competitive, it takes more than a great concept to succeed. App developers must ensure their app is visible and accessible to potential users and in this article, we will describe the ways to promote your RPG app to achieve the best results in organic traffic increase.
Ways to promote RPG mobile app
There are several ways to promote RPG mobile apps and increase their visibility among potential users. Here are some effective ways to promote RPG mobile apps:
Utilize social media: Social media is a powerful tool for promoting mobile apps. RPG developers can create accounts on social media platforms such as Facebook, Twitter, and Instagram and use them to showcase their app's features and updates. They can also run social media ads to reach a wider audience.
Engage with the community: Engaging with the community is crucial for promoting RPG mobile apps. Developers can participate in online forums, social media groups, and other communities where RPG enthusiasts gather. They can answer questions, address concerns, and share updates about their app.
Offer incentives: Offering incentives such as in-game rewards or bonuses can encourage users to download and install an RPG mobile app. Developers can offer these incentives through social media campaigns or in-app promotions.
ASO. Optimize app store listing: One of the most effective ways to promote an RPG mobile app is by optimizing its app store listing. This includes using relevant keywords in the app title, description, and tags, as well as including eye-catching screenshots and videos that showcase the app's gameplay. By the way, read more about what to ASO when you are preparing to app release.
Run app keyword campaigns: Running app keyword campaigns can help increase the number of downloads of an RPG mobile app. Of course, we cannot deny that running paid traffic such as Google Ads and Facebook Ads is important for such types of apps as this helps to target specific audiences and encourage them to install the app. Do not forget that at our platform you can order not only keyword installs, but work with paid CPI traffic as well. Read the following article to find out how to combine CPI and keyword installs in your app promotion. But it is important to mention that to increase the visibility and organic traffic of the app for search requests, RPG game developers can implement a keyword install campaign. This campaign involves targeting specific keywords that are relevant to the app so the app ranks increase and the application becomes more noticeable. And below we will discuss how to promote RPG app using the keyword downloads.
How to market RPG app using keyword installs?
Marketing RPG apps using keyword installs is a well-known method to increase their visibility in app stores. If you are an app developer or marketer looking to use this method, here are some general essential steps to effectively market RPG apps using keyword installs:
Conduct Keyword Research: The first step is to identify the keywords and phrases that potential users are using to search for RPG apps. Use keyword research tool at Keyapp called My Keywords where you can not only add the keywords and check their app popularity/app ranks, but as well get the store suggestions for any keyword completely for free without any limitations in the number of requests you can add.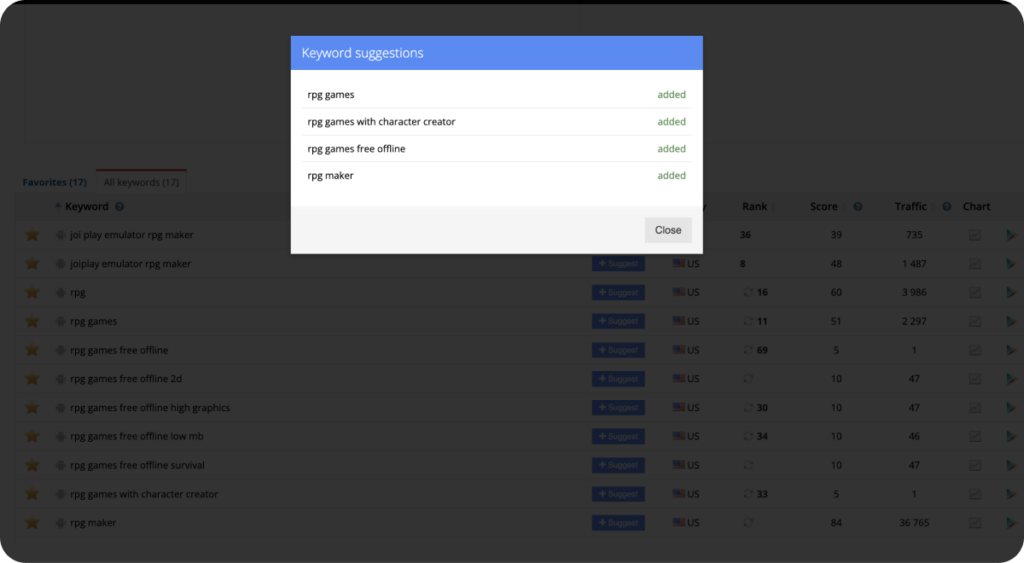 Optimize App Store Listing: Once you have identified the relevant keywords, use them to optimize your app store listing. It is recommended to include relevant keywords in the app title, description, and other metadata to help the app appear higher in search results when users search for those keywords.
Run Keyword Install Campaigns: The next step is to run keyword install campaigns to increase the visibility of the app on the app store. This involves bidding on relevant keywords and phrases to appear at the top of search results when users search for those keywords. The ultimate goal is to get users to click on the app and install it. Keyapp provides keyword promotion in more than 200 regions so you can target simultaneously several regions. Also, do not forget that it is more efficient to target several keywords at the same time to get higher ranks in parallel as well as to show Google or Apple algorithm that the application is getting more popular for the batch of requests together so the ranks increase faster using such a strategy.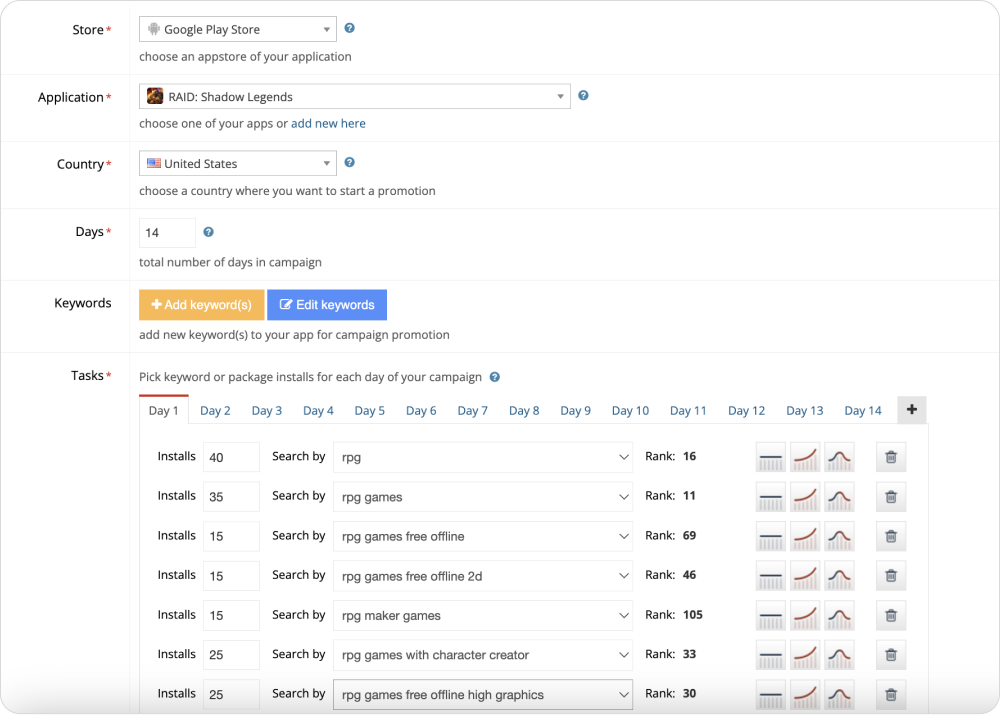 Monitor and Adjust Campaigns: Monitor the performance of the keyword install campaigns and adjust them as needed. Keep track of the number of impressions, clicks, and installs to determine which keywords and campaigns are driving the most traffic and conversions. Do not forget, that using Keyapp you can easily track the performance of each keyword campaign using the increased graphics in the My Keywords section.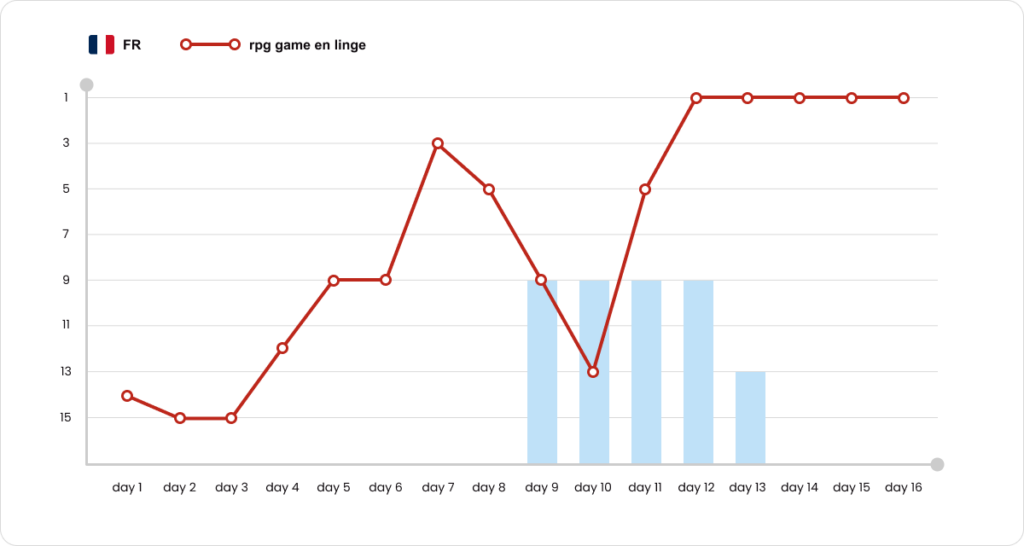 Optimize App Experience: Finally, optimize the app experience to ensure that users have a positive experience with the app and are more likely to leave positive reviews and ratings. You can achieve this by improving the user interface, fixing bugs, and responding promptly to user feedback.
In conclusion, using keyword installs is an effective way to market RPG apps and increase their visibility in app stores. By conducting keyword research, optimizing the app store listing, running keyword install campaigns, monitoring and adjusting campaigns, and optimizing the app experience, app developers can attract more users and improve the app's overall performance.
Some examples of RPG apps keyword promotion
We work with different RPG games and the main groups of keywords are not only high-frequency competitive "RPG game" or "RPG". You can gain more traffic from a wide promotion with less popular but more precise keywords: "RPG offline games", and "games RPG online".
Each application is a different case, as far as our promotion affects only ranking factors, but in-app activity, application history, and app page quality are things that depend on your work with the application as all these factors influence the success of campaigns.
So, we will provide you a list of apps, keywords they are ranking for, and groups of keywords they are now promoted in search by specific region. We suggest you pay attention to the number of installs in the campaign, the days the campaign was working, and which positions this app has now in search.
The initial app that we collaborated with is currently accessible on Google Play and was marketed using the highly competitive keyword "mmorpg". The keyword difficulty level was 44 (which makes the request to be of high competitiveness), and the app was also promoted using a group of associated keywords that included the main word "mmorpg". The campaign allocated a daily volume range of 25 to 75 for this particular keyword. When the campaign first commenced, the app had a rank of 231. However, after the delivery of all the keyword installs, the app successfully secured a top 5 ranking within 4 days.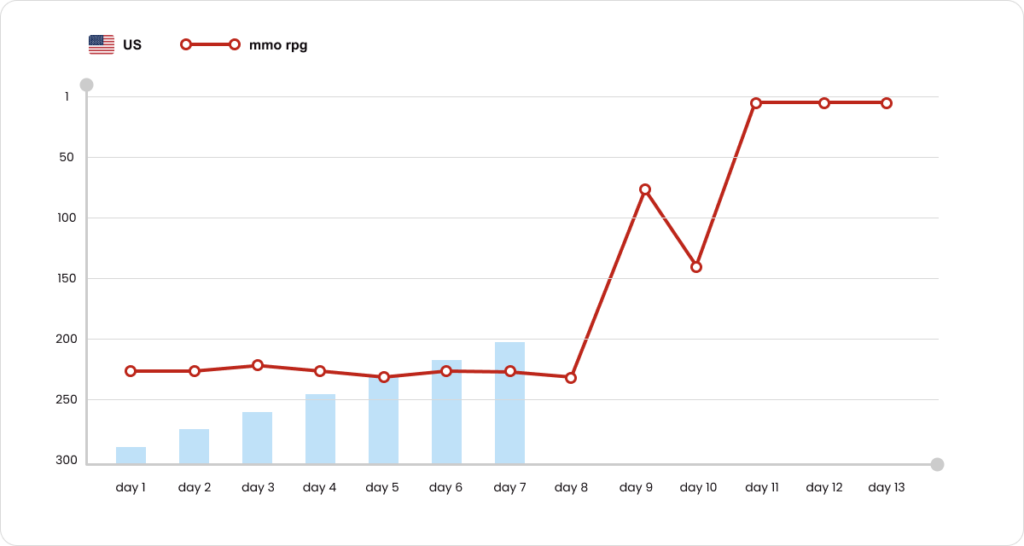 For the subsequent case, we shifted our focus to the UK region on Google Play. The keyword we selected for this particular campaign was "rpg offline", which proved to be highly competitive with a score of 84. Despite the challenge, we decided to promote a set of related keywords simultaneously with the main keyword. Initially, the app was ranked 35 for the selected keyword. The daily volume for the campaign was set to 20, which was later increased to 100 over an 8-day period. The result of the promotion is evident from the screen, showcasing that we successfully achieved a top 5 ranking for the app.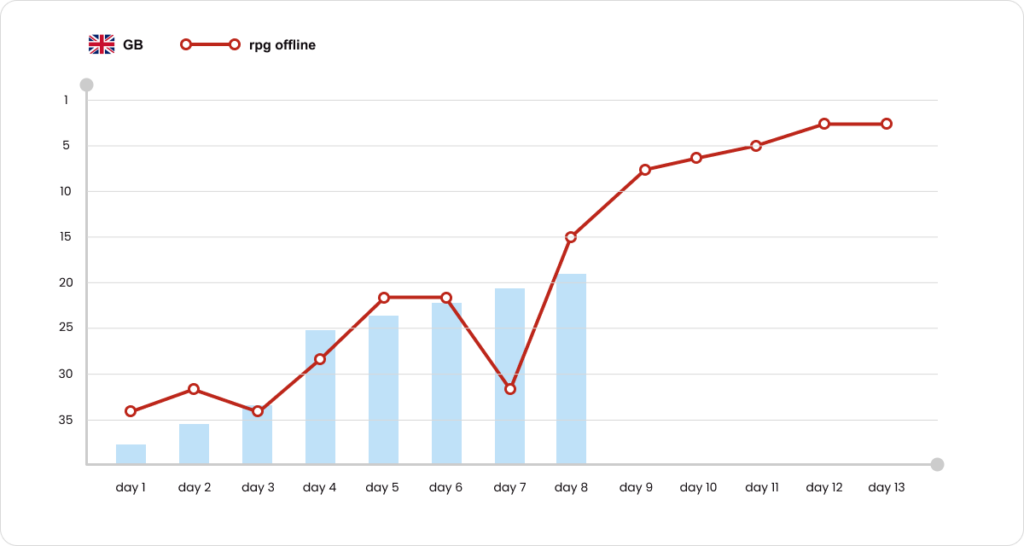 Let's take a look at some App Store app promotion cases. The first case is related to the promotion of the "best mmo" keyword in the US market. It's worth noting that promoting iOS apps typically doesn't require a long campaign, as daily volume plays a more crucial role for Apple. In most cases, running a 1-2 day campaign is sufficient to gauge the keyword's reaction to installs and determine how to proceed, as App Store ranks are updated within 1-2 days after downloads are added.
In this particular case, we started with a low rank of 209 and used 40 downloads daily. As a result of the campaign, the app secured the top position for the "best mmo" keyword and has since maintained that position.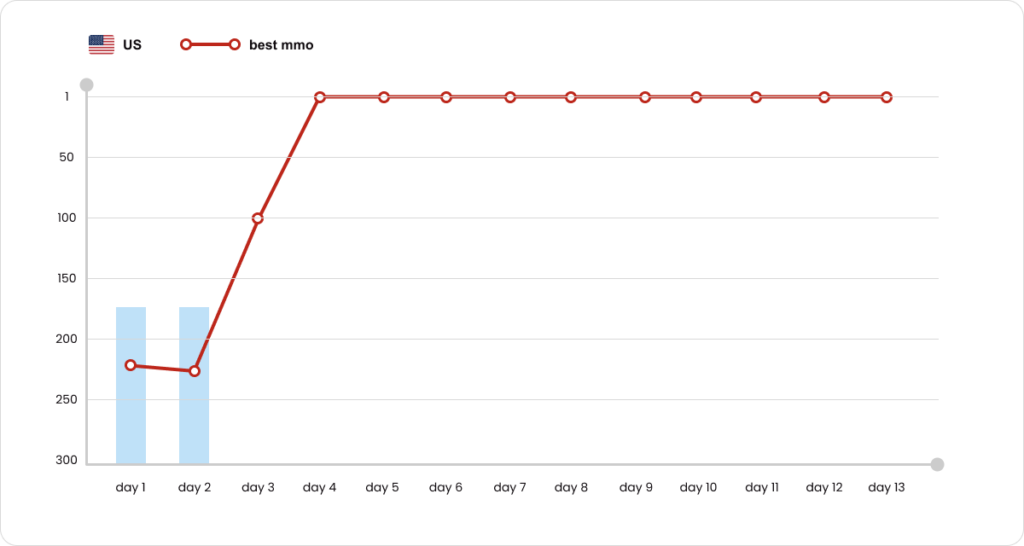 We redirected our attention to the Brazilian region on the AppStore for the following case. Our primary keyword for the campaign was "idle," which had a high competitiveness score of 43. The app was initially ranked 74 for the selected keyword.
To increase visibility, we set the daily volume for the campaign at 50, 100, 200, and 300 downloads over a four-day period. The outcome of the campaign is evident from the screenshot, demonstrating that we successfully achieved a top 2 ranking for the app. Keyword installs proved to be a valuable strategy for promoting RPG mobile apps, and the Brazilian campaign serves as a prime example of its effectiveness.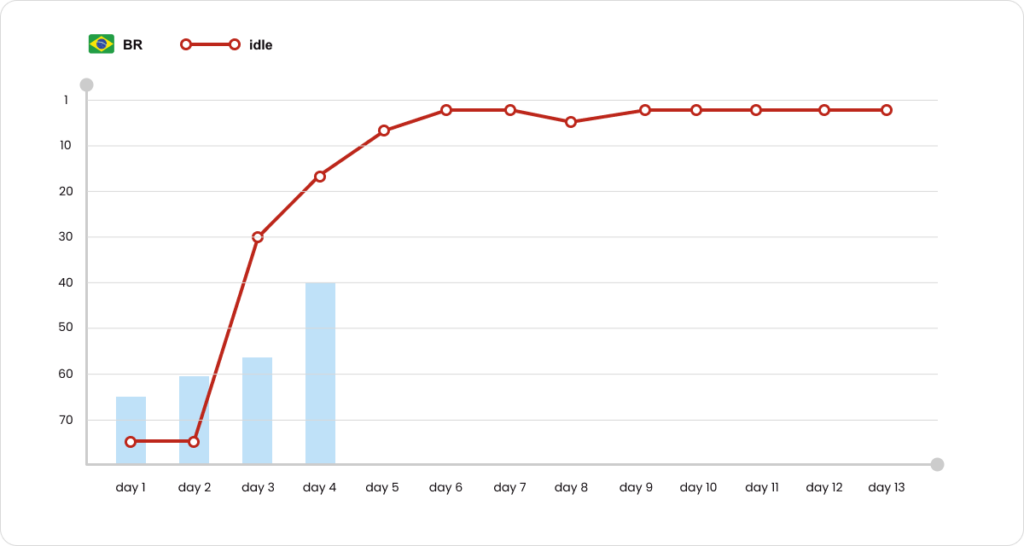 Summary
Taking to the account the cases we mentioned about, it is obvious that keyword promotion is one of the best ways to promote RPG apps because it allows app developers to target users who are actively searching for the types of apps they offer. By using relevant keywords in the app store listing and bidding on those keywords in keyword install campaigns, app developers can increase their app's visibility in search results and attract more users who are likely to be interested in their app.
RPG apps often have a specific audience, and keyword promotion helps to reach that audience by targeting users who are searching for RPG apps or related keywords. By optimizing the app store listing and using keyword install campaigns, app developers can increase their chances of appearing at the top of search results for relevant keywords, making it more likely that potential users will discover and download their app.
Our support team is always ready to help you with all the campaign settings, as we know the current trends in keyword promotion and the most efficient strategies that will help your app to achieve top positions in search!