In today's digital age, mobile apps have become an integral part of our daily lives. From social networking to gaming, education to entertainment, there's an app for almost everything. However, with millions of apps available in the app stores, it's becoming increasingly difficult for app developers to stand out from the competition and reach their target audience. This is where app marketing comes in – a crucial aspect of the app development process that can make or break an app's success. In this article, we'll explore the best practices for app marketing, focusing on how to effectively promote your app using both CPI and keyword installs. Whether you're a seasoned app developer or a newcomer in the industry, read on to learn how to market your app and drive downloads.
What are CPI and keyword installs? The difference between both types
CPI (Cost Per Install) is a type of mobile app advertising model where advertisers pay a fee each time their app is installed by a user. In other words, it's the cost an advertiser pays for each app installation generated through the ad campaign.
CPI campaigns are commonly used to promote mobile apps, particularly on social media platforms and mobile ad networks. Advertisers typically bid for ad space and target specific audiences based on demographic information, interests, and behaviors. When a user clicks on the ad and installs the app, the advertiser is charged the agreed-upon CPI rate.
One of the benefits of CPI campaigns is that advertisers only pay for actual app installations, rather than for impressions or clicks. This means that advertisers can more accurately measure the success of their app marketing campaigns and optimize their strategy for better results. However, it's important for advertisers to carefully track and analyze CPI data to ensure that they're getting a good return on their investment.
As you may notice while using our service, we offer CPI campaigns for Google Play apps. So if to sum up, CPI campaign at Keyapp is a tool used to attract users to your app. These users are not motivated with gems or coins as those who install your app when you order keyword installs. These users will install your app only if they like it. That means you will attract people who generate in app activity and income for you.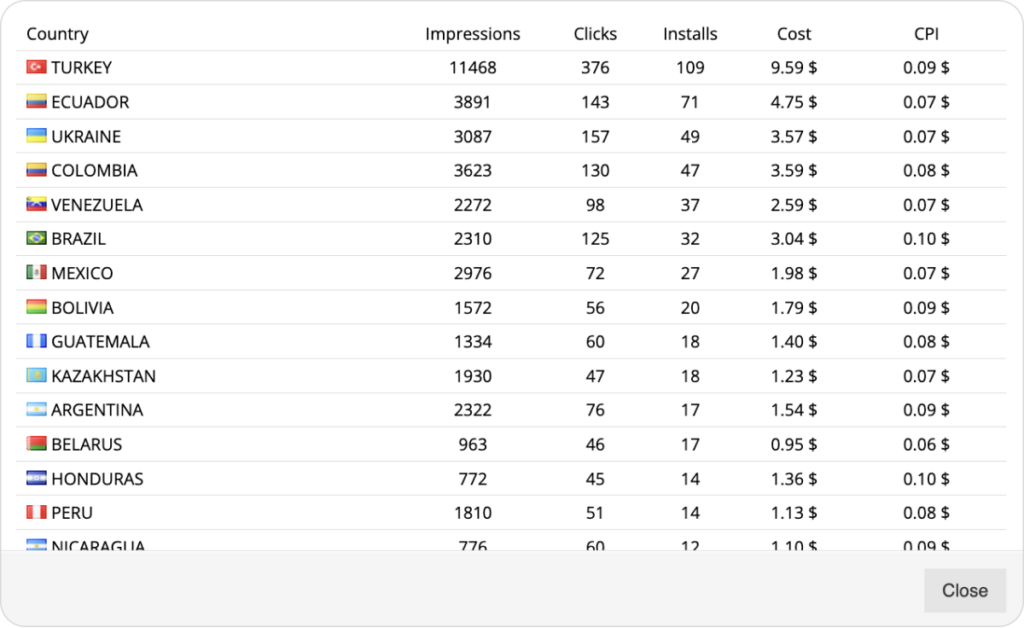 Keyword installs are app downloads that occur when a motivated user searches for a specific keyword or phrase in the app store and then finds and installs the needed app. This type of promotion helps increase the app's ranking in the search results for that keyword, as the app store algorithm recognizes it as becoming more popular for that specific search request.
App developers use keyword campaigns to make their apps more visible and attract more organic downloads from users who search for related keywords. These organic downloads are highly valuable as they come from users who are actively searching for apps related to the keyword, indicating a higher likelihood of retention and conversion. By optimizing their app for keywords and increasing their ranking in the search results, developers can increase their app's visibility and attract more users.
Keyword installs are an effective way to promote an app because they target users who are actively searching for apps related to a particular keyword or topic. This means that users who download an app through a keyword search are likely to be more engaged and interested in the app's content. Additionally, because advertisers only pay for actual app installations, keyword installs can be a cost-effective way to promote an app.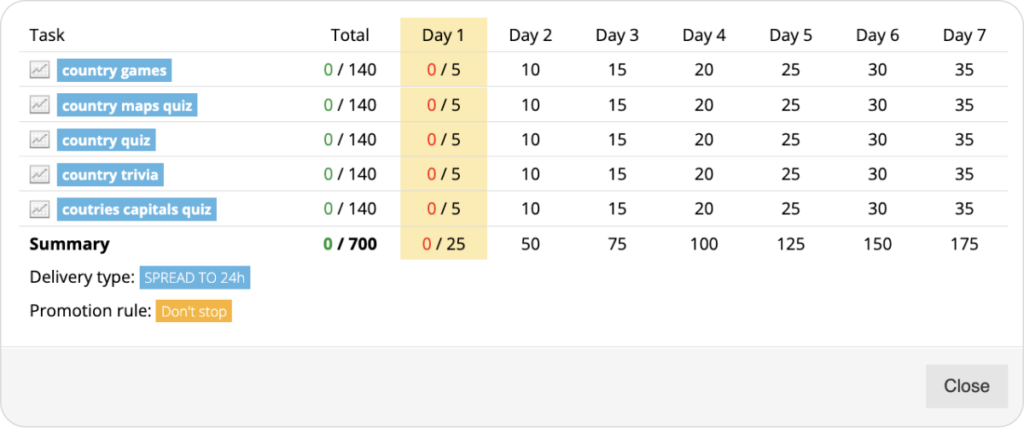 The difference between both types of traffic is that they are aimed at solving different needs that app developers may have while promoting their apps on Google Play. CPI campaigns are aimed at increasing in-app activity and expanding the user base through advertising. While keyword installs are aimed at helping your application get higher positions in the search results, which gives it a chance to be downloaded by relevant users who are looking for different search requests on the store. This type of promotion already solves the problem of organic traffic attraction, while the final aim is the same for both types of downloads – to expand the user base and increase the app revenue.
What to use CPI campaigns for?
Although App Store Optimization and keyword promotion are commonly emphasized by us as key marketing tools, CPI campaigns can be a valuable solution for addressing various issues that may arise during the promotion of your Google Play app. Let's consider the main ways to can add CPI campaigns to your marketing strategy.
1) CPI campaigns may be used to expand the app user base
As we have already mentioned, CPI installs are generated from ads shown on different websites, etc. At the same time, it may be needed for app developers to attract more users and generate in-app activity, which, of course, will lead to an increase in revenue they get. CPI campaigns are one of the main aims to get more downloads at a lower cost. For example, as you may know, while setting up the CPI campaign campaign, to choose the regions you would like the ads with your app to be shown. You can choose any region from the world's countries, or even set up a worldwide promotion to attract users from all over the world. Such a wide range of available regions for promotion gives you the possibility to attract users for low cost if to choose the region with low cost per install.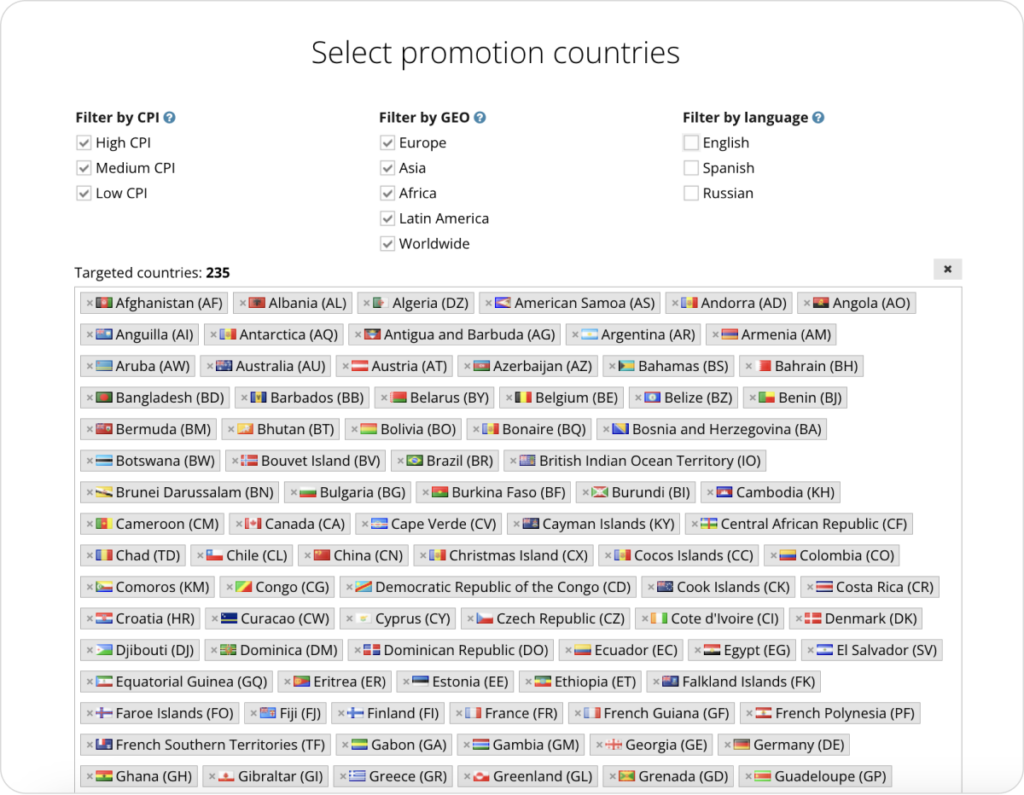 2) CPI campaigns may be used to improve user acquisition
CPI campaigns can significantly improve user acquisition for your app by targeting users who are more likely to install and engage with it. By doing so, you can attract new users who are genuinely interested in your app's features and functionalities, leading to increased engagement and revenue.
One effective strategy to improve user acquisition through CPI campaigns is to target users who have already shown an interest in similar apps or categories. For instance, if you have a photo editing app, you can target users who have previously installed other photo editing apps or have demonstrated an interest in photography or design. Another approach is to target users who share similar usage patterns with your existing users or have previously engaged with your app. This can be achieved through lookalike targeting, which uses data about your current user base to identify new users who are likely to be interested in your app.
3) CPI campaigns may be used to promote newly-launched apps
CPI campaigns are a valuable tool for promoting a new app. When launching a new app, it can be challenging to attract new users and gain visibility among the millions of other apps in the app store. CPI campaigns can help overcome this challenge by promoting your app to a wider audience and encouraging more people to install and engage with it.
One advantage of CPI campaigns for new app launches is that they are cost-effective and can help you reach your target audience quickly. By paying only for successful installations, you can avoid wasting your advertising budget on users who may not be interested in your app or may not convert into loyal users.
Another benefit is that CPI campaigns allow you to target specific demographics and interests, ensuring that your ads are seen by users who are most likely to be interested in your app. This can be particularly important for new apps that may have a specific niche audience or target market.
4) CPI campaigns may be used to get into the index for keywords
CPI campaigns are one of the ways to get the indexation for search requests on Google Play after you released the app. As you know, the main factor influencing the success of the indexation process on Google Play is qualitatively done App Store Optimization, but do not forget about the way the Google Play algorithm works to give your app maximum chances to be ranked in the top 250.
As you could remember from our previous articles, the Google Play algorithm pays a lot of attention to app metrics while deciding whether to index the app or not, as well as to increase the app rank for a particular keyword or not. That's why, after the ASO is done and app is successfully published (even several weeks ago) you may find out that it still cannot be found by any keywords on the store. At this stage, it is already high time to think about using CPI campaigns. If to talk shortly, Google Play needs to see that the application has some in-app activity and users to be able to put it into the index for search requests. By the way, you can read how we managed to get into the index for search requests with a new application using CPI traffic.
How to combine CPI and keyword installs?
You often ask us if it is appropriate to run CPI and keyword campaigns simultaneously for Google Play apps. And our answer is always YES! This marketing strategy will give your application the maximum result in terms of increasing your user base and app revenue. Let's consider two main ways you can combine these types of campaigns.
1) Use CPI campaigns for new applications to get into the index for keywords
As we have mentioned before, the Google Play algorithm needs several factors to give the new application the rank for search requests:
App Store Optimization (keywords should be added to the title, short and long description)
In-app activity and user engagement (algorithm should understand that the application is "alive" and generates some traffic)
Using CPI campaigns for new applications can be an effective strategy for getting your app to rank for specific keywords. As mentioned earlier, CPI campaigns can help generate initial traction and increase the number of downloads for your app, which in turn can help boost its visibility and ranking in the app store.
When launching a new app, it can be difficult to rank for competitive keywords as there are many other established apps that are already ranking for those keywords. However, by using CPI campaigns to increase the number of installs for your app, you can signal to the app store algorithm that your app is gaining traction and popularity. This can help your app rank higher in search results for specific keywords.
Of course, it is not possible to get top ranks for keywords only using CPI, as they are not keyword targeted, but this type of traffic will help your application get into the top 250, which gives the possibility to use keyword installs with the aim of increasing the ranks for specific search requests.
The most common question is if it is necessary to get the CPI installs from the region you would like to index your application for keywords in. To be honest, it's not obligatory. While your aim is to get into the top 250, you can try to set up the CPI campaign for different regions. Let's imagine that you have released the app and would like to get into the top 250 for keywords in the United Kingdom. As you could know, CPI installs may go from three types of regions depending on the cost per install:
Low CPI geos
Middle CPI geos
High CPI geos
The United Kingdom is considered to be a region of high CPI so to attract the users from this geo you may need to set the cost per install of minimum 0.40-0.50$. At the same time, there are a lot of countries where low CPI is applied, like India, Pakistan, Ethiopia, etc. You can easily launch the campaigns for such countries with a minimum cost per install which will give you the possibility to get into the index in the United Kingdom as well since Google needs to see the overall in-app activity no matter what country it goes from (although ordering installs directly from the United Kingdom in CPI campaign can give higher chances for indexation)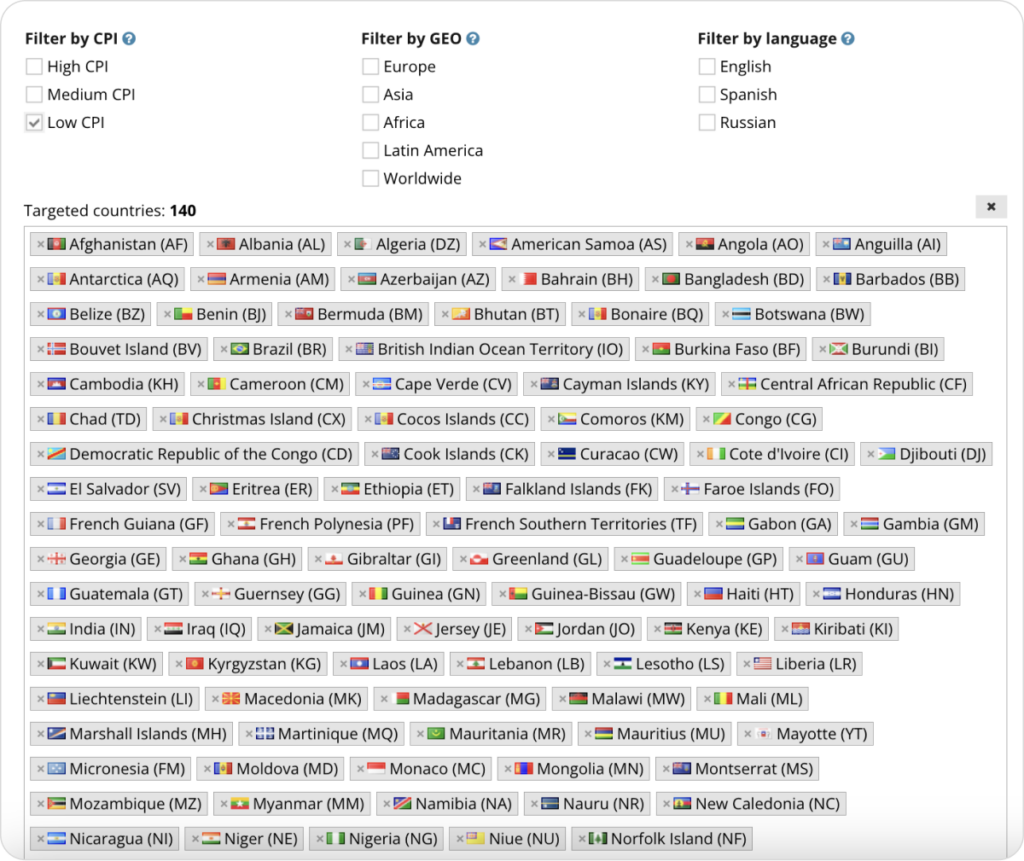 Let's consider this short example. The following app was promoted using the CPI campaign two weeks after it was launched. The main aim of promotion using this type of promotion was to get into the top 250 for keywords in Tier 1 countries. Here are the results in the number of clicks, impressions and downloads the campaign gave as well as the regions chosen for promotion. The total number of installs received is 2201 during 6 days with the average CPI of 0.07$ from low CPI regions.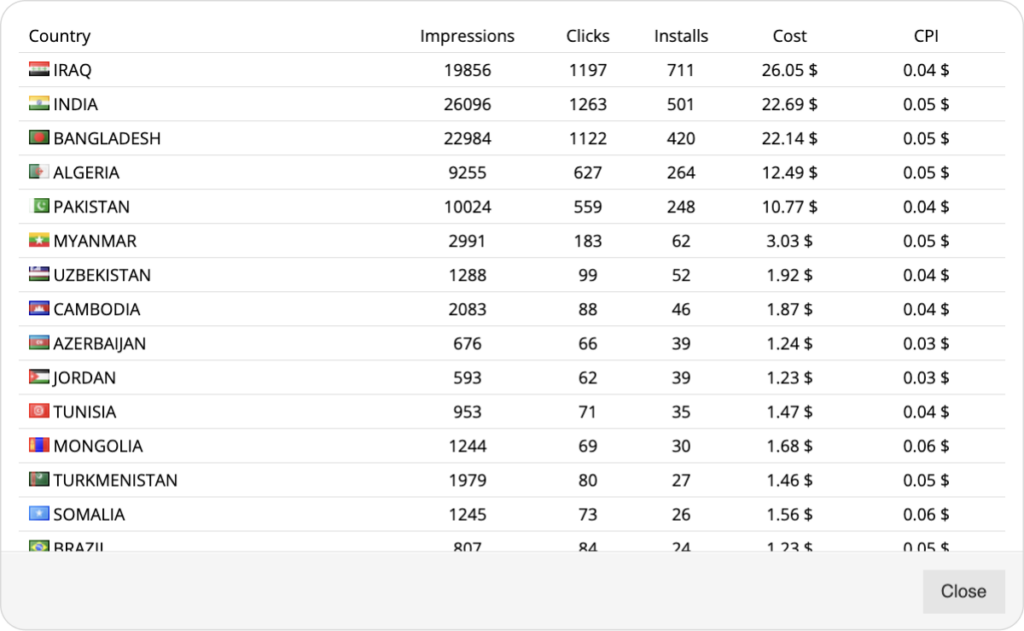 Before the CPI campaign, the application was indexed for the next keywords in the following countries

After the CPI campaign the application managed to get into the index for more requests and expanded the keyword cloud


The next stage here is how to proceed while the application gets into the index for first keywords and whether it is needed to stop the CPI campaign at this point. Definitely, no. When the app gets into the rank for the keywords, you can already start to promote them with keyword installs as well as continue using the CPI. This will give even better results as the app will be indexed for new requests, as well as in-app activity and user engagement will influence the success of keyword promotion, which will be discussed next.
2) Use CPI campaigns to make the keyword promotion more successful
We always try to remember the importance of app metrics in keyword promotion on Google Play as this is one of the most widespread mistakes, thinking that applications can occupy top ranks for search requests only using keyword promotion and not paying attention to in-app activity and retention rate. To avoid the main mistakes in app promotion, read the following article.
CPI campaigns have a positive impact on keyword position increases on Google Play. When users install an app through a CPI campaign, it signals to Google Play's algorithm that the app is relevant and valuable to users. This can result in an increase in app visibility and improved keyword rankings.
When an app is installed through a CPI campaign, it can also lead to increased engagement and retention. This, in turn, can lead to more positive reviews and ratings, which can further improve keyword rankings and overall app visibility.
Additionally, CPI campaigns can help increase app installs and drive more traffic to the app store listing, which can also positively impact keyword position. As more users engage with the app and leave positive ratings/reviews, Google Play's algorithm may recognize the app as high-quality and relevant for certain keywords, leading to higher rankings for those keywords.
All these facts should be taken into consideration when you conduct keyword promotion using keyword installs. Yes, obviously, keyword installs are a powerful tool to boost the ranks, and in a lot of cases, it is not possible to occupy the top ranks in the search list only using ASO techniques and CPI traffic. At the same time, CPI campaigns may "support" your keyword promotion strategy by giving an app the users who will stay and create high conversion and retention rates, as well as increasing the app's reputation (do not forget, that for getting such an impact from CPI campaigns, the application should be optimized and meet the user expectations not consisting any crushes).
Let's consider several examples of positions increasing while keyword promotion with and without CPI campaigns.
The following application was promoted for the keyword "text translator" in Australia. At the same time, the apps got installs from the CPI campaign in Tier 1 and Tier 2 countries. As you may see, the promotion process for the keyword was quite fast, and the application managed to achieve the top 1 two days after the campaign.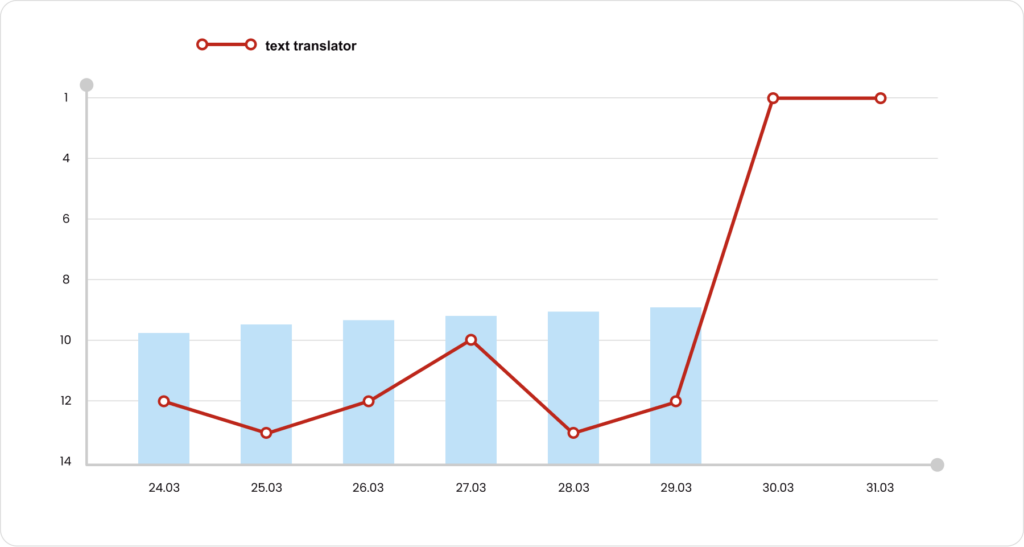 The next app was promoted for the keyword "translate free" with the daily volume of keyword installs although it was managed to achieve only the top 20. While analyzing the results, it was discovered that the app didn't get any additional paid traffic (such as CPI) and organic downloads, as well as had a low retention rate. Of course, keyword downloads did the effect and the application increased in rank, but the results could be much more successful if it had a higher level of in-app activity.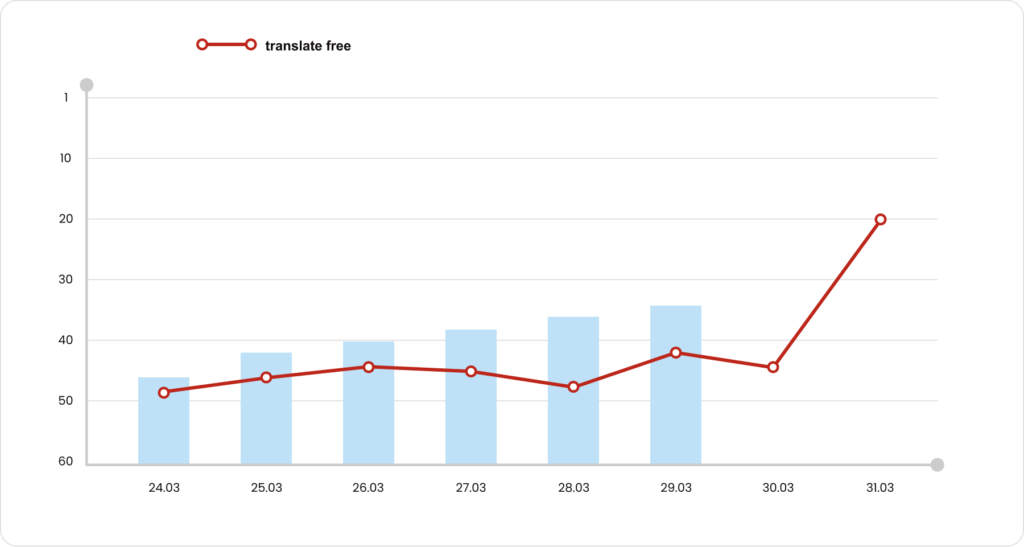 SUM UP
To sum up, the combination of CPI campaigns and keyword installs can be an effective marketing strategy to improve your app's visibility and user acquisition. The use of CPI campaigns to target specific audiences can generate initial traction, while keyword installs can help improve your app's visibility and keyword rankings, leading to increased organic traffic and user engagement. It's important to remember that these strategies should not be used in isolation. Instead, they should be viewed as complementary approaches that work together to achieve your app marketing goals. By carefully planning and executing both strategies, you can maximize your app's potential for success and improve your overall marketing ROI.
Our support team is always ready to help you with all the campaign settings, as we know the current trends in keyword promotion and the most efficient strategies that will help your app to achieve top positions in search!