If you are an ASO specialist and still do not use artificial intelligence in your work, the benefits of this revolutionary technology may pass you by.
In this article, we will talk about AI marketing instruments — popular neural networks that can quickly collect and analyze data, along the way offering optimal solutions for app promotion.
Why would an ASO specialist use AI?
According to Accenture, 84% of business executives believe they need to use AI to achieve their growth objectives. Artificial intelligence is becoming more accessible every day. Today, hiring an automated assistant will cost several tens of dollars a month, and its effectiveness will bring much more and help you to promote your applications. Here are a few examples of what modern artificial intelligence is capable of:
Writing text. Editing the finished material or creating a new one from scratch. In the first case, the robot will point out errors, change the Tone-of-Voice, improve the structure, and much more. In the second, they will write a text of any size (from headlines to an article) according to your instructions and wishes.
Generation and processing of visual content. Create images based on a text query, remove the background, add elements to the photo, correct brightness, contrast, graininess, improve quality, and much more. This greatly facilitates the work if you do not have a designer.
Working with video and audio. Here, AI is able to perform a full cycle of tasks: from overlaying a background melody to creating a full-fledged video with an avatar as a host that advertises your application.
Analytics. Artificial intelligence is ready to do analytical work for you. Need to optimize text for search engines? Find out the benefits and main problems of the target audience of your application or make pre launch market and competitors research? This is not a complete list of what modern technologies will take on.
Of course, artificial intelligence is not a panacea. Technology is still evolving, improving, and making mistakes, so the process must be carefully monitored by ASO managers. Nevertheless, AI services already cope with some tasks as well as hired employees, so it makes sense for marketers to use this to their advantage.
Advantages and disadvantages of AI
Artificial intelligence has become one of the revolutionary technologies. To be able to use it effectively, it is necessary to clearly understand its strengths and weaknesses. Here are the main benefits that AI marketing boasts:
Handles large amounts of data. AI provides Qualitative and detailed analysis, making the most accurate conclusion based on the data.
Saving money. Considering that most AI services are already available even to small businesses, it is not difficult to realize the scale of cost reduction for companies in the future.
Human resource optimization. Artificial intelligence takes on routine tasks with pleasure, saving time for specialists. ASO managers have more power and opportunities to generate ideas, creative solutions and other actions that only a living person can do.
AI networks are sometimes wrong. Despite the fact that the stereotype about the super-accuracy of machine algorithms has settled in our heads, artificial intelligence can still misinform users. Don't forget that the answers to the popular Chat GPT we wrote instructions about earlier are based on learning through 2021 and may not be up to date.
Another weakness of AI technologies is that they cannot function without people. So far, it seems difficult to fully automate any stage of the ASO manager's work using AI.
But, despite all the weaknesses, the advantages and benefits of using AI tools remain obvious.
Text Generation AI Tools
The workflow of an ASO manager is inextricably linked to writing text. From writing a title, description to preparing posts on social networks, writing letters. The specialist also constantly needs to look for new keywords to promote the application in different regions. Artificial intelligence is ready to take on this task and create any advertising texts for you in various languages.
Modern technologies have great potential to fulfill these tasks. Which ones – decide after getting acquainted with the tools below.
Jasper AI
Today, Jasper is one of the well-known artificial intelligence-based writing assistants. The advanced market position of the program provides a simple interface: to start, it is enough to provide just a few source words that Jasper will analyze and quickly turn into the necessary phrases, paragraphs. The service can be entrusted with the work with the finished material: improve readability, change the Tone-of-Voice, create several unique copies. Jasper can read and write content that's intelligent and creative in over 29 languages.
Pricing:
Starter Price Plan from $24/mo
Boss Mode Price Plan from $49/mo
Custom Plan & Price

Writer
Writer positions itself as a platform for effective teamwork. He will bring the finished text material to an impeccable look. What is Writer capable of? He will become your full-time proofreader and editor. Among the functions of the service are auto-correct, auto-complete, literacy checking. There are different types of templates for marketing such as: blog headline generator, blog posts, product description etc.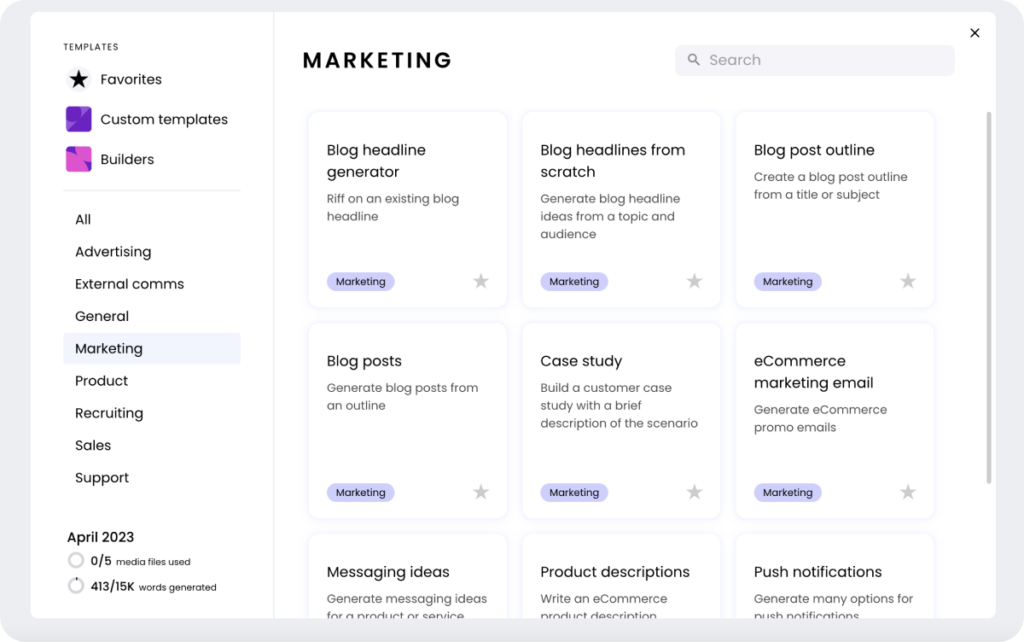 Also, Writer can help you with a blog post, an article, or app description with his "Blog post builder" instrument. On the first step, you will add the title, keywords, and CTA. After that, you will receive outlines that you can edit (remove, delete). On the next step, AI will generate key points for each outline. It makes writing easier.
One of the interesting features is "Recaps Builder". With his help, you can receive related quotes from your records.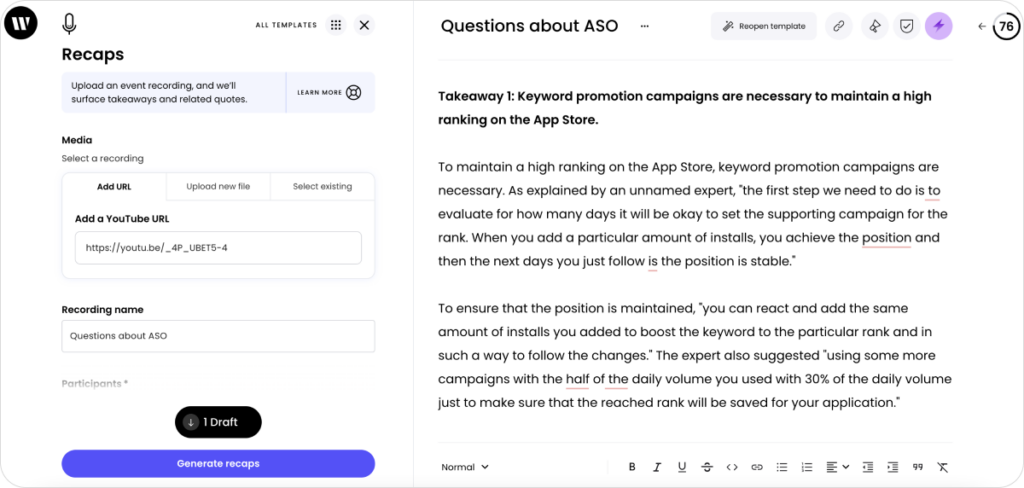 Pricing:
Team Price Plan per user $18/mo
Custom Plan & Price
GrowthBar
GrowthBar combines a copywriter and an SEO specialist. Like Jasper with Copy AI, it generates almost any text. But at the same time, the artificial intelligence of GrowthBar helps you increase traffic by raising content to higher positions in search engine results.
The service will find and suggest the best keywords for the text, arranging them in the ranking. Inside the program, you can collaborate with copywriters, marketers, and editors. You can also analyze any site for domain authority, keywords, Google Ads, and backlinks to improve your content strategy. The service works perfectly if you do ASO and SEO.
Pricing:
Standard Price Plan $29/mo
Pro Price Plan $79/mo
Agency Price Plan $129/mo
Chat GPT
Chat GPT is a chatbot capable of actively participating in discussions and generating relevant responses to queries just like a human. Through supervised learning, the chatbot can analyze large amounts of data and offer predictions. We wrote a big instruction on how to use ChatGPT to promote your mobile app and gave you 10 practical pieces of advice.
Image and Video Generation AI Tools
Along with text, an ASO manager constantly needs images to work effectively. Icons, illustrations, screen shots, and logos will later form the visual app optimization and will be used in mobile AB testing. And all this (and much more) can be created from scratch by one of the largest image generation AI marketing services: DALL-E and Midjourney.
DALL-E
DALL-E creates hyper-realistic images for you. The program is easy to use and perfectly recognizes user requests. The reason for this may have been the advanced OpenAI GPT-3 machine learning algorithm, which owns DALL-E.
There are two options for using the service: creating ready-made images from scratch or editing existing ones. In the first case, you just need to write what you want to create (for example, "Application in the form of a living being with arms and legs in front of an ice cream van"), and the service will give the result in a few seconds. Artificial intelligence allows you to add or remove elements from the image, change the sharpness, brightness, overall style, and other parameters.
DALL-E has several restrictions: For example, it is not allowed to generate celebrities or public figures.
Pricing:

Midjourney
Midjourney generates images with celebrities and public figures without any problems. Working with the tool takes place in the Discord chat, where you can watch the results of other users in real time. With Midjourney, you can generate logos and icons.
Pricing:
Basic Price Plan: $10/mo
Standard Price Plan: $30/mo
Pro Price Plan: $60/mo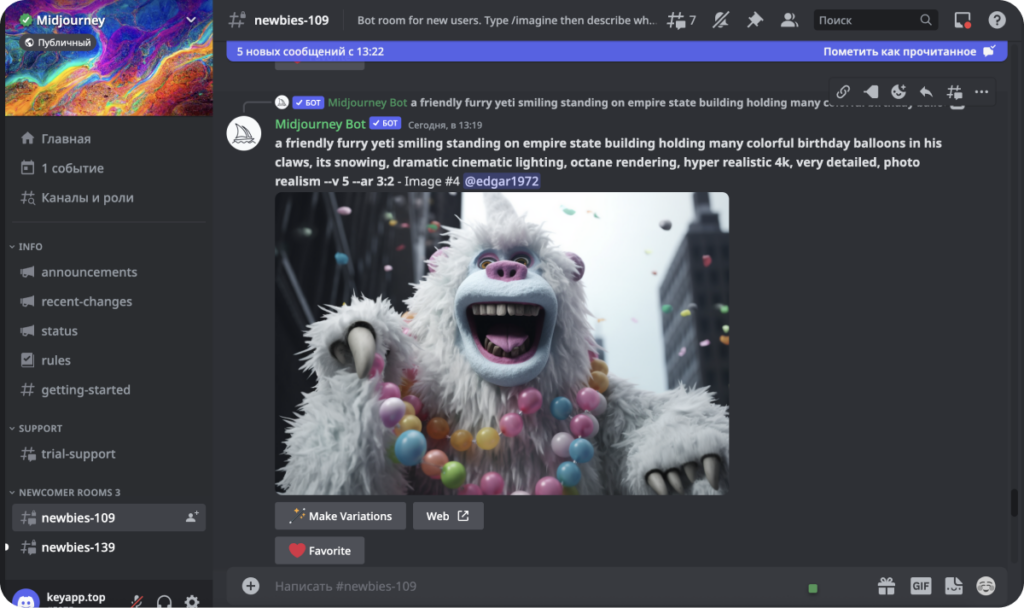 Synthesia
It is a video generation platform. With its help, you can create videos in 120 languages with more than 70 AI avatars that can be used in a frame, saving time and project budget. So you don't need any models any more.
A few use cases for Synthesia in AI marketing:
Generate educational content for users.
Add voice sound for ready videos.
There are more than 50 video formats available on the service.
Pricing:
Personal Price Plan: $30/mo
Enterprise Price Plan
Descript
With it, you can transcribe a video in 22 languages ​​or use ready-made templates to create a new one. Descript offers some cool editing tools: it can remove stray words or unnecessary pauses, as well as apply transitions, music, effects, and animations to the video.
Pricing:
Free 1 hr / month
Creator Price Plan 10 hr / month – $12/mo
Pro Price Plan 30 hr / month – $24/mo
Custom Price Plan
Analytic AI Tools
Fullstory
Want to predict the customer journey for your mobile app? Why guess when you can find out what he really is? Fullstory is an analytics platform that shows ASO managers how users interact with an app from start to finish.
Artificial intelligence will track how users behave on your app, remembering their clicks, scrolls, and mouse movements. With Fullstory, you can find out where and why users are having problems, what errors they encounter, where they most often click, and much more. In addition, you can filter recorded sessions by user type, device, location, and other criteria.
Pricing:
14 days trial period
Custom Price Plan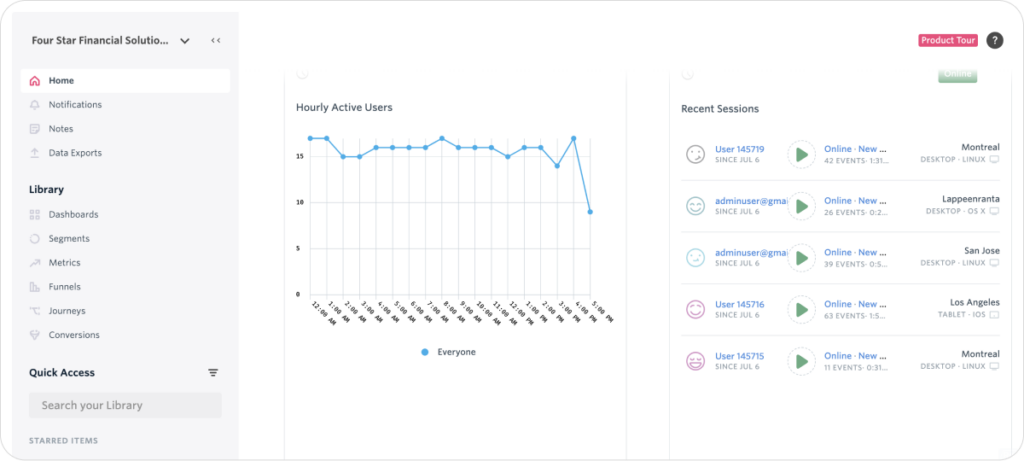 SUM UP
In conclusion, AI ASO tools have become an integral part of the marketing and content creation industries. Text generation tools like Jasper AI, Writer, and GrowthBar have made it easier for businesses to create compelling content at scale, while DALL-E and Midjourney have introduced the world to unprecedented levels of creativity and visual storytelling. Additionally, Synthesia and Descript have revolutionized video production and podcasting by enabling users to create hyper-realistic content using AI.
Finally, analytic AI tools like Fullstory have made it possible for businesses to gain valuable insights into user behavior, allowing them to optimize their websites and applications for maximum engagement and conversions. As AI continues to advance, we can expect to see even more innovative tools and solutions that transform the way we approach ASO and marketing.