Uncover a broad approach to promoting your iOS app, which comprises crucial phases that you must follow at each step. This scheme aims to aid both app developers and marketers in formulating ASO and app marketing strategies for their apps, both prior to and post-launch.
Creating an iOS application is only the initial stage towards achieving success and an increase in the number of active users. To ensure that your app reaches the targeted audience, it is necessary to have a well-prepared promotion strategy. A carefully structured 30-day promotion plan can assist you in amplifying the visibility of your iOS application and boosting its organic downloads. In this article, we will provide a comprehensive guide detailing the steps involved in devising a 30-day promotion plan for an iOS application.
Week 1: Preparation for app launch
As you may have noticed, we usually recommend proceeding with App Store Optimization in advance as the first step of promotion, as this influences the app indexation for the keywords as well as the conversion rates from view to download. Before all the further steps, analyze the main competitors, the apps in your category, and the current trends in visual asset optimization.
The first week of your promotion plan for an AppStore application should be focused on the preparation for app release and checking all the assets to make sure that the application is ready and has the chance to be indexed for the keywords in the countries you are focusing on.
Here are some main things to check before you launch the iOS application:
App design and layout: Check that the design and layout of your app is visually appealing, consistent, and user-friendly. Ensure that the font size and style are appropriate, the colors and contrast are easy on the eyes, and that the app's images and icons are clear and high-resolution.
Screen resolution: Ensure that your app is optimized for the different screen sizes and resolutions of iOS devices, from the smallest iPhone to the largest iPad.
Loading times: Test the loading times of your app's screens and features, making sure they load quickly and smoothly.
Performance: Check that your app runs smoothly without any lag or crashes.
Accessibility: Check that your app is accessible to users with disabilities by including support for dynamic text sizing, VoiceOver, and other accessibility features.
Compliance with Apple's guidelines: Ensure that your app follows Apple's guidelines for app design and functionality, including their Human Interface Guidelines and App Store Review Guidelines. By the way, you can find all the AppStore guidelines here.
At this stage, it is important not to forget about app localization. As you may know, in AppStore for each country, several locales are available. For example, in the US, the main locale is English (US), and there are also Spanish (MX), Russian, Chinese simplified, Arabic, French (CA), Portuguese (BR), Chinese traditional, Vietnamese, and Korean. All these locales may be filled as well, with the aim to get the indexation for a higher number of keywords. To read more about ASO for iOS apps and cross-locales, check out the iOS App Promotion Checklist.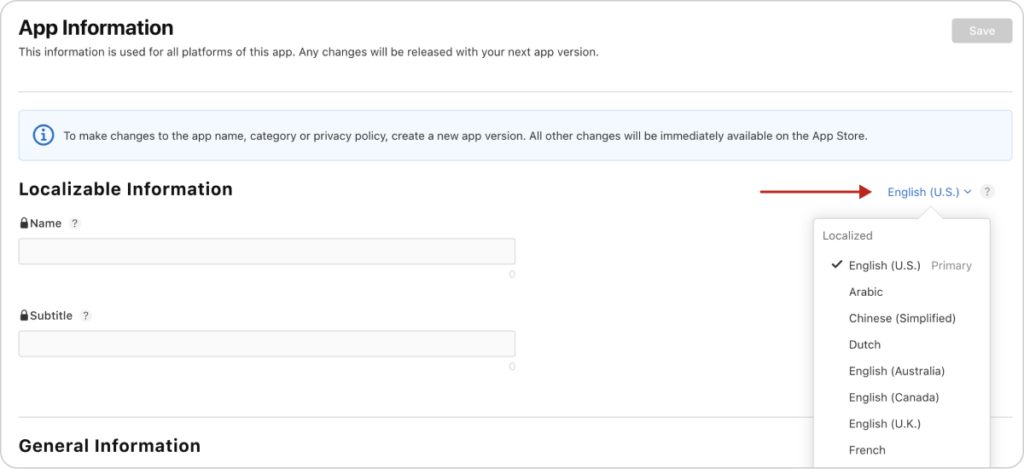 During the 1st week of your app promotion, do not forget to use any ASO tool to add all the keywords from your keyword research so as to check their app popularity as well as the app ranks for the search requests after the app is released. By the way, you can check as many keywords as needed in My Keywords section on our platform completely for free without any limitations. Use the filters you see in this section to check the most popular keywords with the highest daily estimated traffic. This will help you understand what keywords to focus on at the first steps of keyword promotion as well as to follow all the changes with the ranks fast and effectively after the app is launched.

Week 2: First steps in promotion
Once the process of App Store Optimization (ASO) is complete and the app has been launched, it is crucial to begin the process of keyword promotion.
As you may know or read in our 30-day promotion plan for Android apps, the indexation on Google Play is quite a long process and it may take even 2-3 weeks after the app's release to get the first indexed keywords. At AppStore, the situation is completely different. The indexation process of iOS apps is fast, and, usually, the application gets into the index for the first keywords already within several days after the launch. This is a so-called boost from Apple. At this stage, you can already start the keyword promotion to increase the app's ranks for first-indexed keywords and keep the positions in the top 100 to top 50 to be able to promote with a higher amount of installs during the next few weeks.
We always mention the difference between Google Play and AppStore in ASO as well as in keyword promotion. By the way, you may read more about all the differences in the following article. For AppStore, shorter campaigns are needed (1-2 days may be enough to get an increase), but a higher number of keyword downloads are usually applied even if the ranks are low. So when you see that the application is indexed for the first keywords (by the way, you can use "Smart Campaign" tool to check the indexed keywords, you can already set the first campaign.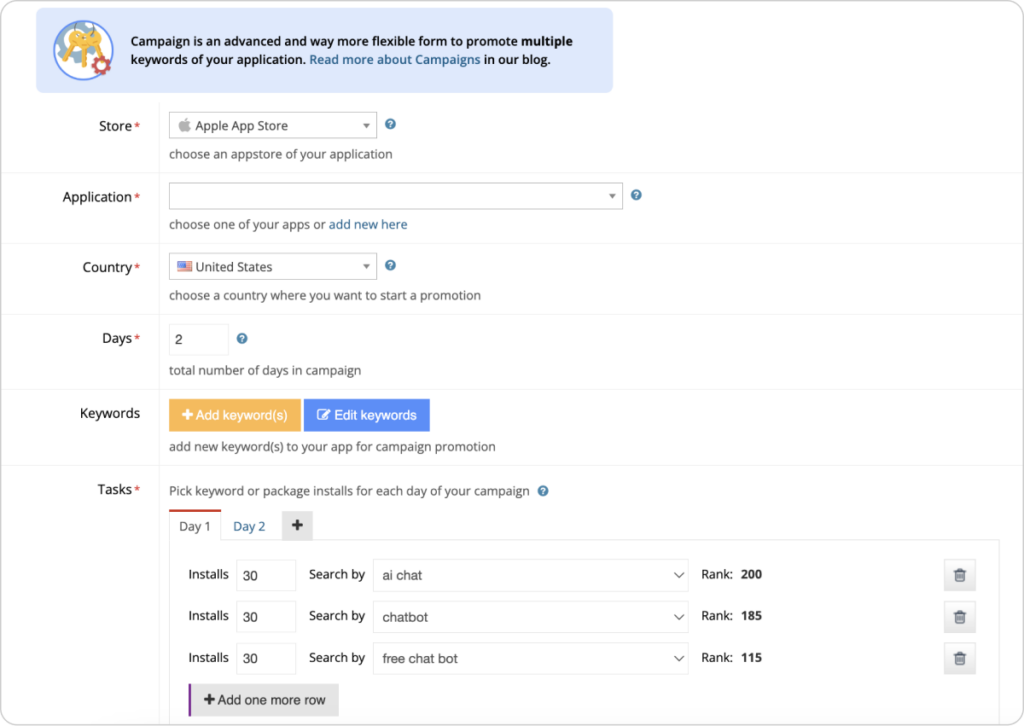 As shown in the screenshot above, the app was indexed for several keywords with low ranks close to the top 200 after its launch. Our primary goal was to increase these ranks to at least the top 100, which would allow us to use more keyword installs. Unlike Google Play, we opted for a short two-day campaign with 30 daily installs, which we believed would be sufficient to achieve our desired results.
Once the current campaign is complete, you can check the ranks you have achieved on the App Store, as Apple's ranking system updates fairly quickly. Within just a few days, new keywords may also be added to the index, allowing you to launch your next campaign. However, it's important to start with a lower number of downloads and avoid trying to reach the top positions too quickly. It's better to proceed step-by-step, even though it's possible for an app to reach the top rankings in search requests on the App Store within just 2-4 days.
The upcoming advertising campaign has already been scheduled to launch in one day, and it is apparent that the number of promoted keywords has increased. This is because these keywords have been successfully indexed. As a result, the campaign is expected to be more effective as it targets a wider range of relevant keywords.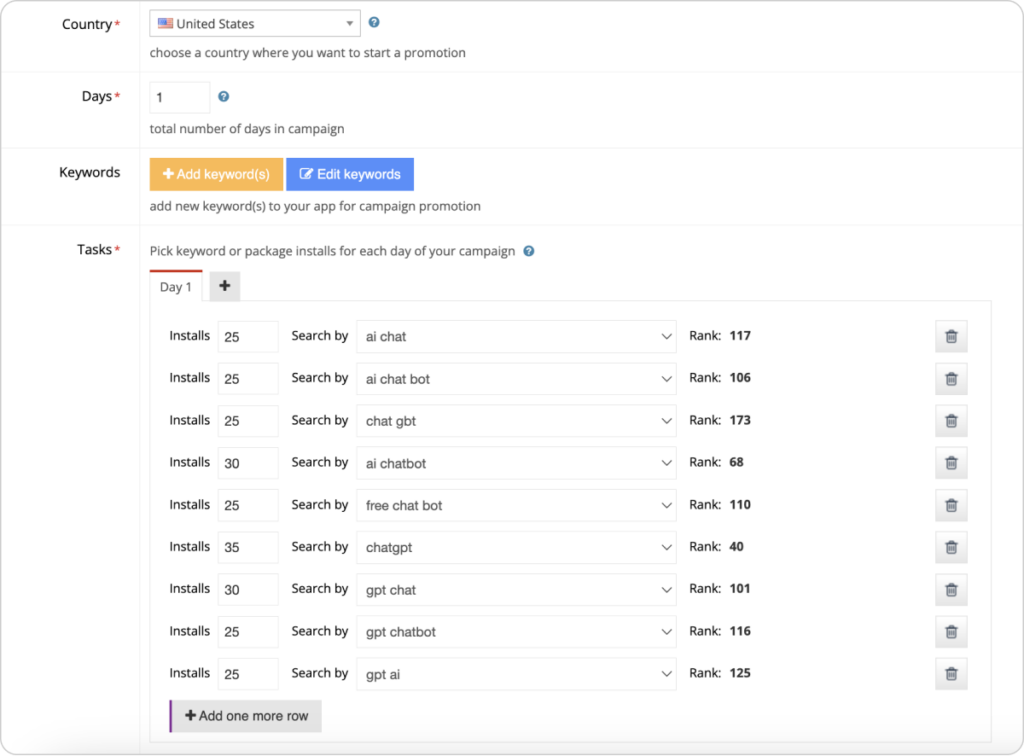 Launching a campaign with a lower number of installs and focusing on specific keywords allows you to fix your app's position in the index for those keywords. This is particularly important during the initial stage of indexation when your app is still being discovered by the search algorithm. As your app gains more visibility and is indexed for additional search requests, you can gradually expand your campaign to include more keywords and increase the daily number of installs.
Week 3: Results of the first keyword campaigns and next promotion steps
It's been two weeks since the release of the app and the first promotion campaign for keywords. The first step is to analyze the performance of the keywords that you promoted in previous orders. You need to look at the ranks that we have achieved for those keywords, as well as identify any new keywords that the app has been indexed for.
It's essential to analyze the positions achieved for each of the promoted requests. This can be done through your account dashboard, which includes graphics that provide an overview of how each keyword responded to the promotion. By examining the performance of each keyword, you can determine how the number of installs influenced the ranks achieved. This information can then be used to determine whether it's necessary to increase the daily volume of installs for certain keywords in order to achieve higher rankings. By closely monitoring the performance of your promotion campaigns and making adjustments based on the data, you can continuously improve your app's visibility and attract more users.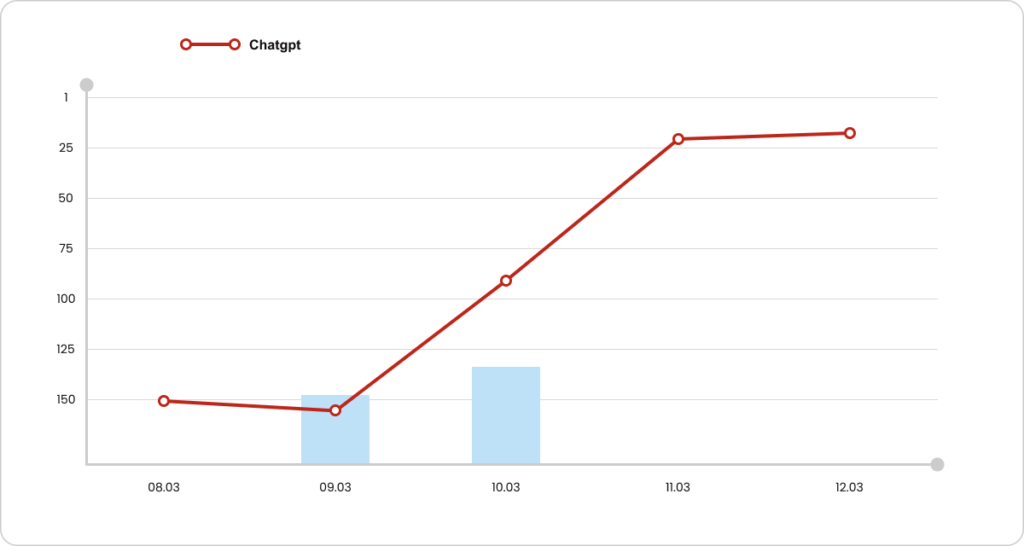 After the analysis, it is important to launch the next campaign for the newly indexed keywords with the same aim, to increase the ranks to the top 100 – top 50 so as to be able to promote with a higher number of downloads in the future, as well as continue the boost of already promoted requests to higher ranks.
During this week, you can also start to investigate the possibility of launching Apple Search Ads. Apple Search Ads is an advertising platform that allows app developers and marketers to promote their apps in the AppStore. With Apple Search Ads, advertisers can bid on relevant keywords that potential users may use when searching for apps in the App Store. When a user searches for a particular keyword, the advertiser's ad appears at the top of the search results, making it more visible to the user.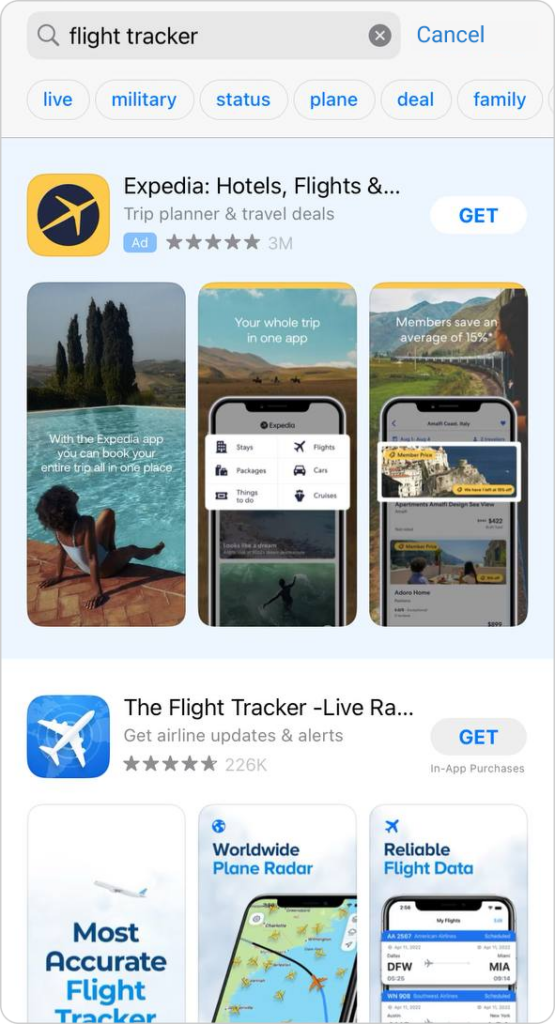 Here's how to get started with Apple Search Ads:
Define your target audience: Apple Search Ads offers a range of targeting options, including geographic location, language, device type, and more. Define your target audience based on your app's user demographics and characteristics.
Choose your keywords: Identify the most relevant and high-performing keywords for your app. Apple Search Ads offers a keyword suggestion tool that can help you find the most popular and relevant keywords for your app.
Set your budget and bids: Set your daily budget and maximum cost-per-tap bid. Apple Search Ads operates on a cost-per-tap model, which means you only pay when a user taps on your ad.
Create your ad: Create an ad that includes an attention-grabbing headline, a concise and compelling description, and a clear call-to-action. Make sure your ad is relevant to the keywords you have chosen and to your app's features and benefits.
Launch your campaign: Once you have set up your campaign and created your ad, click on the "Launch Campaign" button to start running your ads. Monitor your campaign's performance regularly and make adjustments as needed to optimize your results.
It is important to remember that combining keyword promotion and Apple Search Ads can be a powerful strategy for promoting your app in the Apple App Store.
Week 4: Start the work with app reputation, continue improvement of ASO and keyword promotion strategy
To maintain a good reputation and promote your app, it is essential to work with reviews on the App Store. Here are some helpful tips for managing reviews and understanding how the rating is formed:
Encourage users to leave reviews: The more reviews your app has, the more likely it is to rank higher in the App Store search results. You can encourage users to leave reviews by using in-app prompts or push notifications, or by offering incentives such as discounts or in-app rewards.
Respond to reviews: Responding to reviews, particularly negative ones, can demonstrate to users that you value their feedback and are actively working to enhance your app. Be polite and helpful in your responses, and address any issues or concerns raised in the review.
Monitor reviews regularly: Checking your app's reviews and ratings regularly can help you stay informed about how users are responding to your app. This can assist you in identifying trends or problems and making improvements to your app based on user feedback.
Understand how the rating is formed: The App Store rating is calculated based on the average of all the user ratings and reviews received for your app. The rating is based on a five-star system, with each star representing a specific percentage of positive ratings. For instance, a four-star rating indicates that 80-100% of the ratings are positive.
Focus on improving your app: The most effective approach to improving your rating and attracting positive reviews is to develop a high-quality app that meets the needs of your target audience. Concentrate on enhancing your app's features, usability, and performance based on user feedback, and your rating and reviews will improve over time naturally.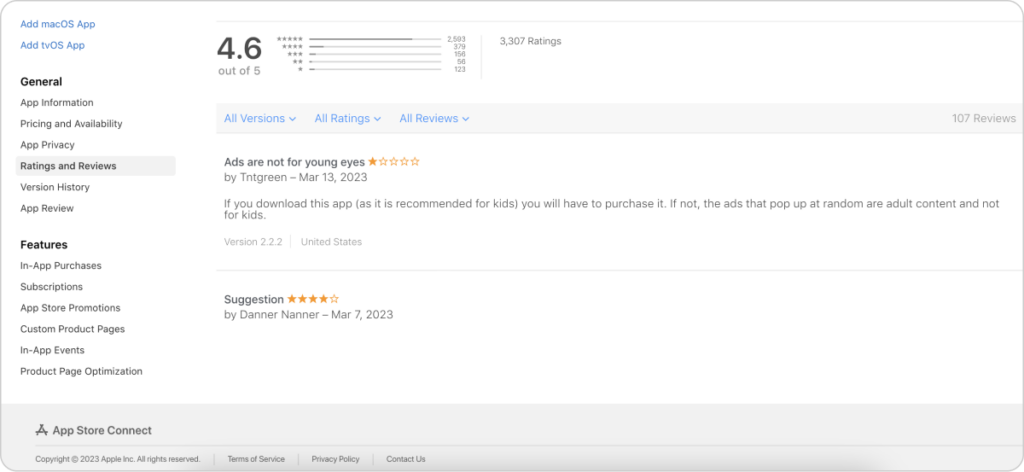 In order to effectively promote your iOS app, it is important to analyze its performance metrics one month after its release. This will help you gain insights into how the app is being received by users and identify areas that may require improvement or further promotion.
One key metric to analyze is the number of downloads or installs your app has received. This will give you an idea of the level of interest and demand for your app and can help you adjust your promotion strategy accordingly.
Another important metric to consider is user retention. This measures the percentage of users who continue to use your app after downloading it and can help you determine whether or not users find your app valuable and engaging. If retention rates are low, it may indicate that there are issues with the app's usability or user experience that need to be addressed.
Engagement metrics such as session length and frequency of use can also be useful to analyze, as they can provide insights into how users are interacting with your app. High engagement metrics suggest that users are finding value in your app, while low engagement metrics may indicate that users are not finding the app useful or engaging enough.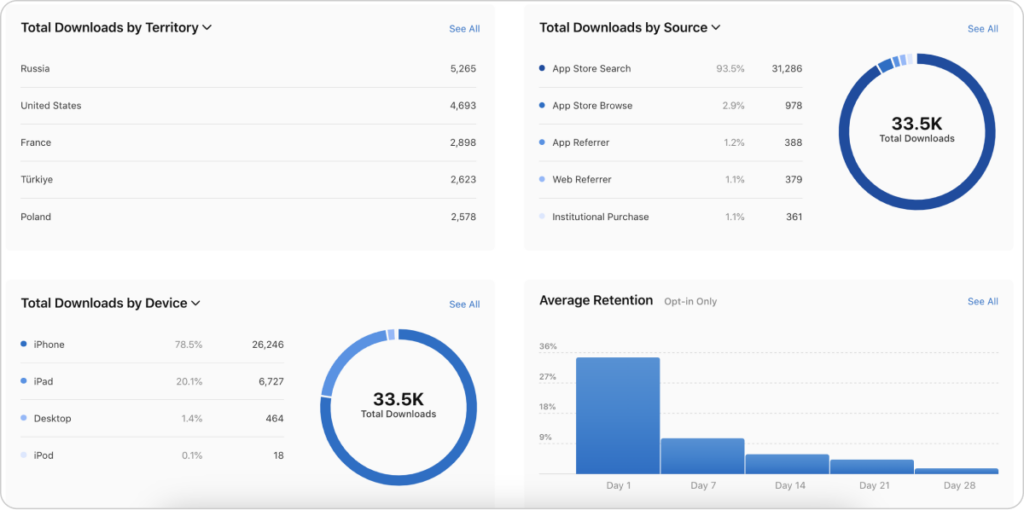 During the fourth and final week of the 30-day promotion plan, it's time to expand the keyword promotion campaigns and work on additional geos to bring the keyword ranks higher. At this point, you will likely notice that your app is being indexed for more keywords, which presents an opportunity to expand the scope of your keyword campaigns.
To begin with, it's important to analyze your competitors and see from which regions they are getting more downloads. Tools like SensorTower can provide insights into the most popular regions for your app's competitors. This information can help you identify which countries and regions may be advantageous for your app to target in order to get more organic traffic.
Next, it's important to focus on metrics and gather data on your app's performance in different regions. By analyzing key metrics like downloads, retention, and revenue, you can gain insights into which geos are most valuable for your app and where to focus your efforts.
Summary
In conclusion, effectively promoting an iOS app is crucial to its success. By following a 30-day promotion plan, developers can take a structured approach to analyzing key metrics, optimizing ASO, and using paid advertising. It's important to adapt your promotion plan according to the changing dynamics of the app market. As the industry is always evolving, you need to keep up with the latest trends and promotion strategies.
Our support team is always ready to help you with all the campaign settings, as we know the current trends in keyword promotion and the most efficient strategies that will help your app to achieve top positions in search!