In this article, we will discuss the key items that should be included in an effective iOS app promotion checklist:
Creating an iOS app that is both engaging and practical is a remarkable accomplishment, but it is just the initial step in the journey. For app developers, the primary objective is to attract organic users and increase revenue. Promoting the app is crucial in achieving these goals, and there are various techniques available for app developers. To ensure that no critical steps are overlooked, it is helpful to create an iOS app promotion checklist.
1.Optimize App Store listing
To make a good impression on potential users, it is crucial to optimize the App Store listing of your app. The listing, which includes the app's name, icon, description, screenshots, and video preview, is the first thing users will see. It is easy to suggest that exactly all these assets influence conversion rates. The app name should be easy to remember and pronounce, while the icon should be visually appealing and representative of the app's functionality. A brief and informative description that emphasizes the app's key features and benefits is essential, as are screenshots that showcase the app's user interface and functionality. Additionally, adding a video preview can provide users with a better understanding of the app's capabilities.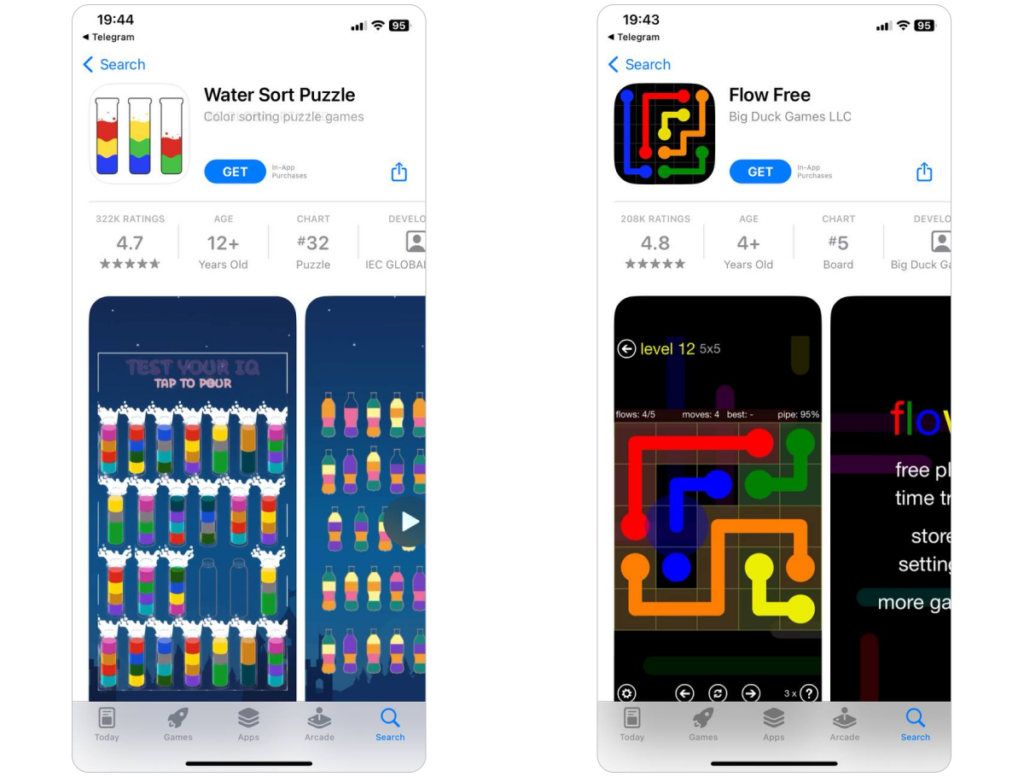 2.Implement ASO (App Store Optimization) techniques
ASO or App Store Optimization involves optimizing the app store listing to improve the app's visibility, positions for search requests as well as conversion rates. ASO techniques include using relevant keywords, optimizing the title, subtitle, and keyword field, and adding an attractive and relevant description. App developers can also use A/B testing to optimize the app store listing and improve user engagement.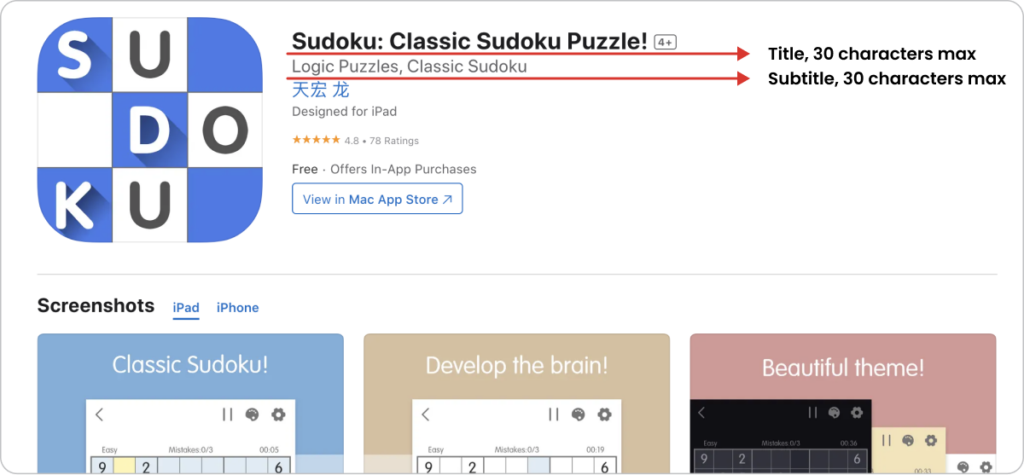 Here are some important things to remember about ASO for iOS app:
To index the application for keywords Apple algorithm checks the title, subtitle, and keyword field. Keywords in the description do not influence the app's positions for keywords.
Title and subtitle consist of 30 symbols, while the keyword field consists of 100 symbols.
Do not repeat the same keywords in different fields within one locale. It is enough to mention the keyword, for example, only in the title and not to add it to the subtitle. Apple will merge the words from different fields into phrases that can be already the keywords.
Do not forget that in each region several cross-locales are indexed. For example, in the US you can add the keywords to the locale English (US) and Spanish (Mexico). This gives you the possibility to use more space for keywords with the aim of indexation.
Do not forget that Apple doesn't merge words from different locales in keywords. If you add the "puzzle" keyword to English (US) and the "game" keyword to Spanish (Mexico), Apple won't merge the keywords these words into the keyword "puzzle game".
By the way, read this article to get a better understanding of ASO tips and how to get top ranks using a planned ASO strategy.
3.Optimize in-app purchases
Optimizing in-app purchases (IAPs) for iOS apps is crucial for maximizing revenue and providing a positive user experience. But what is even more interesting is that in-app purchases can be indexed by Apple to appear in search results when a user searches for relevant keywords, and search requests you add there will be checked as well as the keywords from metadata. This can improve the visibility of your app and potentially increase the number of downloads and in-app purchases.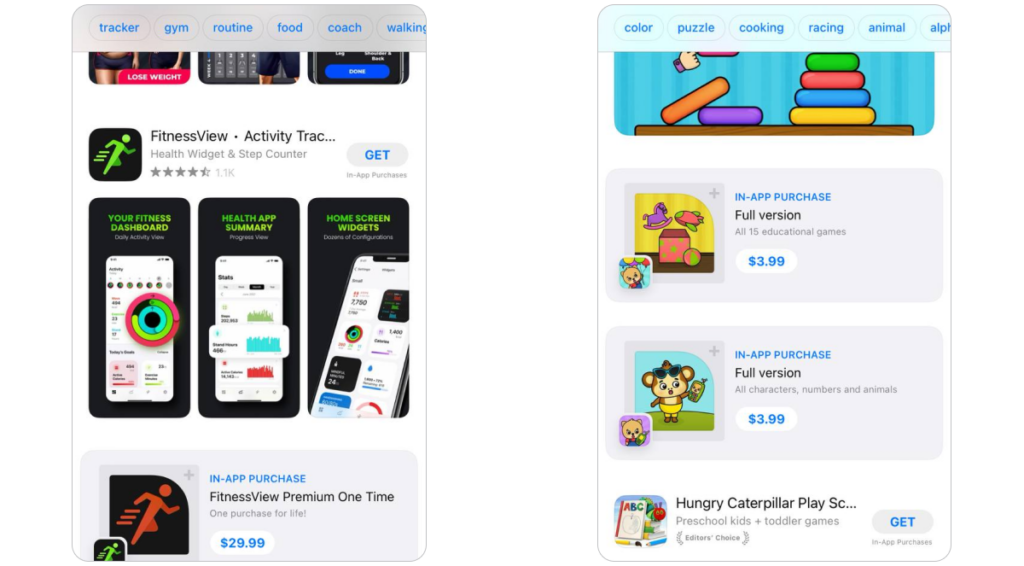 On AppStore, you can promote up to 20 in-app purchases simultaneously. In-app purchases that are promoted can appear in various locations such as the Today, Games, or Apps tabs, and even in search results. In search results, a promoted IAP can be placed next to the app, separately, or with a gap in between. These placements provide opportunities for IAPs to gain additional visibility and increase the likelihood of purchases.
Here are some tips to optimize your in-app purchases for iOS app:
For each promoted in-app purchase, a distinct promotional image is necessary to effectively showcase the respective in-app purchase. This image should accurately and attractively convey the features and benefits of the in-app purchase.
Create a catchy in-app purchase name trying to avoid some generic phrases and words. Do not forget that the maximum length is 30 symbols as well as the keywords added to this name will be indexed by Apple.
To differentiate the benefits of each in-app purchase, their descriptions should be concise and clear. Each description is limited to 45 characters in length.
4.Utilize paid advertising
Paid advertising can be an effective way to reach a wider audience and increase your app's visibility. Platforms like Facebook and Google Ads can be used to target specific user groups and demographics based on their interests and behaviors. Paid advertising can also be used to drive installs and user engagement, and increase revenue and higher monetization. Do not forget that there are a lot of ways to monetize your apps which are mentioned in our article about 10 best ways to monetize an app.
One more thing to mention here is that Apple has its own ad channel called Apple Search Ads. Apple Search Ads is a search advertising platform that allows app developers and marketers to promote their apps at the top of the search results in the App Store. With Apple Search Ads, app developers can create and manage ad campaigns, select relevant keywords, target specific audiences, and track performance metrics. Apple Search Ads provide an effective way to increase app visibility, attract new users, and boost downloads.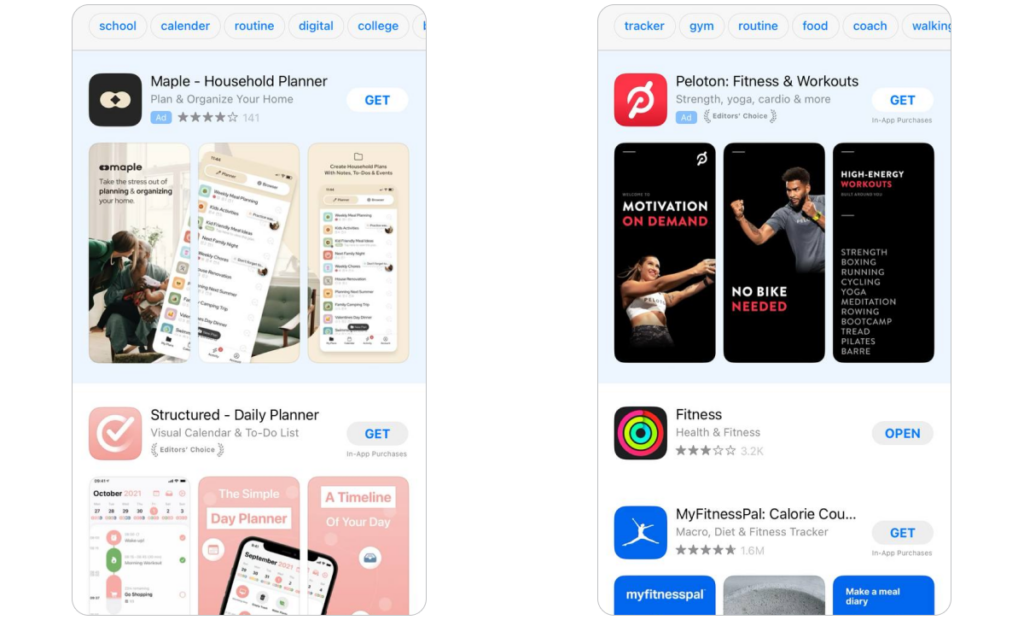 5.Work with in-app events
In-app events on the App Store refer to special promotions or events that are themed around specific holidays or occasions throughout the year. For example, during the holiday season, app developers may offer special discounts or limited-time content within their apps to celebrate the festive period. Seasonal in-app events can help to increase user engagement, retention, and monetization, as well as provide a fresh and exciting experience for users.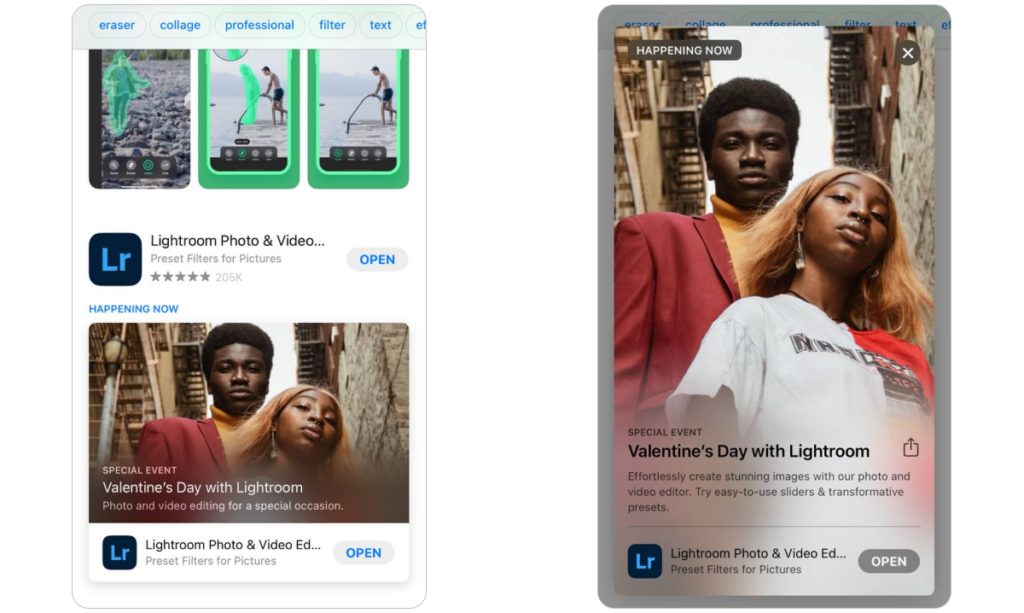 Here are some tips to optimize in-app events as the keywords added there as well influences the indexation of your app:
Create the event name with a maximum length of 30 symbols. The principle here is the same as with in-app purchases, the event name should be exclusive avoiding any general phrases.
Create a short description of 50 symbols briefly summarizing the event.
Create a long description of 120 symbols telling the details of the event.
6.Monitor and reply to user reviews on a permanent basis
User reviews or so-called app reputation are critical to the success of your app. Monitor and respond to user reviews to show that you care about their feedback and are committed to improving the app's user experience. Address any issues raised in the reviews and consider implementing new features and improvements based on user feedback. Working with app reviews should be a permanent process, so check best practices in app reputation management.

7.Track key metrics and build any promotion plans based on them
Tracking key metrics like downloads, engagement, retention, and monetization can help you understand your app's performance and optimize your promotion. Here are some the most important metrics which should be tracked by any app developer or app marketer who work with iOS app:
Downloads: This metric indicates the number of times the app has been downloaded from the App Store.
Active users: This metric tracks the number of unique users who have interacted with the app during a specific period.
Retention rate: This metric measures the percentage of users who continue using the app after downloading it.
Daily and monthly active users (DAU and MAU): These metrics track the number of unique users who engage with the app on a daily or monthly basis.
Conversion rate: This metric measures the percentage of users who complete a desired action within the app, such as making an in-app purchase.
Revenue: This metric tracks the total amount of revenue generated by the app, including in-app purchases and subscriptions.
User acquisition cost (UAC): This metric measures the cost of acquiring new users through various marketing channels.
App store optimization (ASO) performance: This metric tracks the performance of the app store listing, including impressions, click-through rates, and conversion rates.
Summary
In conclusion, creating an iOS app promotion checklist can help you stay organized and ensure you don't miss any critical steps in promoting your app. By optimizing your app store listing, implementing ASO techniques, leveraging in-app purchases and seasonal events, and monitoring key metrics, you can increase the visibility of your app, attract new users, and boost revenue. Do not hesitate to contact our support team or your personal manager to find the latest trends in iOS apps promotion.