Any promotion should start with the analysis of competitors we want to beat and overcome in search. Application promotion, in this case, is close to the promotion of the webpages on Google. A clear understanding of the positions you already have and those you need to get saves your promotional budget and makes your app visible for the requests that give downloads and purchases from organic users. In this article, we will take a case of the Android application that has already had some promotional history. Now, we will build up a strategy for promotion analyzing the competitors we picked up for our application.
Want a helping hand in app promotion?
Leave your email, contact and "personal manager" if you do not have a Personal Manager yet.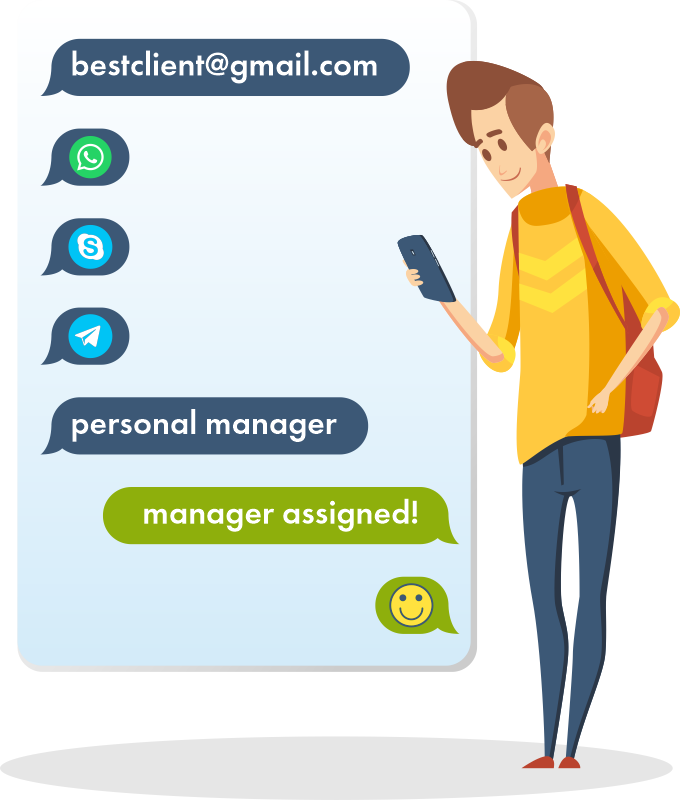 The stats before we start app promotion
It is critical to have a starting point before application promotion. If you do not write down the starting stats of the applications, it will be hard to analyze the results of the android promotion comprehensively.
We have a crypto wallet application with the keywords indexed and available in search.
We used our Smart Campaign tool to get all the KW available for this app in Google Play search:

All these keywords are not that competitive in search (their rank is between 4.6 and 1.5) and we still are not in the top 5 or top 3 for them to get the numbers of organic traffic we need. At the same time, we are not sure the keywords we are indexed for are the most relevant and competitive. Yes, they are good to start with, but can not be the final point of our promotion.
To find the keywords we should finally rank for, we will analyze more successful competitors.
We searched for the "crypto wallet" keyword and found the top 2 applications we were interested in.
The first application has this group of keywords in the USA:
We sorted them out and took the relevant ones. The list of the keywords we can use for promotion and indexation of our crypto wallet app looks better now:


We manually checked each keyword to filter only the relevant. If you do not know how to find relevant keywords, read our article on how to choose keywords. We have done the same research and picked up the list of keywords from the second competitor:
We figured out that we lack a lot of keywords that could be interesting for promotion. These are groups that are crypto+wallet, wallet+(word), (crypto currency name)+wallet.
Why did we decide to choose these groups of keywords?
Our promotional strategy is based on some principles that help us to promote application fast and cheap:
We manually check if the keywords are relevant and use those that give more conversions;
Promote from longer and less competitive keywords to shorter and more competitive words and phrases;
We focus on 1-2 groups first: it will save up to 2-3 weeks of promotion and a significant share of our marketing budget;
We improve the application in one optimization update.
The last principle is an important one. Many developers do the same mistake: they optimize the description and then upload. And optimize the title and upload. With each update, the application may lose some positions. As a result, you need to order more installs by keywords to get those positions back. We try to prepare all the meta and visuals for one update. We also abort the promotion campaign if we ASO application and start keyword promotion in 2-3 days after improvements.
As an example, take a look at the app positions for the keyword "vpn" in Germany. You can track how the ranks fall with each update while we do not promote the application by this word in search: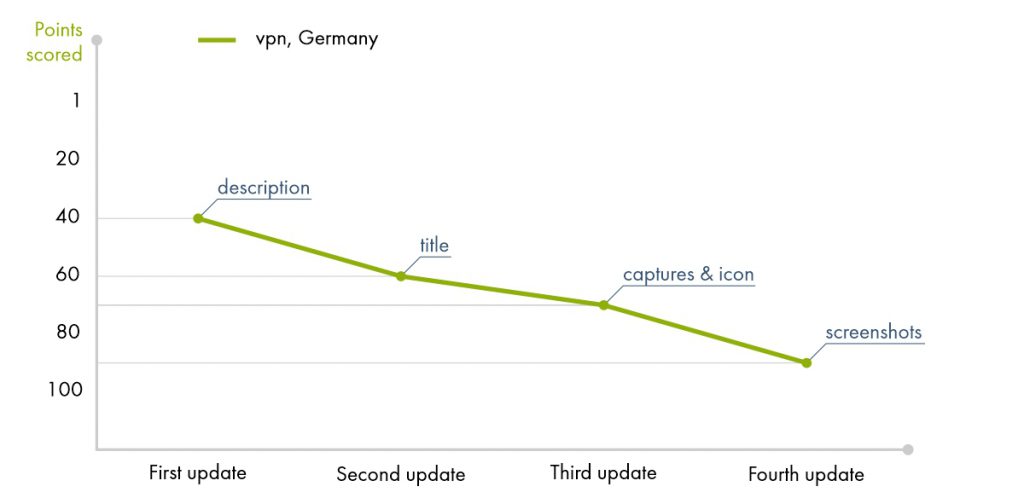 So, we suggest to do all ASO in one go.
Separate strategy for each group
Crypto+wallet Group
In the index already;
Needs more installs to get to the top;
With higher positions should give indexation by more competitive keywords (crypto wallet, crypto wallet tracker).
Bitcoin is our key crypto, so we want to get maximum keywords into the index by this word. We already have "crypto wallet bitcoin", "crypto wallet litecoin" and "crypto wallet etherium" in the index. We hope that promotion by other brand names like "etherium" and "litecoin" will give additional indexation and downloads.
Bitcoin+wallet
Group and promote to the top phrases "crypto wallet bitcoin", "crypto wallet litecoin" and "crypto wallet etherium" .
Wait till "wallet bitcoin" and "bitcoin wallet" get into index. We will stop these keywords' promotion and focus on those our competitors already have: 'bitcoin wallet for android", "bitcoin wallet", "bitcoin wallet download" and "bitcoin wallet account".
If we do not get into index with promotion by related words and phrases, we will stop promotion and ASO description to add these keywords into it.
Wallet+word
This group includes keywords as "wallet btc", "wallet bitcoin app" "wallet bitcoin cash" and "wallet bitcoin ethereum".
We will add "wallet bitcoin cash" and "wallet btc" to the description and captures.
The overall promotion of the application can help with these words' indexation. When the android application is visible in search for these words, we will create promotion campaigns.
Do you need a strategy for each group of keywords you have?
We plan you out one.
Contact our support for a Personal Manager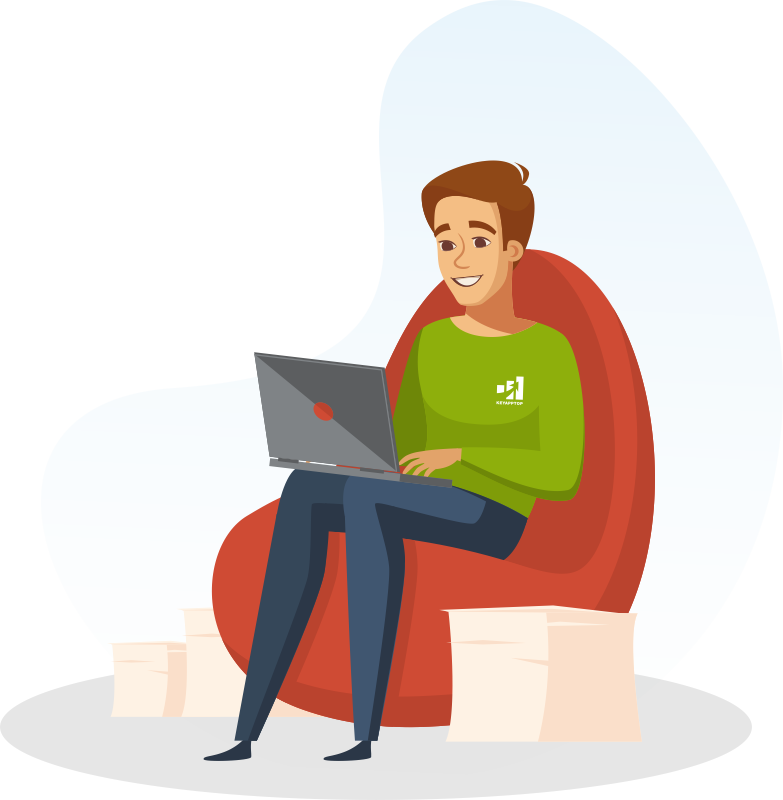 Promote your app with the best campaign settings
Though your planning may be ideal, you should also execute it correctly. Follow these recommendations to create the most effective campaign for fast and cheap promotion:
Promote 5-7 keywords in one campaign;
Start promotion with 10 installs per keyword and gradually increase this number;
Spread installs "24 hours" when you promote for the USA;
Make a campaign no less than 5-7 days.