This is the latest information about keywords and keyword app promotion. All developers should know how to correctly determine the number of installs for the Google Play Store and which strategy to choose.  Learn how to boost your app to top in Google Play and get more organic installs! These are the most effective methods of android app promotion! 
Basic terms and principles  
What is keyword: it's a requests that users type in the Google Play search to find the applications they need.
For example: 'free card games', 'instagram', 'photo editor',
Why the search is important?
Store search is the largest source of free and organic app installs.
Why is your position in rank so important?
As in the web search, most of the user's attention goes to the first positions.
Most organic installations are distributed between applications in the first three positions in the search results.
What kinds of keywords exist:
Short-tail keyword: a single word keyword. For example: 'sudoku
Long-tail keyword:  long and more specific keyword phrases. For example: 'solitare games free offline'
You should research your keywords and create your  semantic core .
Semantic core is a set of keywords (key phrases) that describes an application in the clearest way possible. Creating your app's semantic core is one of the most important things in ASO.
For example, for a card game app, the semantic core could be: 'card games', 'card games free', 'solitaire', 'solitaire offline' etc
How to determine the keyword's popularity?
For that you can use different aso tools like Appanie, Sensortower, ASOdesk, TheTool and other. Such services will show you how many people use a certain keyword to find an app.
How do we move your app to TOP?
Installs that you buy on Keyapp.top will come from real users. They will search your app by the keyword you chose and install your app once they find it. The more installs you get per keyword the higher you go up in keyword rank. Make sure your app is ranked for the keyword you choose. It should be in top 250 otherwise you won't be able to promote it.
About our users: We have a large user base of real users that get tasks on their phones to install your app. They will open your app and keep it on their device for a couple of days. Sure, they can keep it for longer if they like it, no restrictions on that.
A working Strategy to boost your app on Google Play
The key to successful promotion on Google Play is in a gradual increase in traffic. For example, you can start with 200-300 installs daily and then slightly increase this number as you move to higher positions. Remember that higher rank positions require more installs to move further in rank. You may start boosting from 150th position with 100 installs daily, but when you are at 20th position you may need 400 installs daily to keep moving to top.
The app promotion on Google Play is individual for every app and a timely advice will help you not to lose your money and time. So, let's keep in touch with our support managers!
How to create a keyword campaign on Keyapp.top?
After logging in your Keyapp.top cabinet you will see 2 pages to order installs: New Orderand New Campaign.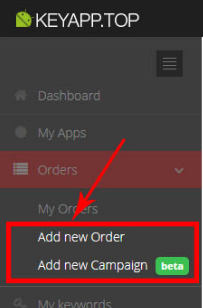 With New Order page you can create an order for installs (keyword or package installs) with a fixed equal number for each day. You can add rates and reviews if you want. This is a usual order page, the one which you are used to.
New Campaign page offers you more advanced options.
It's designed for orders that lasts more than 1 day (but less 14) and up to 30 keywords per day with a variable daily installs cap by each keyword.
Feature #1: Multi Keywording
Now you can promote multiple keywords at the same time for one app in the same order (campaign).
For example: If you want to promote your app for Keyword_1, Keyword_2 and Keyword_3, but for now your app is not ranked for Keyword_1, you can still make this order, you will get installs for keywords that you can be located, and once your app can be found by Keyword_1 a campaign for this keyword will start as well. If one of the keywords is in status 'NOT FOUND', then all the campaign will be continued, but if that campaign is for only one keyword, then whole campaign will be stopped with status 'NOT FOUND'.

Feature #2: Different daily cap
You can set a different number of installs for each day of the promotion during Campaign. You can now make keyword installs and package installs simultaneously for each application. You may choose from 3 options on how to distribute your installs for each day of your promotion: set equal install number, double increase for every day, double increase and double decrease for every day. Or you can set the number of installs for each day and each keyword manually.

Feature #3: Installs by keyword  and package
In Campaigns you can add installs by package and by multiple keywords at the same time, so package installs make an overall boost of the app, while keywords grow all at once.

On both pages, you can choose the installs to be spread within 24h or to be delivered all at once.
Please note, don't create Order and Campaign for the same app at the same time. They won't work simultaneously, only one by one, use Campaign multikeyword feature for this.
After the campaign has been set, money will be deducted from your balance. Once your campaign is over, all your money that wasn't spent during this campaign will be added to your balance via Refund button on Orders Page. If the campaign is canceled, you will receive a refund for the installs that hadn't been delivered.

How to check the effectiveness of your promotion?
Our system accurately shows you your promotion progress. In your order dashboard, you can see the number of positions your app got higher in rank. If you click on a little chart icon, you will be able to see your rank boost progress on the chart. It makes it really easier to evaluate your results.
It is important: that during the evaluation campaign there are no other marketing activities (advertising campaigns, ASO, etc.), as they can distort the picture of what is happening.
Be the first in rank on  Google Play with Keyapp.top and earn more from your application!
If you were left with any other questions, feel free to contact us at sales@keyapp.top