Hello! Today we decided to show you a case study for a popular keyword –  'buy Instagram followers'. There are lots of apps of this sort for buying instagram followers, likes, facebook likes etc. The competition here is big so in order to move higher in rank, an app will need a lot of installs.
Lets' take a look at this app promotion!
In total we delivered 1831 installs for the keyword 'buy instagram followers' in the USA. The promotion lasted 3 days: 2 days one after another, then there was a pause for 3 days, after that we run the promotion again  for 1 day. Here's how it went in terms of numbers:
Day 1 – 401 installs
Day 2 – 430 installs
Day 3 – 1000 installs
Before the keyword promotion the app was on 59th place in rank for the keyword 'buy instagram followers'.  As we can see from the chart, it went up in rank 55 positions higher, and as the result is now in the 4th place for this keyword in the USA.
This is a very good result!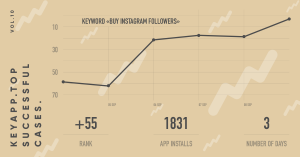 If you want to boost your ranks for keywords in Google Play, we will be glad to help you!
If you have any additional questions, contact us at sales@keyapp.top or drop us a line in a live chat or skype:  live: karen.rendall_1!