Hello, everybody! Today we would like to share with you another successful case study!
This is an interesting and simple keyword promotion of a fun android game. Let's take a look!
Our client decided to run a campaign for a keyword 'agariot' in Great Britain.  Before the promotion, the game was on 27th position in rank.
The campaign was divided in 2 days:
day 1 –  150 installs
day 2 – 31 installs
In total we delivered 181 keyword installs on this keyword for this game.
We need 2-3 days after the promotion's over to see the result. Please look at the chart and you will see how beautifully this game went up in rank! After the promotion this game reached  3rd place in rank for the keyword 'agariot' which in total makes  + 24 position difference than it was before.
Truly amazing!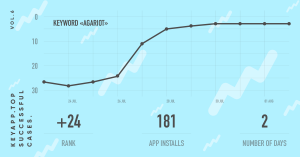 If you want to have the same results for your android apps and games, welcome! We do keyword promotions every day for a lot of apps and developers.  Incentive traffic is very effective for boosting ranks in the market so if you are new to this, it won't hurt to try. If you set your campaign correctly, you should see a positive result!