Keyapp.top has added a new type of reviews to the platform recently. The first thing you notice is the price. These reviews are 10 times more expensive than our previous product. We now do more work to make this review stay on your app page, for 30 days and more. This article is about two things – why this product outmatches other reviews and how your reputation management will change now.
Why are these reviews better than the previous version?
New reviews have a higher probability to stay alive. While 0.20$-worth ordinary reviews have some 5-10% chance to appear on the app page, more than 80% of high-quality reviews stay on the Android app page. So, to finally place one ordinary review, you need to order some 10-20 reviews, which is 2-4$ per campaign. While you buy high-quality reviews, you pay for each unit and we guarantee we republish the missing reviews from the order. So, you pay 2$ and you get a review for that price for sure.
When you buy reviews you trigger behavioral metrics that matter
Our clients worry a lot about the impact of keyword installs. They especially ask how the uninstall rate after promotion affects the application positions and overall rating. Keyapp.top develops and tests installs that give maximum growth + take a little share of your overall traffic, so the Google Play algorithm does not build your ranking on our traffic only.
When it comes to reviews, you should not forget to keep the same metrics in mind. With ordinary reviews, we ask to place 5-10 reviews per day with some 100 installs in the same campaign per day, so they will not be suspicious then.
High-quality reviews are done from better Google Play accounts, so you can plan a campaign with 5-10 reviews per day.
Key metrics you will trigger with both types of reviews:
Number of daily installs
Uninstalls rate
DAU (daily active users)
Conversion into review from the install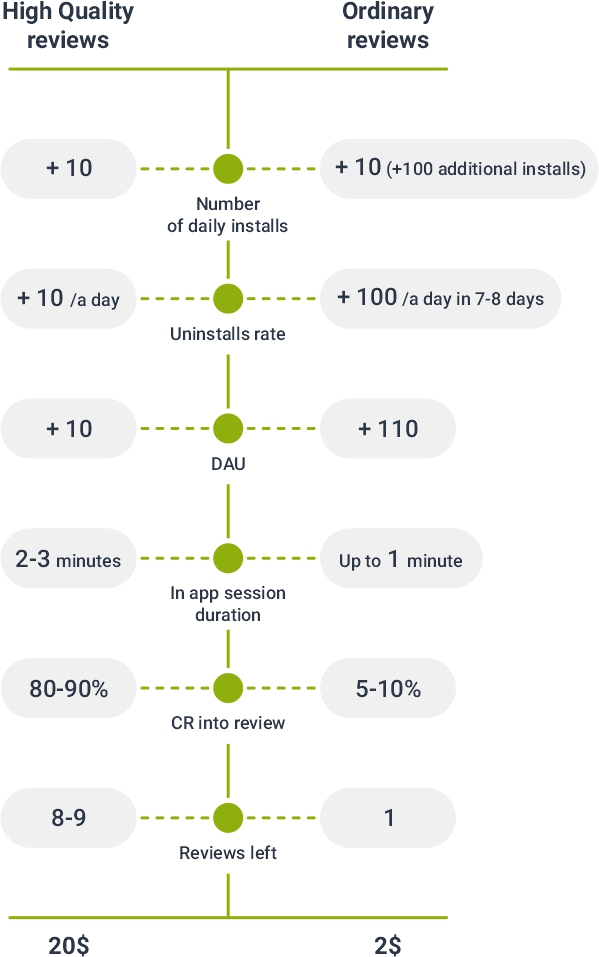 Campaign with ordinary reviews affects your metrics stronger, requires more time and installs to do the same job high-quality reviews do.
PBN networks or how SEO analogy may save your app
When we explain to our newcomers how keyword installs for Google Play work, we draw the analogy with SEO, but instead of buying anchor links, we buy keyword installs. When webpage quality is crucial for the quality of the link, Google Play account quality is a key for the high-quality keyword install and review.
That is why we are against any feedback sharing, reviews for a review technique. Yes, it may seem cheaper and is a good tool for a start, but when it comes to 100 reviews per month, you burn your app reputation getting reviews from accounts others use to place feedback on thousands of products you have no idea about.
That is like creating a network of cheap and fresh public blogs and linking it to the main page of your website. That strategy will not bring you any long-term use. So, do not harm your application following one of many far forgotten strategies.
Clean and neat!
Keyapp.top prepares new and record clear Google Play profiles for the application reviews.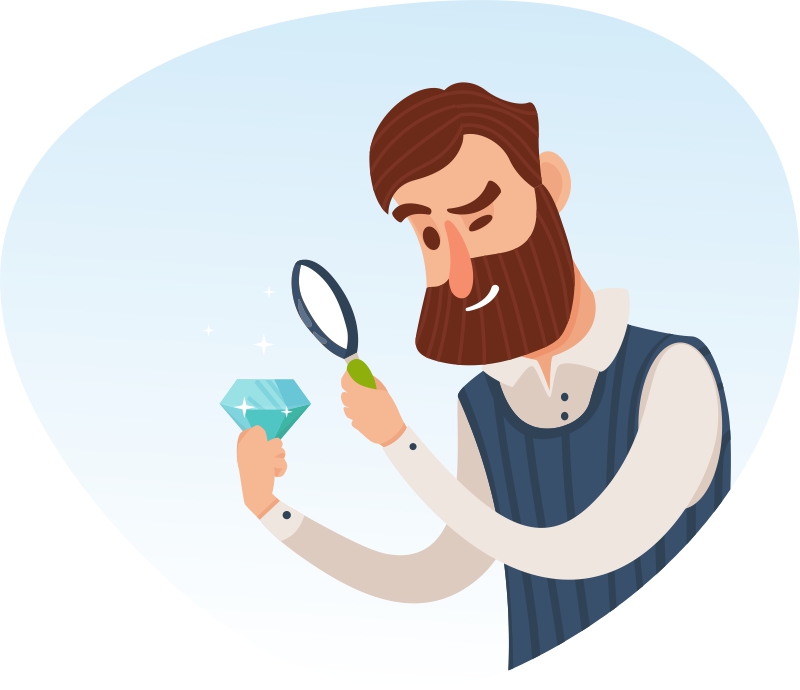 How will these reviews improve your app promotion?
High-quality reviews (or HQR how we call them) are an effective tool for app promotion. While it does not trigger uninstall rate, DAU, and other metrics, it increases your conversion rate into install, reputation, positions in the category, and positions by the keywords.
Conversion into install from the app page. You can simply cover your negative user experience from the app page at Google Play. You will lose less of your potential clients this way.
Reputation management (or SERM). Did your competitors order reviews to stop you from drawing up the category. Or someone wants to ruin your conversion from the search into install? Buy high quality reviews to fix the damage in some 4-5 days.
Rates and positive reviews. Keyapp.top does reviews with rates. These are 5+ stars. Buy them with custom texts to get a better rating. When you have more than 4.5 rate and most of your reviews positive, you get higher positions in the app category and pop up in the recommendation lists.
Reviews for brand keyword promotion. You can not write competitors' brand keywords into your app description. However, you can order reviews that have these words written in, so you get the indexation you need. Once indexed by the competitors' keywords, buy app installs to get a share of organic traffic from them.