Performance marketing is becoming more algorithmic and with AI-based approach.
Right now it's already happening with several ad networks, and even with Facebook and Google.
Facebook has AEO (App Event Optimization) campaigns. With Universal App Campaigns (UAC), the way to run mobile app campaigns with Google radically changed.
Install volume – campaigns that optimize towards driving app install volume (can still factor in data from those who have completed target in-app actions)
In-app actions ("value-driven campaigns") – campaigns that optimize towards cost for specific in-app event(s) post install (reaching X level, a sign up, etc.). For this you will need conversion tracking set up, either with Firebase or a 3rd party like Adjust
It is also not recommended to run campaigns optimized for In-App Events straight from the start. This is something you want to gradually introduce so the algorithm can learn more about the type of users you should focus on and improve performance.
WHY CREATIVE OPTIMIZATION IS CRITICAL FOR UAC CAMPAIGNS
Creatives optimization is one of the most important levers to play on for UAC, given that Machine Learnings have taken care of a lot of manual placements compared to the campaigns you could run before with Google (Google Search Network, Google Display Network or YouTube ad campaigns).
While UAC has taken away the manual placement and simplified bidding, it has enabled new bidding strategies like in-app action targeting or ROAS targeting. Making advertisers' strategy more about engagement and what happens further down the funnel.
This also puts an emphasis on ad assets optimization, because this is what you have the most control on when starting your campaigns: ad text ideas, creative image assets and creative video assets.
By increasing the conversion rates of your ads, you can directly improve your performance in auctions and enable your campaigns to back out more efficiently to your target CPIs/CPAs.
That's why in this article we focus on UAC creatives optimization.
OPTIMIZING AD TEXT IDEAS ASSETS
The first part of the Ad assets in your Universal App Campaigns dashboard are the ad text ideas.
You have to choose 4 short texts (max 25 characters) and value propositions that will be used in ads. This is different from how it worked in the past (Adwords app install campaigns) where you could set as many campaigns as you wished, so make sure you make the most of these text lines and refresh frequently to test what works best.
The feedback so far from advertisers is that texts that focus on benefits rather than technical features typically drive better performance.
When working on these ad texts, you want to keep in mind that they can be used on all types of inventory across the Search Network, Display Network and AdMob.
Some users might be searching for your app on Google, others might be reading an article related to a keyword you inserted in the Ad text ideas.
In both cases, your App title will be displayed. So 2 things:
Your app title should be optimized so it works both for organic users in the Play Store (App Store Optimization) and paid traffic (UAC);
There is no need to repeat the keywords that are in your app title: it's best to find complimentary benefits of your app.
As mentioned your Universal App Campaign optimization can be done either focusing on App Installs (Install Volume) or specific In-App Events (In-App Actions).
You need to adapt your Ad text ideas based on the kind of optimization you're choosing. For example:
If a campaign is optimized for Install Volume, putting the focus on benefits that come quickly to users might be best. Something like "Free books & bestsellers!" for example. Note that there is already a download button on the ad so using a text line to ask to download would be redundant.
If another campaign is optimized for users that register/sign up, it makes more sense to have something like "Sign up for free today!". Same here, keep in mind there is already an install button.
It's also important to understand that the texts will be mixed and matched. This means they should be able to work by themselves (provide a clear value proposition) but also when combined together.
Ad text idea 1: "Healthy meals delivered."
Ad text idea 2: "Easy and free sign up!"
Potential combinations (Google chooses those): "Healthy meals delivered. Easy sign up!" or "Easy and free sign up! Healthy meals delivered."
UAC IMAGE ASSETS TIPS
You upload up to 20 images that will be used to create ads for the Google Display Network. There are many possible image types and dimensions:
Try to upload a lot of image creative types!
Below a few other tips straight from Google regarding image assets.
OPTIMIZING YOUR VIDEO CREATIVE ASSETS FOR UNIVERSAL APP CAMPAIGNS
The first thing to know is that if you do not upload any video asset, Google will most likely automatically create a video using your Play Store screenshots/elements. This results in a video where you do not control the messaging (or quality), and where the quality will most likely be lower than what you could create yourself.
Where your UAC video creatives can be displayed
For Universal App Campaigns, you can upload videos in 3 ratios:
Landscape 16:9
Square 1:1
Portrait 2:3
These ratios are also supported by Facebook so if you've been using video creatives on FB you can test them on UAC very easily.
So this is where your videos can be displayed:
Admob
Here all 3 ratios (16:9, 1:1 and 2:3) might be displayed.
If you don't have all the ratios, the ads either "adapt" the creatives or they will just not be displayed at all. It's important to understand because 70% of all video ad views on Admob are on devices held vertically.
In terms of adaptation two things can happen if you only provide a 16:9 video (landscape/horizontal) and the orientation of the user's device is in portrait (vertical):
Google will show other information below the video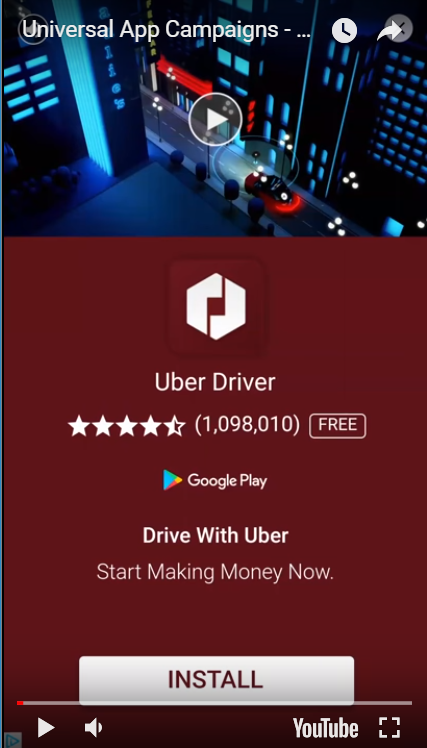 A UAC landscape video ad via AdMob
Google will use its "auto flip" technology to transform the landscape "original ad" to a portrait ad. It uses machine learning to turn a landscape video into a portrait video based on what it believes to be the main content of the frame.

This is useful but it's best to upload your own portrait 2:3 video ads: you are maximizing the chances of the ad being displayed. Because it is meant to be a portrait ad the user experience is also more immersive (and better) and should lead to better CTRs Installs (or post-install conversions).
Square videos also tend to perform better than landscape video for the Display Network.
YouTube pre-roll ads
Just like your Google Play Store promo video, the ad video creative for YouTube ads should be a landscape video. If you do not have a landscape video, then your ad most won't be displayed to YouTube users.
You can ask your Google account representative to make a UAC campaign video only, however there is no way to display on YouTube only or push more towards YouTube vs. Admob. To access the YouTube inventory, bidding higher is definitely necessary. In the past (pre-UAC), YouTube bids needed to be about 3 times higher than for the Search Network.
YouTube bumper ads
YouTube bumper ads are unskippable 6s ads that are displayed during a video a user is watching.
At the moment Universal App Campaigns do not place any video as bumper ads but it might come later this year. The methodology to measure engagement will be different (a bumper ad view corresponds to a click for example).
Google Play Store video ads
Yes, if you didn't know on March 15, AdMob/Google announced that they are beta testing video ads on the Play Store. This is something that will be available to developers (starting with game developers) via Universal App Campaigns as well. As for the other placements, it will use machine learning to better target potential customers
The ads are landscape and will be "click-to-play" (no autoplay). It of course does not need to be your Google Play Store promo video: it can be any videos that you upload as a video creative in UAC.
Creative considerations for UAC videos
The advices Google gives below are pretty classic for app install ads. In other resources Google advises to grab attention in the first 2-5s: when users click within the first quarter of the video, conversion rate tends to be highest with lowest CPI. You get it: grab users' attention.
Different lengths
You also want to upload videos of different lengths while remaining between 15 and 30s. You can technically upload videos with shorter lengths however it is not advised until the bumper ad format is official.
The placements will not be different when you upload different lengths, but it is a way to test which creative works better.
For games, 15s videos generally work better but Google still recommends to upload different lengths.
For non-games, here too you should upload as many variations as possible. If your brand is less known, some extra seconds can help you better communicate what your app is about.
When your videos are longer, you should still start strong and quickly make clear what you're expecting users to do via a call-to-action.
Video messaging in line with your campaign optimization (Installs vs. In-app actions)
Once you start allocating budget to in-app actions campaigns (optimized for in-app events such as reaching X level, signing up, etc.) keep in mind that what you eventually want new users to do is reach that action.
This is why you should adapt ad creatives to the actions you want them to do. Just like we talked about in the ad text ideas section. Talk about the benefits (or excitement) that they will get once they get there. Or a specific promotion for the in-app action you're optimizing for (example: use code WINE10 for your first wine bottle purchase).
What we mentioned above about uploading as many variants as possible is especially true for UAC campaigns optimized for in-app events: you are giving more "input" to Google's AI algorithm to optimize (hopefully, faster and at a lesser cost). Both advertisers that have had success with UAC and Google say that you should use all 20 video slots that you have.
USING THE UAC AD ASSETS CREATIVE REPORT TO OPTIMIZE
So what happens next?
 give your campaigns some time. Less than a week is definitely not enough because the algorithm needs a bit of time to adjust and optimize (especially for In-app actions campaigns). At least give them 3 weeks.
You can start seeing the performance of the different assets in your Ad Assets creative report.
In there, you'll find two main types of information for each asset:
Performance grouping: Best, Good, Low, Learning;
"Typical" conversion information like number of Clicks, Impressions, CTR, Average CPC, Cost, Conversion, Conversion rate and Cost per conversion.
When making your decisions, you can not only look at one or the other: the creatives are served on all different types of inventory that inherently perform different from one another. For example a video can show on Admob or YouTube, and those platforms convert very differently, so you can't just compare CVRs or CTRS in isolation.
For performance grouping, the most important is to understand that the performance Google indicates is relative to the performance of all the other assets. And based on lifetime assets.
This means that you can have 3 creative assets that perform very well yet have one indicated as Best, one as Good and the last one as Low. So as long as you have not reached the 20 videos limit, be careful about discarding the Low assets.
This is why it's of course also critical to look at the conversion metrics as well, so you can get a better sense of the assets' performance. And remove some with confidence when they are not working well.
Unfortunately you can not know where your video assets are displayed and the performance you get regroups all the video placements (Admob + YouTube).
However you can get some post-installs insights for the events you're tracking for each creative. For this, you have to add columns for conversion data in your ad assets report, and then segment > conversions > conversion action.
CONCLUSION
App install ads are getting better!
It also changes the way advertisers work and approach their campaigns, including when it comes to creative assets.
It's really important to understand well where and how your assets are displayed, so you can optimize them to improve performance. Different placements lead to different creative considerations when producing your videos. With UAC your videos can be displayed on/via:
Admob
YouTube
YouTube bumper ads (upcoming)
Google Play Store video ads (in beta)
Once your campaigns are running, you have to analyze the ad assets creative report and updating assets based on their performance!
Source: apptamin